May 17-23, 2006
home | the papers | north bay bohemian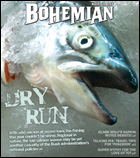 Salmon shortage in the San Francisco Bay Area
Is the nonexistent salmon season yet another tragedy wrought by the Bush administration?

News: California state elected positions explained
Quick! What does the controller do? How about the insurance commissioner? Don't know? Neither did we. Our handy-dandy guide to the dutiess and salaries of those offices being decided in the June 6 election.
Corporate Satire: The Yes Men
Halliburton solves global warming (for corporate managers only).
News Briefs: The ongoing tussle at 'The Point Reyes Light'
Former owner Dave Mitchell must stay away from current owner Robert Plotkin for three years as things just get weirder at this Pulitzer prize-winning paper.

Car Culture: Teaching truck driving
Columnist Novella Carpenter wipes away a tear as her protégé learns to take the big rig by herself.
Clark Wolf's Napkin Notes: The occasional diatribe on food and eating from a periodic Guerneville resident
On Pixie tangerines, the unintended effects of Whole Foods on a neighborhood and eating for humans.

Talking Pix: 'West Coast Live' regulars offer travel tips on 'Poseidon'
Carl & Karl advise eating the pizza early in 'Poseidon' remake.
Movie Review: 'Down in the Valley'
Mama, don't let your babies grow up to be creepy, lecherous cowboys.

MORE MOVIE REVIEWS

SONOMA COUNTY / NAPA COUNTY / MARIN COUNTY MOVIE TIMES

Music Interview: Super Hyphy with D-Sharpe and DJ Amen
Giving it up for the 707.

MORE NIGHTLIFE

NIGHTLIFE LISTINGS

NIGHTLIFE CALENDAR PICKS

Restaurant Review: Zaré in Napa
Hoss Zaré's eponymous Napa eatery features an ambitious kitchen cooking at big-city prices.
Wine Profile: Ridge Vineyards
Boasting the largest straw bale construction in the U.S., Ridge/Lytton Springs winery is as green as the vines surrounding it.
Food Event: Sonoma County Bites
Screamin' Mimi's owner Mariline Olson organizes an unusual school fundraiser.

BOOK A RESTAURANT RESERVATION

FIND A RESTAURANT REVIEW

Profile: Mountain Play director James Dunn says 'Fiddler on the Roof' must go on
Despite recent brain surgery, the Marin County director rallies.