05.18.11
home | north bay bohemian index | sonoma, napa, marin county restaurants | preview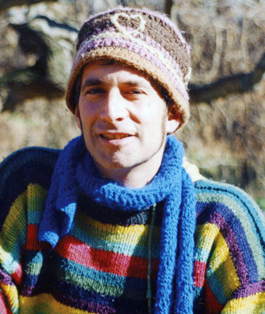 FLENSING AGENT:
Be it sauerkraut, kombucha, pickles, kim chee or natt, Sandor Katz is the go-to guy for fermentation.
Frisky in the Jar
Freestone Fermentation Festival grows to include Sandor Katz, Michael Pollan, John Ash and others
By Leilani Clark
Fermentation superstar Sandor Katz is on the phone, talking me down from the fear of making my own sauerkraut. Though I dream of whipping up my own version of the microbial wonder food—the stuff that warded off scurvy from Captain Cook's entire crew of sailors as they circled the globe in 1772—I have yet to plunge in due to looming terror of death by botulism or E. Coli poisoning. Katz assures me that anyone can do it, laying down three simple steps: chop up the cabbage, salt it and submerge the whole shebang in its own juices for as long as it takes.
"You might have a little nervousness the first time you do it, like, 'What if I do something wrong? I hope I'm not going to kill myself. I hope I'm not going to be vomiting all night,'" says Katz from his home in rural Tennessee. "But you won't, because the facts are that sauerkraut is as safe as it gets."
Katz would know. After being diagnosed as HIV positive at a young age, he moved to a radical queer intentional community (down the road from the house where he now lives) and steeped himself in the study and creation of fermented foods. Since then, he's authored two books, including the underground classic Wild Fermentation, and traveled across the country touting the health and culinary wonders of miso, kim chee, tempeh, wine and any other food that ends up bubbling in a crock.
"My particular interest in fermentation is to demystify it and to help people feel empowered to try it themselves," says Katz. "These processes have been hugely important to human cultural evolution around the world."
On Saturday, May 21, Katz is a keynote speaker at the third annual Sonoma County Freestone Fermentation Festival at Salmon Creek School. He'll also participate in a symposium along with other experts in the medical, culinary and scientific communities about the role of fermented foods in good health. On Friday evening, Katz celebrates his birthday at the festival with a limited-ticket menu designed by John Ash, featuring fermented foods paired with local wines.
Michael Stusser, owner of Osmosis Day Spa and founder of the Fermentation Festival, credits Katz—the website describes him as a fermentation "rock star"—with helping to ignite the fermented food frenzy.
"It's drawn out quite a following," says Stusser. "It's amazing how many people are closet home brewers of various types. It's struck a chord for a lot of people." Stusser says that meeting Katz was like "finding a long-lost brother."
"Finally, someone who understands what we've been trying to say for 25 years about the health benefits of live bacteria and having them intimately included in your life," Stusser says.
In another sign that the ancient art is returning to the main stage, Michael Pollan will be a judge on the tasting panel for the first-ever People's Kombucha Awards at the festival. A superstar foodie himself, Pollan is including a chapter on fermentation in his next book.
Hand-fermented foods can already be found at local restaurants around the county. Peter Lowell's in Sebastopol offers housemade sauerkraut, as well as a banh mi sandwich loaded with a fermented cabbage and carrot mixture. The summer brings pickles, fermented in jars on the counter, to the delight of customers. Owner Lowell Sheldon says he became interested in the fermentation process after attending a conference on macrobiotic cooking in Holland while living in Germany.
"A very important part of macrobiotics is fermented food like miso, tempeh, sauerkraut and lightly fermented greens," says Sheldon. After returning to the United States, he was inspired by a "foodie friend" who was making his own pickles and ginger beer. "It's been a part of the culture of food around me," he says.
Sheldon originally sourced the restaurant's sauerkraut from an outside company, but once he realized that he could procure his cabbage and pickles locally, he decided to take a hands-on approach to the process.
"Imwalle Gardens [in Santa Rosa] grows a ton of pickling cucumbers for a great price," Sheldon says, describing how he sees "all sorts of ladies" picking up boxes upon boxes of cucumbers during the summer. Peter Lowell's shares an office with Ceres Community Project, the nonprofit that gets teens into the kitchen to prepare healthy foods for people with cancer and other serious illnesses. Fermented foods feature prominently on the organization's menu. (All proceeds from this year's Fermentation Festival benefit Ceres.)
Of course, in Korea, fermented kim chee is a meal staple. At Bear Korean restaurant in Cotati, a housemade version of the spicy cabbage side dish is available, plus a pork and kim chee soup or stir-fry. Owner Ken Han explains that Napa cabbage, water, Korean chili powder and shrimp paste are the main components of the potent blend. "It's not difficult. Takes about two or three days," says Han.
"Originally, Koreans had kim chee because in the winter they don't have any vegetables, and fermented kim chee lasts the whole winter." People either love or hate the sour spicy side dish, he says, but devotees ask for more to take home.
Katz says that there is an inevitability to fermentation that makes it essential to human food consumption.
"I do not believe that there could be a culinary tradition that does not include it," he says. "Microrganisms begin to grow on our food as soon as our food is dead. Unless you have very highly controlled storage conditions, fermentation happens."
The Freestone Fermentation Festival gets yeasty on Saturday, May 21, at Salmon Creek School. 1935 Bohemian Hwy., Freestone. Noon-5pm. $6-$12. Dinner by John Ash with Sandor Katz is on Friday, May 20, at Shone Farm. 7450 Steve Olson Lane, Forestville. 6pm. Symposium at 2pm optional; $45-$120. For more, see www.freestonefermentationfestival.com.
Send a letter to the editor about this story.