05.21.08
home | north bay bohemian index | music & nightlife | band review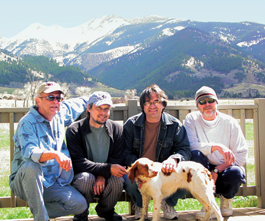 Legend: Remaining Poco member Rusty Young says that 'Crazy Love' pays the mortgage.
Poco Persevere
Seminal country-rock band still active 40 years on
By By Bruce Robinson
Poco is a case study in perseverance. Formed from the remnants of Buffalo Springfield in 1968, the upbeat country-rock band recorded a series of well-liked but not terribly strong-selling albums. As the '70s wore on, key members Jim Messina, Richie Furay and Randy Meisner sought, and mostly found, greener pastures elsewhere, eventually leaving Rusty Young as the last original member. He still is.
The 12th record Poco had released, Legend, included "Crazy Love" and "Heart of the Night," two back-to-back Top 20 hits that dramatically revived the band's fortunes.
"The only reason we're talking now is 'Crazy Love,'" Young cheerfully admits by phone from his home overlooking the Missouri forest. "That was our first hit single. It's a classic, and it still pays the mortgage."
Although they never reached that pinnacle again, Poco have remained active, playing 40 to 50 shows each year, a level of activity that Young laughs is "plenty for me." The current edition of the band plays the Mystic Theatre on May 22, and it's a given that their two signature hits will be on the set list; the long, lean years gave Young a rich appreciation for the good fortune those songs represent.
And that sets off a story, Young recounting a conversation many years earlier with one of his contemporaries. "It was 3am and I was sitting across the table from Tom Fogerty, and Tom said, 'I'm quitting Creedence Clearwater.' And you know, Tom didn't write the songs, he didn't sing, he played rhythm guitar. He was making a gazillion dollars, and I didn't see his future as being particularly bright if he quit. And I said, 'I can't believe you're going to quit, Tom. What's up with that?'
"And he said, 'If I have to play "Proud Mary" one more time, I think I'll kill myself.'
"I told him, 'If we had a song like "Proud Mary," I'd do like Hank Williams did with "Your Cheating Heart," I'd open with it, I'd play it in the middle of the set, I'd close with it and it would be the first two encores.' That's how I feel about 'Crazy Love.' I can't imagine not playing it in concert."
As the story suggests, Young is a ready raconteur. No wonder he's putting the finishing touches on his musical memoirs.
"I've been in this band for 40 years," he says. "I've got Elton John stories, Keith Moon stories, backstage stories that people haven't really heard. And over the past 20 years, we'd be sitting around a dinner table or at a bar and I'd start talking about, say, the session I watched with Keith Moon. And people started telling me, 'You ought to write these down.' So that's what I'm doing."
An early chapter will likely revisit the path that brought Young from Colorado to Los Angeles to contribute some pedal-steel work to Buffalo Springfield's Last Time Around LP and how that led to his role in Poco.
"An audition was set up with Gram Parsons," he says, "because he was going to start a new band. But I blew off the audition because Jimmy and Richie and I just hit it off—we had a lot of things in common, goals and musical history, and the Springfield was breaking up and they were going to start a new band and it was just a perfect match, so I went that way."
Later, however, he says, "Gram Parsons came back and auditioned to be in Poco and that didn't work out as well. That's all in the book."
Young in print vows not to pull any punches. "I just read so many autobiographies that I felt were unsatisfying because they gloss over things and they don't really tell the stories," he explains. "They'll say something like, 'I had a really rough flight over to France,' and it'll be somebody I know, and I was on that flight, and they had more than a rough flight—they left the airplane in handcuffs!"
Poco play Thursday, May 22, at the Mystic Theatre, 23 Petaluma Blvd. N., Petaluma. 8pm. $23. 707.765.2121.
Send a letter to the editor about this story.