May 24-30, 2006
home | north bay bohemian index | columns | wine tasting room of the week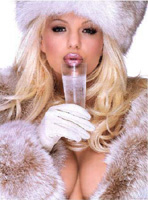 Wine Tasting Room of the Week
Gloria Ferrer Champagne Caves
By Daedalus Howell
Twenty years ago, world-wide sparkling-wine juggernaut Freixenet opened the sprawling Gloria Ferrer Champagne Caves on Highway 121, though technically, the popular winery and roadside attraction proffers neither Champagne nor, geologically speaking, caves.
Be assured, Gloria Ferrer has not eschewed ye old chestnut that true "Champagne" only hails from the Champagne region of France, though the winery does employ the same "méthode champenoise" process and uses traditional Pinot Noir and Chardonnay grapes. Rather, the winery had the chutzpah to carve a subterranean wine lair into a Sonoma hillside on the southern end of the Carneros appellation and simply call it a Champagne cave. When I called a tasting-room associate about the misnomer, she justified it as "freedom of speech." I could only reply, "Vive liberté!"
On a recent weekend visit to the winery, the large staff appeared comprised entirely of young women, ditto for the doe-eyed servers moving purposefully across the terrace clutching Champagne flutes. I entertained the passing notion that the winery might be some sort of ersatz gynotopia or a training camp for super-villainesses. Surely somewhere on the palatial grounds, jumpsuit-clad women were doing calisthenics or perfecting their death-yoga technique. I took a seat with a spectacular view of the valley and was soon presented with a tasting flight of sparkling wines. Echoes of Goldfinger ran through my mind:
"Do you expect me to drive, Goldfinger?"
"No, Mr. Howell, I expect you to drink."
And drink I did, though I later learned from my designated driver that I was merely expected to "taste" the wines.
The Sonoma Brut was a fine curtain opener--a spiny, mean little thing with an acid tongue that suggested a smack on the lips from a femme fatale's kid sister--haughty, brash and delightfully immature. Conversely, the languid Blanc de Noirs was a real wallflower. Notes of cherry and strawberry lurked among the bubbles, but ultimately the wine seemed reluctant. The 1996 Royal Cuvée was a nutty, toasty experience defined by a gorgeous over-ripeness, like a love affair postponed and finally realized. Its only rival was the 1996 Carneros Cuvée, which had a delicious full-bodied sizzle--the accompanying tasting notes crowed, "Eight years to create and six senses to impress." Indeed, it was so delectable, I could not help but quietly resent it.

Gloria Ferrer, 23555 Carneros Hwy., Sonoma. Open daily, 10am to 5pm. Cave tours at noon, 2pm and 4pm. $4-$10 tasting fee. 707.996.7256.
Send a letter to the editor about this story.