05.25.11
home | north bay bohemian index | movies | current reviews | film review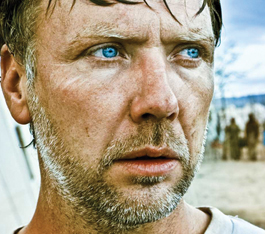 BATTLEFIELD WORTH:
Mikael Persbrandt plays Anton, a doctor in Darfur confronted with tough choices.
Morality Lessons
'In a Better World' could have been
By Richard von Busack
Violence will never make the world a better place; sadly, though, it makes the world feel better. In In a Better World, a pair of young boys are in a trouble on a small Danish island. Christian (William J┐hnk Nielsen) has just lost his mother, though his rich but cold father (Ulrich Thomsen) still lives.
Christian's new friend from school is an undersized kid named Elias (Markus Rygaard) whose parents are separated. Elias is a magnet for bullies. When Christian gets some collateral bullying for being the new kid in school, he pulls a Rambo knife on his tormenter.
A few thousand miles away, Elias' father, Anton (Mikael Persbrandt), a doctor in Darfur, is asked to treat an injured warlord. That's one moral choice, and the doctor soon faces another. During a short visit home, Anton is roughed up by a vicious mechanic, and he decides to use the incident as a moment to teach his kids nonviolence.
This winner of this year's best foreign film Oscar is generally well-acted, even if it plays like the kind of drama they'd screen if Ikea were a multiplex. It's Persbrandt's job to embody the tensile strength of pacifism—what it costs and what's it's worth. He does that well. And it's refreshing to see director Susanne Bier's faith in social melodrama and her insistence on the dark undertones in a film that sometimes looks like an unusually tense Audi commercial.
Unfortunately, post-Dogme, just like Dogme, is the home for artificially symmetrical tragedy: tit always equals tat. For example, the one really unregenerate villain in the film is helpfully scar-faced, and he cackles over his misdeeds right at a key moment. That's to make it easier for even the most qualm-ridden. But who is really that qualm-ridden? Quakers? Bier could have gotten rougher. She could have muddied the motives. The morality lesson here is dreadfully smooth.
'In a Better World' opens Friday, May 27, at Summerfield Cinemas. 551 Summerfield Road, Santa Rosa. 707.522.0719.
Send a letter to the editor about this story.