May 30-June 5, 2007
home | north bay bohemian index | music & nightlife | profile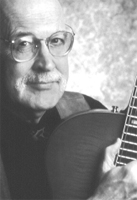 Uno: Hall excels at playing as part of a duo.
Strong Time Feeling
Jazz guitarist Jim Hall headlines Healdsburg
By Gabe Meline
In 1961, while his telephone was shut off for nonpayment, the out-of-work jazz guitarist Jim Hall received a note in his Greenwich Village mailbox. "Dear Jim," it read, "I'd like to talk to you about music." It was signed Sonny Rollins.
Rollins was already a major figure on the jazz scene, yet he hadn't worked since 1959, the year he famously announced a temporary retirement. The saxophonist had spent two years in private contemplation--he'd sometimes rehearse alone at night on the Williamsburg Bridge, concentrating on his playing out of the public arena--but now those years were up, and they had led him to Hall. Hall quickly wrote a note back, his haste understandable.
Last week, in his Greenwich Village apartment just down the block from the note-trading of yesteryear, a 76-year-old Hall recalled the Rollins job with humble understatement.
"I think we did pretty well together," Hall quips over the phone, his speaking voice thoughtful and sincere. "That job was a real challenge for me. I had to accompany Sonny--which was great fun, and my jaw would drop listening to him. But then I had to follow him!"
To watch old footage from this era, such as a stellar performance of the group on Ralph Gleason's Jazz Casual right after recording Rollins' landmark album The Bridge, no one would suspect Hall of being nervous; he plays just as fluidly and calmly as ever under a shower of Rollins' constant curveballs. What he was actually doing most of the time, he now says, was listening. "When I worked with Sonny, I got the message pretty fast that he didn't like to be led around," Hall says. "So I would lay back for a second, and see where he was going."
The term "lyricism" in jazz suffers from a glut of definitions; it can imply sensitive technique, it can mean melodic invention or it can signal tasteful restraint. Hall possesses all three. But what sets him far above many other jazz guitarists is his ability, honed with Rollins, to listen and respond musically to his collaborators. His lyricism is enhanced by a conversational approach to playing, which is why he has so repeatedly flourished in a duet setting. He appears with Dave Holland at the Raven Theater on June 9.
Hall's attraction to duet recording began in 1959, when he first recorded with the peerlessly introspective pianist Bill Evans. Their resulting album, Undercurrent, and its 1966 sequel, Intermodulation, are timeless masterpieces of sensitive musical dialogue between two empathetic talents. "When we played the duets," Hall reminisces, "it was as if Bill were inside my brain."
The small touches, such as Evans soloing only with his right hand while Hall plays rhythm, show how Evans was "so tuned in to the texture and balance," Hall says. "And obviously, Bill was just an amazing, beautiful player, and a great guy, too. People think of him as this tragic figure, hunched over the piano, but he really had a great sense of humor."
Despite commercial acclaim for large-ensemble releases such as 1975's Concierto, Hall has returned time and again to duets. "In larger groups, I find myself just standing there and smiling a lot," he explains, "whereas in a duet, obviously you're half of the ensemble, so everything you contribute plays a big role in what goes on."
A bass player himself in his youth, Hall is especially pleased to be playing with bass virtuoso and Miles Davis alumnus Holland. "Dave plays really strong time feeling, and still he's open to going in any direction," he notes. "It can be straight blues, or it can be complete abstract music, just listening to each other and reacting in free-form."
In accepting the NEA Jazz Masters Fellowship award in 2004, Hall delivered a speech emphasizing the peacemaking ability of music. "Something," he declared, "that governments might emulate." He maintains this is due to music's universal reach, "a language that goes right past spoken languages," he says. "But I feel that music has to do with humanity. It cuts through politics and governments, and it includes everybody who's open. I feel very privileged to be a part of that."
Jim Hall and Dave Holland perform on Saturday, June 9, at the Raven Theater as part of the June 1-10 Healdsburg Jazz Fest. 115 North St., Healdsburg. Pianist Taylor Eigsti and guitarist extraordinaire Julian Lage open the show. 7:30pm. $35-$50. 707.433.4644. www.healdsburgjazzfestival.org
Send a letter to the editor about this story.