May 31-June 6, 2006
home | the papers | north bay bohemian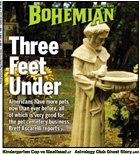 Napa's Bubbling Well pet cemetery
Twenty-six years after filmmaker Errol Morris immortalized Bubbling Well in 'Gates of Heaven' the dead-pet business continues to boom.

News: Ballot measures for Sonoma, Marin and Napa counties
Napa is the county to watch this election as they try to get their Supervisors to actually read legislation before passing it.
News Briefs: Fighting over San Rafael's Gallinas Creek
Developers go to court over sports complex on wetlands area. Also Barnes & Noble may come to Sonoma State.

News Column: Peter Byrne votes 'No' on California's Proposition 82
Don't be fooled by this prop--it's good for the rich and bad for the rest of us.
Car Culture: 'Miami Vice,' anyone?
Summer car flicks to flip over.

Movie Preview: Interviews with Cheech Marin and John Ratzenberger of 'Cars'
Pixar's new film has actors excited to be nothing more than voices.
Movie Review: 'An Inconvenient Truth'
Al Gore's new documentary is a powerful call to change.

MORE MOVIE REVIEWS

SONOMA COUNTY / NAPA COUNTY / MARIN COUNTY MOVIE TIMES

Music Profile: Sonoma County's Astronomy Club Ghost Story
Indie record label gives it away online.
Music Preview: It's a Beautiful Day at the Rancho Nicasio
That 'White Bird' still flies.
Music Review: The Doors' 'Love/Death/Travel' box set
A new three-CD/one DVD set spotlights the Lizard King and his brood.

MORE NIGHTLIFE

NIGHTLIFE LISTINGS

NIGHTLIFE CALENDAR PICKS

Restaurant Review: La Fondita in Santa Rosa
Snacking away to a very plump future.
Winery Profile: Syrah is the thing at Loxton Cellars in Glen Ellen
Call it Shiraz or call it Syrah--call it what you want as long as you drink it early and often.
Profile: Candacy Taylor
Artist Candacy Taylor documents the lives of waitresses in the multimedia exhibit 'Dishing It Out.'

BOOK A RESTAURANT RESERVATION

FIND A RESTAURANT REVIEW

Art Preview: Sebastopol's Art at the Source tour
Graton painters Lisa Beerntsen and Tony Spiers make the beautiful from the ugly. Also: upcoming art events for Sonoma and Marin counties.

Letters to the Editor
May 31-June 6, 2006.