06.02.10
home | north bay bohemian index | music & nightlife | band review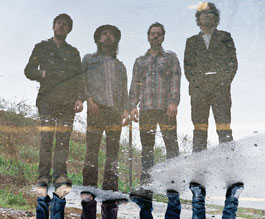 Indie Rock Vineyards
Huichica Festival brings indie folk icons Vetiver to wine country
By Leilani Clark
Sonoma County is known for many things: wine, hootenannies, agriculture, nature walks. But all-day indie rock festivals? Not so high on the list. Jeff Bundschu, the president of Gundlach Bundschu winery, aims to change that with the launch of the first annual Huichica Music Festival on June 5.. Named for Rancho Huichica, the name of the original land grant where the winery is situated, the festival features an exciting collection of headliners, including San Francisco–based freak folksters Vetiver (above), "Gun Bun" favorite Fruit Bats and Bay Area psych-pop rockers Citay. (In other words, music not normally thought of as "wine country" fare. Sorry, Michael McDonald fans.)
The idea for Huichica (pronounced "we-cheeka") began after Fruit Bats performed at the winery's 2009 summer concert series, which in the past has also featured Maria Taylor (of Azure Ray/Bright Eyes), Jonathan Rice and Deertick. Eric Johnson, the band's main songwriter, enjoyed playing the property so much that he proposed an all-day festival to Bundschu, an avowed independent music fan who served up wines at this year's South by Southwest. Marketing director Susan Suiero says that that the outdoor amphitheater on the grounds of the winery has played host to music and performance for over a hundred years, so the festival seemed like a next logical step.
According to Bundschu, "the music you will hear [at Huichica] transcends both genre and generation. It comes from critically lauded emerging bands with national followings that are sure to grow." In the case of Vetiver, who have played with Devendra Banhart and toured extensively with Joanna Newsom, that national following has already been established. The band's dreamy indie-folk should be a nice complement to an afternoon on the hillside of a 152-year-old winery with views of the surrounding vineyards and Sonoma Valley. Organizers encourage attendees to bring blankets, sunscreen and a thirst for yummy wines to the Huichica Music Festival on Saturday, June 5, at Gundlach Bundschu. 2000 Denmark St., Sonoma. 2pm to 11pm. $30–$35. 707.939.3015.
Send a letter to the editor about this story.