June 6-12, 2007
home | north bay bohemian index | sonoma, napa, marin county restaurants | feature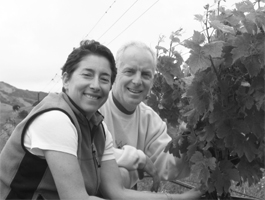 Cluster: Sue and Jonathan Pey are among a handful of stalwart Marin winemakers.
Cold Comfort Farms
Marin County's wine industry has deep roots in history-- and just a few in the the ground
By James Knight
Wine, in Marin? Recent years have seen stirrings in the undulating golden hills of Marin County. Noises made, some measure of excitement building. Its tapered peninsula wrapped in fog, awash with wealth and rent in two by the slow, sure action of tectonic plates, Marin also has what it takes for pretty decent Pinot Noir. Could Marin be the next Carneros, the next Santa Lucia Highlands? According to the best sources available, it may at the least become the next Marin.
Of course, no one can talk about Marin without trundling out the whole kit of stereotypes. Marinites will forever be wearing redwood tubs around their midsections, as surely as Bavarians cap their Kopf with pointy green hats. For a discomfiting time, pundits indulgently hypothesized that simmering in hot tubs may contribute to radical Islamist tendencies. For our purposes, we can assume that this wealthiest of counties surely consumes a fair portion of premium wine in or out of said sauna. That puts us back on topic, but to fully appreciate the story of grape-growing in Marin, we must travel to other dimensions of space and time. Namely, West Marin and historical Marin.
Motorists whiz by an old structure on Larkspur's busy Magnolia Avenue without a thought. The boarded-up, empty brick facade of the place doesn't look promising. But peek over the rustic fence, and there's a bucolic scene. Horses graze on gently sloping grounds before a solid stone- and wood-sided building, proudly signed "Jean Escalle, 1881." Escalle's seems as improbably unchanged as an 1880s photograph, yet it's well maintained. And in the old days, the now-forested hillside behind it was all planted with vineyards.
When Marin winemakers first stepped into the historic winery, they parted cobwebs to reveal a scene that had been frozen in time for nearly a century. Old equipment and fermenters were still in place, and says Marin winemaker Jonathan Pey, "on the old wood bar there was a tasting glass left from the last time it was used." It's in this one-of-a-kind space that Pey and others are hosting the third annual Marin County Pinot Noir Celebration, in which 14 wineries will pour June 8–9.
Pey is a leading proponent of the fledgling Marin scene. He's worked in Europe, Australia and California for big-name wineries (think Mondavi, among others). But living in San Anselmo, he and his wife, Susan, a leading wine buyer for restaurants, became fascinated with the lost history of Marin's wine. They discovered, for instance, that a German immigrant named Hermann Zopf planted vines in San Rafael (now the site of Yardbirds hardware store) and built one of the North Bay's first wine country destinations, Zopf's Gardens, which soon became popular with San Francisco elite.
Jean Escalle delivered his 9,000 cases by horse and cart, and hosted lively vintage festivals and Bastille Day parties. A souvenir booklet from 1893 boasts that "there is a vineyard connected with almost every estate in the county . . . every dweller from Fairfax to Sausalito has his little vineyard." Idyllic boosterism typical of the 19th century, perhaps. But what happened to Marin's wine? It's like a lot of pleasant places a few hours' from the big city by boat and carriage in the 1800s. Viticulture just didn't stand a chance. Prohibition nixed it, and after the Golden Gate Bridge was built, Marin's biggest crop quickly became housing lots.
Perhaps the jinx was put on Marin's nascent viticulture a century earlier. Mission San Rafael Arcängel was founded in 1817 as a sort of health club for natives who somehow failed to thrive under the tutelage of the Spanish friars at foggy Mission San Francisco de Asís. There they farmed grapes, among the usual suite of mission activities, until the mission was secularized. When the opportunistic General Mariano Vallejo took over, he employed Native Americans to dig up their vines and move them, replanting them on his property in Sonoma.
Present-day estimates of Marin's acreage of vines vary greatly, but Pey says it's just under 200. Read this paragraph on Napa's Wine Train and you'll have passed 200 acres in the interim. Sonoma County recently eclipsed its pre-Prohibition peak of some 40,000 acres.
It used to seem like a fair assumption that Marin County was too cold for wine grapes. That may be true, with notable exceptions, for such traditionally popular varietals as Cabernet Sauvignon. With the ascendancy of Pinot Noir, however, and the enthusiasm of recent generations of winemakers bent on crafting Burgundian-style wines, that's not the whole story.
Marin County finds itself between two bodies of cold water, so, yes, the climate is cooler. The flip side of this, Pey explains, is that the San Pablo Bay and the Pacific Ocean also moderate the temperature in winter. Bud break begins earlier, extending the growing season. Because of the longer hang time, "The flavors develop before the sugar gets too high--just the opposite of Sonoma and Napa," Pey says. This allows winemakers to make rich, flavorful wine that is under 14 percent alcohol.
Pey's vineyard is just south of Petaluma, a few miles down a gravel road off of Chileno Valley Road. We pass by a rambling dairy operation and, in one barn, a winery run by the Corda dairy family, who planted grapes in lieu of cows around 1990. Up by the vineyard gate, cattle bound for Niman Ranch stand and lounge about in the grass. Their eventual destiny as all-natural burgers couldn't seem further away, and they have a great view.
All around, the rolling hills of Marin and Sonoma are turning from green to gold. The vineyard sweeps up the slope. Pey has recently begun to convert to certified organic farming. While he rests easier knowing that his children can play in a vineyard free of chemicals, there are challenges, like weed control and botrytis rot. He cautions me not to trip in the one-foot holes in the vineyard floor, made by coyotes looking for rabbits. Coyotes? In Marin?
Originally planted in Merlot, much of the vineyard has been grafted over to Pinot Noir and Riesling. As much as Pinot is the star of Marin's minor production, Pey seems particularly bedeviled by his Riesling. It looks so promising now in the spring, abundantly fruitful with clusters. But at the end of the season last year, botrytis ruined half of the crop. There are no organic options available for it.
Thanks to muscular zoning laws, West Marin has remained rural. The work of the Marin Agriculture Land Trust, among others, has helped to keep the east and west parts of the county worlds apart. But Pey doesn't see grapes exactly carpeting these hills anytime soon. His best guess is that this appellation's wine will continue to grow as a boutique phenomenon. The barriers are high; for example, Pey can only lease his vineyard. The main factors are as old as the West, land and water. Parcels are often ranches of 500 acres. Even 80-acre zoning means that small players cannot afford to get started. And the Marin dairy industry, which is so old that its first customer base was in a town called Yerba Buena, is struggling. Some families have planted grapes as a supplement, but Marin County grapes don't fetch Napa County prices.
Over in Nicasio, about 20 acres were developed by the Chalone Wine Group, now in the possession of a giant spirits producer. Near Pt. Reyes Station, Mark Pasternak is another champion of Marin grapes, farming a number of properties including his own Devil's Gulch Vineyard. Among the winemakers using fruit from the steep slopes of Devil's Gulch is iconoclastic Bolinas winemaker Sean Thackrey, who gets medieval on it, literally using winemaking practices cribbed from ancient texts.
A friend with whom I sampled the Pey-Marin Pinot Noir remarked that it tasted just like an obscure bottle of Marin Pinot that someone at her restaurant had recently dug up from the cellar. In fact, Vision Cellars owner Mac McDonald makes his Chileno Valley Pinot from the very same vineyard. In Marin, there are even fewer vineyards than there are wineries; many of those who will be showcasing at the June celebration make wine from the same vineyards.
Even with their combined top-shelf wine industry experience, selling a few hundred cases of Marin wine is no cinch for the Peys. A high-end restaurant bought a few cases, for example. When the couple checked back some months later, they asked how the wine did. Oh, it was a big hit, sold out, but no, the restaurant won't be buying more, because, since they sold out, they took it off their wine list. "In any other business, the fact that a product sold out would be taken as an incentive to sell more of it!" Pey laments.
Time will tell whether this unique appellation will sell itself. After all, even Jean Escalle had to bring it to them in a horse and cart.
Get your chance to move some of that product toward your tongue at the third annual event, a fundraiser to benefit MALT, which helps protect Marin County farmland by purchasing conservation easements. Marin County Pinot Noir Celebration at Escalle Winery, Friday–Saturday, June 8–9, from 5pm to 8pm. Producers include Brookside Cellars, Corda, Dutton-Goldfield, Kendric, Moon Hill, Orogeny, Pey-Marin, Point Reyes, Sean Thackrey, Stubbs, Thomas Fogarty, Vergari, Vision Cellars and Willowbrook Cellars. 771 Magnolia Ave., Larkspur. $40. 707.953.0923.
Send a letter to the editor about this story.