June 7-13, 2006
home | the papers | north bay bohemian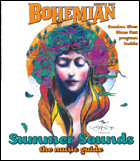 Summer Sounds: Concert highlights for Sonoma, Marin and Napa counties
Planning ahead from songwriter Shawn Colvin to mezzo soprano Anne Sofie von Otter.

News: HepC a growing concern in California prisons
Inmates who are incarcerated healthy run a 50-50 chance of contracting the disease in prison.
News Briefs: Rohnert Park's water woes and saving the Monterey coast
Judge rules in favor of water activists in Rohnert Park. Also, Coastwalk works to save Monterey.

News Column: Peter Byrne. The Marine massacre at Haditha is a lesson that shouldn't go unlearned . . . again
Listen up, guilty white liberals! The Democrats aren't going to save your souls. You need to do it yourselves.
Car Culture: Feeling the itch for poison oak prevention
Poison oak's oils are what spread the welts. Applying Tecnu liberally throughout the car can be a life-saving mess.

Movie Review: 'The Proposition'
Outlaw tale of the Outback stars Ray Winstone in an unforgettable role.

MORE MOVIE REVIEWS

SONOMA COUNTY / NAPA COUNTY / MARIN COUNTY MOVIE TIMES

Music Profile: Bob Weir's long strange trip
Honoree of a Lifetime Achievement Award from the NORBAYs, Weir gives back to community.
Music Profile: Bruce Cohn, Doobie Brother
Honoree of a Lifetime Achievement Award from the NORBAYs, Cohn's life in rock history.
CD Releases: North Bay indie bands set to release new discs
Hot wax on the hob from area bands.
Music Profile: Charlie Haden
Jazz lion plays in service of beauty and truth.
Music Profile: Eric Lindell
With a new album on the Alligator label, this prodigal son returns triumphant.
Music Preview: Kate Wolf Memorial Music Festival
With Steve Earle headling and the vibe sympatico, this year looks to be the best of all.
Music Profile: Soul singer Earl Thomas at the Russian River Blues Festival
Emerging soul artist plays both days on Johnson's Beach.
Music Essay: Bye-Bye to Cotati's Rum Diary
Sara Bir may have gained a husband but she definitely broke up a band.

MORE NIGHTLIFE

NIGHTLIFE LISTINGS

NIGHTLIFE CALENDAR PICKS

Restaurant Review: Rubix in Santa Rosa
Affordably priced Wine Country eatery still has some cricks to work out.
Winery Profile: Bartholomew Park Winery
Sonoma winery is no longer haunted but the wines are otherworldly.
Food Essay: Confessions of a Failed Potato Farmer
Keeping those spuds in the ground is harder than it looks. One terrible word: gophers.

BOOK A RESTAURANT RESERVATION

FIND A RESTAURANT REVIEW

Letters to the Editor
June 7-13, 2006.