06.08.11
home | north bay bohemian index | sonoma, napa, marin county restaurants | preview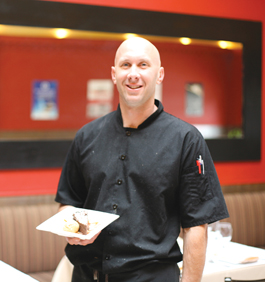 Photograph by Gabe Meline
SPEEDY DELIVERY:
Bistro 29's Brian Anderson rushes his salted caramel ice cream to table before it melts.
Crystal Clear
New variations on salted caramel take hold
By Shelby Pope
When Guy Daniels first heard about salted caramel, he was disgusted. Daniels was driving when a chocolatier appeared on NPR talking about her caramels, which she topped with a sprinkling of fancy sea salt. "I thought it was the dumbest idea ever imagined," Daniels, owner of Santa Rosa's Gandalf Chocolates, says. "I thought, 'Who is this nut?' That's just insane, why would you put salt on chocolate?"
He mentioned the idea to friends, who had the opposite response; they thought the sweet-salty combination sounded delicious, and urged him to try it. Six years later, Daniels' dark chocolate caramels topped with sea salt are his bestselling truffles, and he regularly sells out of them at farmers markets.
Daniels is one of the many Sonoma County chocolatiers and chefs who has experimented with salted caramel. The trend started in the kitchens of elegant restaurants in the early 2000s and spread to the taste buds of middle America by 2008 through Starbucks' salted caramel hot chocolate, Haagen-Dazs' Fleur de Sel caramel flavor and Wal-Mart-brand salted caramel truffles.
Although its national trendiness has since waned, salted caramel has evolved into a mainstay for many Sonoma, Marin and Napa eateries, cropping up on the dessert menus of pizzerias, sushi restaurants and bakeries. Local cupcake chain Sift featured the flavor combination for its March specialty cupcake, the Stud Muffin, a beer cupcake with salted caramel frosting sprinkled with bacon.
Salted caramel is especially common in French restaurants such as Sausalito's Le Garage and Santa Rosa's Bistro 29, since the flavor combination began when chefs from the Brittany region started folding local sea salts into their caramels.
Bistro 29 owner Brian Anderson added a salted caramel ice cream to his menu after noticing the ubiquity of salted caramel lollipops in shops around Brittany. The gray sea salt he adds isn't to give the ice cream an overwhelmingly salty flavor, he says, but to enhance the caramel. Although it poses a unique challenge—salt melts ice, so servers have to rush to keep the dessert from melting—it's become the restaurant's most popular ice cream.
"Maybe it's a food trend now," says Anderson. "But I would stick with having it because we like it and our customers do, too."
Like any other food trend, some have already discarded it. Napa's Morimoto had a miso caramel dessert for a while, but recently jettisoned it in favor of a blueberry and Earl Gray creme brule. Others have tweaked it. Julie Herson learned about salted caramel in culinary school, but when she started her own truffle company, Salt Side Down Chocolates, she chose to focus on the pairing of salt and chocolate. She's combined her salt-topped truffles instead with mushrooms, umami and olive oil. "Salt and caramel just kind of go together nicely, [but] they're not bringing out any different layers of flavor," Herson says.
Still, the combination of salt and caramel—delicious to some, boring to others—has proven to be intriguing to North Bay taste buds. As for Guy Daniels, he'll keep making salted caramels as long as people keep buying them, even if he still doesn't get what all the fuss is about.
"It's not something that I think, on the surface, makes a lot of sense," he says. "But clearly it does. My customers love it. It really does have a following."
Send a letter to the editor about this story.