06.08.11
home | north bay bohemian index | news | north bay | feature article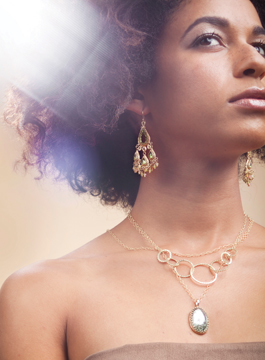 Model: Teresa Kabba
Photograph by Sara Sanger
All That Glitters
Becky Kelso's handcrafted metal jewelry
Photography by Sara Sanger | Hair by Ashley Allred | Makeup by Rochell Foust | Profiles by Leilani Clark
Cate Blanchett, Penelope Cruz and Sandra Bullock have one thing in common: all three have worn the handcrafted earrings and necklaces of Sebastopol jewelry designer Becky Kelso.
After graduating from the Fashion Institute of Design in Los Angeles, Kelso, then 21, escaped Southern California for Mexico. It was there, in San Miguel de Allende, that she began apprenticing under a silversmith. "I do much better with hammers," she laughs, sitting among the saws, wire cutters, stones and metals in her Graton studio.
Back in L.A., Kelso worked as an assistant curator at La Luz De Jesus while continuing to create the intricate, Moorish-influenced rings and earrings that would become her signature.
In the mid-'90s, Kelso showed her pieces in New York. The response was immediate and enthusiastic. Mademoiselle put Kelso's designs on the cover; before long, she was in Fred Segal and Nordstrom. In 2003, Kelso's chandelier earrings became a sensation when worn by Penelope Cruz on the cover of British Vogue. Eight years later, her pieces have sold in Barneys, Neiman Marcus and Saks Fifth Avenue, and she's been featured in Instyle, the New York Times, Italian Elle and Martha Stewart Weddings.
Kelso finds inspiration in travel to other countries, ancient jewelry techniques, natural phenomena and gardening, as well as medicine journals, where she studies the repetitive patterns of cells. "I'm inspired by jewelry that makes that connection," says Kelso about her elegant, modern designs. Jewelry today tends to be designed on computers and pushed out into molds; Kelso creates all of her pieces by hand.
"I like doing it myself. I'm not as good at delegating the creative process," says Kelso. It's that dedication which makes her pieces much harder to reproduce, giving them an intriguingly individual character—as smart and cultured as their creator.
Send a letter to the editor about this story.