06.08.11
home | north bay bohemian index | the arts | stage | review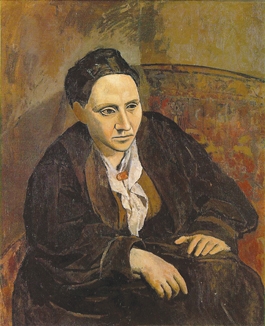 AGIT-VERSE:
Gertrude Stein's forays into theater: homage or vandalism?
Intense Nonsense
The Imaginists tackle Gertrude Stein's outrageous wordplay
By David Templeton
"Honest to God Miss Williams I don't mean to say that I was older."
"But you were."
"Yes I was. I do not excuse myself."
"I feel that there is no reason for passing an archduke."
It's been nearly a hundred years since Gertrude Stein, the celebrated literary figure and art collector, wrote that slice of non sequitur from her deviously deconstructive "play" Ladies' Voices. Equal parts poetry, performance art and practical joke, Gertrude Stein's contributions to the stage were meant as an act of playful vandalism in which traditional sentence structures of human conversation are all but eliminated. In their place, Stein wrote nonsense, often without punctuation. As a result, actors have little to work with—and everything to work with, since they're free to interpret the text any way they choose.
It's no surprise that Santa Rosa's fearless Imaginists Theatre Collective would eventually find its way to the plays of Gertrude Stein. What is unexpected is that the result would be so entertaining. In Gertrude Stein: 3 from Geography and Plays, directed with invention and dark humor by Brent Lindsay and Amy Pinto, the Imaginists tackle Stein's murky musings with a gleeful appreciation for her comic experiments in bizarro absurdism.
In Ladies' Voices, the audience is encouraged to move about as three actresses "converse" inside a tiny teahouse, too small for the various suitcases and musical instruments the ladies have brought with them. There is dancing as well. The result is pleasingly silly, yet tinged with sadness—and extremely short.
In What Happened, the actors use a larger performance space, stepping across the floor from painted spot to painted spot, as an assortment of befuddled party guests murmur odd observations—"A clever saucer is very likely practiced . . . and has toes!"—while playing games like Pin the Donkey on the Tail.
And in the final piece, Turkey and Bones and Eating and We Liked It, the sidewalk and street in front of the theater become part of the stage, all seats turned to face the door as the actors come and go, eat vegetables with supremely intense emotion, drive cars—and exclaim things like "I do not understand electricity."
There is little to actually understand in any of this, but for those who are up for an evening of outrageous weirdness, the Imaginists excursion into the mind of Stein offers plenty to enjoy.
'Gertrude Stein: 3 from Geography and Plays' runs June 9-12 and 16-18 at the Imaginists Theatre Collective. Thursday-Saturday at 8pm; Sunday, June 12, at 5pm. 461 Sebastopol Ave., Santa Rosa. $10-$15; pay-what-you-like days on June 9 and 16. 707.528.7554. www.theimaginists.org.
Send a letter to the editor about this story.