06.08.11
home | north bay bohemian index | columns | wine tasting room of the week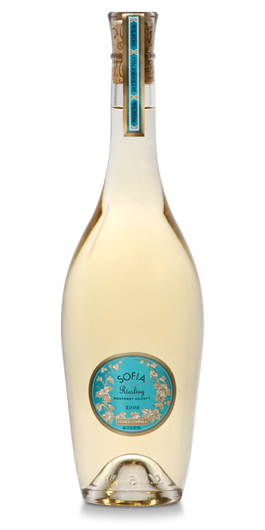 Ten Rieslings, Dry
By James Knight
Having taken some time to dry out, California Riesling is making a small comeback. More so than with Pinot Noir, vintners say, a cool climate is the key. We tasted a few of my local favorites, with some illustrative imports thrown in. Listed in order of group preference; stars awarded according to my own notes.
Francis Ford Coppola Winery, Sofia 2009 Monterey County Riesling ($19) I hesitated to include this one when I saw the Rubenesque, novelty bottle, fairly suggestive of a cloying, unserious product. "I couldn't imagine bringing this to a dinner!" said one. But blind-tasted from a carafe, it tantalized with apricot skin, white flower and sweet fruit aromas, while the restrained palate was briny, with greyhound-level acidity. There's a little residual sugar, but great balance. ♦♦♦♦
Mahoney Vineyards 2008 Carneros Riesling, Las Brisas Vineyard ($18) Pine boughs and pound cake, white peach and honeycomb, lychee and coconut water—these are some of our favorite things about the tonic, interesting Mahoney. ♦♦♦♦♦
August Kesseler 2009 Riesling Kabinett, Rheingau ($12) Aromas of cotton candy, strawberry juice and spice, delivered with the famous—and often necessary—balance of acidity and sugar, from the homeland. ♦♦♦♦
Yalumba 2008 South Australia Riesling ($11) The scent of "mineral oil," or more frankly, diesel fuel, is actually a desirable hallmark of some Rieslings. Described as both refreshing and unrefreshing by the same tasters, citrus at the center of a thick, oily palate. Strangely appealing. ♦♦♦♦
Davis Family Vineyard 2009 Santa Lucia Highlands Riesling ($NA) Jasmine, white flower aromas over a razor-sharp, piney palate. Winemaker Guy Davis says that it pairs unbelievably well with rib-eye off the grill. ♦♦♦
Taft Street Winery 2009 Russian River Valley Riesling ($16) Apricot, guava and pink grapefruit, off-dry but nicely balanced. A leaner version of the familiar California Riesling. ♦♦♦♦
Davis 2008 Santa Lucia Highlands Riesling ($18) Pixie sticks and baked pear, with a trace of petrol and a body that's reminiscent of the Yalumba. ♦♦♦♦
Davis 2008 Sonoma Coast Riesling ($18) Rosemary, wet plaster aroma with petrol influence; white grapefruit and bitter herbs on the back end. Varietal and very crisp. ♦♦♦
Pey-Marin 2009 Marin County Riesling, 'The Shell Mound' ($26) Faint aromas of apple cider, jasmine, pineapple, wet stone. Every bit as subtle as it's intended to be; for some, too subtle, like some ghost Riesling. Don't be scared: only 11.9 percent alcohol. ♦♦♦♦
Banyan 2009 Santa Lucia Highlands Riesling ($17) While lively and lean, we thought it was undermined by hints of soggy cashew, spoiled fruit, wet fur. Past vintages have been more appealing. Two bottles sampled. ♦♦♦
Send a letter to the editor about this story.