06.09.10
home | north bay bohemian index | news | north bay | feature article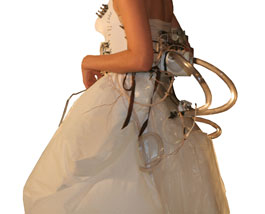 Innocent Voyeurism
On the fall of fashion and the pleasures of poking around other folks' digs
By Gretchen Giles
For years, we assayed a special fashion issue until the simple question begged, why? There are hundreds, if not thousands of outlets that do nothing but fashion and others that give it the occasional throw and do it far, far better than can a woman whose professional look is heavily influenced by wrecked cowboy boots and vintage sequin skirts. And so we tossed it, replacing our fashion coverage with La Vie Bohème, which attempts to capture some of the design mojo of our market without having to discuss clothes, hair or makeup . This time 'round, influenced by the preponderance of North Bay garden tours and other acts of innocent voyeurism, we thought to look at some unusual local interiors. This time 'round, having come across a particularly good New York Times Magazine layout , we also thought to steal it. We hope you enjoy this small peek into other people's lives.
El Fudo and Wizzbang Mahnkae
Warren and Maile Arnold
Dan Flock and Jenn Maly
Send a letter to the editor about this story.