06.10.09
home | north bay bohemian index | the arts | visual arts | review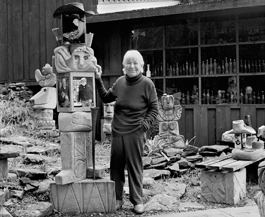 Photograph by Murray Rockowitz
PORTRAIT:
Mary Fuller McChesney in the sculpture-strewn area outside her home, standing next to the monument she created to her husband.
True Bohemians
Artists Robert and Mary Fuller McChesney found peace outside the limelight
By Gretchen Giles
You don't know nothin' about bohemians until you've been to the top of Sonoma Mountain. There, at the end of a treacherous five-mile road winding up from the Petaluma Valley floor, sits the modest one-acre undulation of land that's been tamed, groomed and loved by artists Robert and Mary Fuller McChesney for over 50 years. Given the land in 1952 by friends who hoped to establish an artists colony, the McChesney's home was built by hand, a one-room boho chalet with a kitchen, a sleeping loft and a bathroom that doubles as a shower room. Phone service was slow to come; electricity, a luxury. Empty wine bottles are still recycled by breaking them into the gravel driveway, food is grown just past the hand-built barbecue pit, and there's really not much reason to go back down that treacherous hill at all.
Robert "Mac" McChesney, a painter who came to critical notice during the San Francisco abstract expression movement that followed WW II, died last year at age 95. Now just 87, Mary, a writer and renowned sculptor in her own right, lives alone on their compound, surrounded by hundreds of her playful carved creatures and squat mama figures tucked among the lichen-covered rocks and under the oaks, spread down hillsides and placed by the side of the house, adorned as it is with bone assemblages that Mac created over decades of tramping the local hillsides and carting back deer remains.
The dining room table was made from a piece from the Sturgeon's Mill, which sold four-foot slabs of old-growth redwood for $10 each back in the '50s. ("I wanted to build the house from these boards," Mary says. "But Mac wouldn't go for it." She shakes her head. "Square bastard.") The floor is stone and cement; the only heat from a fire; the view immense. And then there is the tremendous pleasure of settling down at that dining table and listening to an octogenarian repeatedly use the word "fuck."
Despite her age, Mary McChesney isn't old, and hearing her casual swearing is really of no more remark than if she were 27 or 37 instead of 87. To look at her, one wouldn't guess her to be much above 67; to listen to her, well, we're back at 27. A retrospective of Mac's work and some of her own opens June 14 at the Petaluma Art Center.
Mary was Mac's third wife, a marriage that endured and found the couple decamping to Mexico for a year in the late 1940s, living in an artists colony in New Mexico and then back and restless in San Francisco in the early '50s. Mac, who grew up in the country, hated even the provincial confines of San Francisco's city limits. When the chance to take over a rural acre high above Petaluma dropped freely into their laps, the couple grabbed it, even though it was then a three-hour trip from the city, and Highway 101 was little more than two-lane road dominated by thundering logging trucks.
"We had 10 different couples up here," Mary remembers, "and none of them took a spot." With almost no neighbors, the two happily settled into an artistic domesticity that even attracted the attention of Sunset Magazine. The 1953 feature spread on them was eventually killed when the editors determined that their fabulous house with its fabulous views and fabulous occupants was largely illegal.
Mac was the handsome celebrity; Mary, the voluble magnet. He won the Purchase Prize at the Whitney Annual in New York in 1955, first prize at the San Francisco Museum Annual in 1960, showed in Brazil and Japan, had work purchased by the influential Oakland Art Museum and was praised by all the critics of the day. She wrote the first definitive work on the S.F. ab-ex movement, Period of Exploration—hugely relied upon by Dr. Susan Landauer decades later when she penned her influential coffee-table book on the period—supported them by writing mystery novels and eventually became an oral historian, interviewing artists and other notables before embarking on a final career as a sculptor specializing in civic monuments. Their close friends included such art-world stars as Hassel Smith, Agnes Martin, Ad Reinhardt, "Dick" Diebenkorn, Clay Spohn and even the irascible Clyfford Still—all of whom became wildly famous, while Mac did not.
On a recent cool foggy morning, the top of Sonoma Mountain is shrouded in heavy drizzle. Wandering about the dripping sculpture, trying to figure out which of the three structures might be the actual house, a visitor is hailed by Mary, a diminutive woman with a nearly unlined face in a thick sensible sweater standing down by a monument she has created to her late husband. Pictures of his rugged face from different periods of his life have been screened onto metal plates affixed to the cement mixture she regularly carves from.
A studio assistant has fashioned a facsimile of his ever-present cowboy hat out of a chimney cap, a recycling effort which the frugal Mac would have greatly approved of. The Petaluma Art Center retrospective was organized in great part to exhibit Mary's work, but she's having little of it. Her focus is on honoring her husband's oeuvre.
A new widow, McChesney is far from alone. Exhibition curator and self-described "No. 1 fan" Dennis Calabi is there, preparing to go into Mac's studio to choose canvases for the show. Artists Mark Grieve and Ilana Spector, who live just below, are bringing lunch. Their late-spring art dinner for 100 out in the Black Rock Desert was canceled due to electrical storms, and they have a lot of frittata.
"I don't like showing with [Mac]," Mary explains, making tea inside the warm house. "We showed together at Bolles Gallery and there was a big write-up about it and it was all about Mac, and in the last paragraph there was a sentence like, 'And Mary was in the show, too.'"
The phone rings, taking Mary away, and Calabi explains the exhibition's arc. "The theme is 'Fifty Years on Sonoma Mountain,' so we'll start on the early '50s and go up from there. A lot of previous shows have focused on the '40s, but that's the beginning of Mac's work. We'll have several pieces from each time period. From the earlier work to the end, there are repeated themes, personal stories, yet Mac just didn't get stuck in ruts."
Which themes? Calabi pauses and looks around at the art on the walls. "The grid pattern, after the mid-'40s, that continues to the end," he says, gesturing to a piece. "He always used different ways to address it, though. And the bones motif, which occurred before the actual physical use of bones. And, of course, the circle." And indeed, McChesney's canvases pulse with grids and circles—a whole series evoking galaxies—are framed with lines and explore the random beauty of nature.
Calibi explains that McChesney often started with found images—particularly when he taught, using students' discards—and painted out the ungainly stuff, saving just the "happy accidents" before reordering the page. "The Arena series was his most important series," he says. "Very accessible, very remarkable. It's marked by his use of enamel and sand on canvas. They not only speak of everything that's great about his work, but also why he wasn't properly recognized.
"In the '50s, the 'ism' of the time was ab-ex, action painting specifically. He used a subconscious style of composing, thoughtful, meticulous and sort of mystical. All the stuff," Calabi laughs, "that wasn't in vogue. It was an outsider attitude in a world that wants everyone to fit in a box. A commercial weakness but an artistic strength."
Calabi, who is a specialist in conserving and restoring paintings, hopes that the Petaluma show will in some small way rectify Mac's low place on the art-world totem. He is even considering opening his own gallery to sell work by Mac and others whom he feels just never got the recognition they deserve. "If it doesn't have major representation, people think that there must be something wrong with it," he says. "They don't trust their eyeballs."
Speaking specifically of Mac, he says, "He was a major artist, but because of his refusal to move to New York, his prickly personality and robustly Stalinist politics, his heavy drinking and the fact that there were no galleries in San Francisco—he got overlooked. Every region has its group of really hot people who never got the light of day. Mac got fabulous reviews by the best critics of his time.
"If they'd moved to New York, it would have happened."
Grieve and Spector have arrived, bearing unconscionable amounts of food. Mary bustles about the table, making a salad. Everyone's looking hungry. Time to leave. Walking back up the steep sculpture-strewn slope to the car, the visitor can hear Mary clearly from inside the house.
"Let's eat!" she cries lustily.
'Fifty Years on Sonoma Mountain,' paintings and sculpture by Robert McChesney and Mary Fuller McChesney, opens with a free public reception on Sunday, June 14, from 2pm to 4pm. 230 Lakeville St. (at East Washington), Petaluma. 707.766.5200.
Send a letter to the editor about this story.