June 13-19, 2007
home | north bay bohemian index | music & nightlife | essay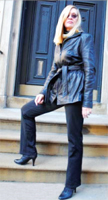 Remember: Shangri-Las singer Mary Weiss is back.
Before I Get Old
Rock 'n' roll and the myth of aging
By Karl Byrn
Rock music is full of age-based myths. First, there's the limited notion that rock culture equals youth culture. Rock's origins and its ongoing energy are dependent on what Neko Case calls "that teenage feeling," but decades of creative output have shown that rock is more far-reaching and complex. The model of veterans growing old gracefully is also inaccurate. Records made by seminal figures late in their careers may or may not be centered, renewable founts of wisdom.
Rock further suffers from the cliché that "they don't make 'em like they used to." Every generation repeats this vile idea with disdain for what's current. It's certifiably true that we respond more powerfully to the music we loved in high school, but it's never true that new eras of music are uneventful.
One recent rock event is the return of Mary Weiss, lead singer of the Shangri-Las, the iconic '60s girl group known for teen-drama hits like "Leader of the Pack" and "Remember (Walkin' in the Sand)." Weiss is 58 and hasn't recorded in 40 years, and her new release Dangerous Game chops down a forest of age myths. Much of the appeal is that Weiss is a sleek, sexy older woman who time-travels back to the exact golden sound and feel of the Shangri-Las. Her backup band, the notable Memphis neo-garage act Reigning Sound, hit nuances of mid-'60s NYC rock spot-on, down to details like castanets, carnival organs and slightly out-of-tune guitars.
Gone is the teen hyperbole--there are no "vroom-vroom" motorcycle sound effects or life-and-death parental confrontations. Instead, a new song like "Stitch in Time" is a mature triumph of plainspoken innocence that's guiltless and drama-free. The Shangri-Las' naïveté was a thin veil for heavy layers of remorse and dread, and similarly, Weiss' new material (largely written by Reigning Sound's Greg Cartwright) is deceptively simple.
Weiss' fusion of the aged and ageless seems seamless, but "Cry About the Radio" almost makes the difference seem as wide as the Grand Canyon. In a genuinely sensitive tone, Weiss bemoans that "Kids don't know shit / They just want a hit / I don't write hits." When the song later notes that "music's got no place to go," Weiss and Cartwright--without hating the iPod generation--naively miss the fact that music is, of course, going so many more places than their beloved old-school radio.
If Weiss' Dangerous Game finds age-based myths imploding, Ian Hunter's Shrunken Heads leans on age clichés for steadiness. Hunter was the leader of '70s glam-rock band Mott the Hoople, and he's since had a hit-and-miss long-haul solo career. His new work purposefully plays the wise elder card, with reflective finger-pointing that's buoyed by comfy post-Dylan roller-rink rock. There's vague nostalgia on "When the World Was Round" and more detailed, carefree disregard on "I Am What I Hated When I Was Young."
Shrunken Heads is reliable veteran blues-rock, but Hunter sometimes feigns wisdom--or edginess--to avoid his own uncertainty and resignation. "Soul of America" wraps a plea for leadership into an antiwar Everyman celebration, but also descends into cheap support-the-troops-and-party sentiments. On the driving "Fuss About Nothin'," it isn't clear whether the lyric "If it's left to the left, there won't be nothing left" is part of the mock-Bush tone or Hunter's own doubt about the good guys.
Hunter complains about FEMA, war and designer clothes, but that's no sign of seasoned maturity. His great talent for self-effacement seems lost between grasps at both roughness and grace. If anything, the common theme of his new material is questioning authority, an admirable trait that's both juvenile and predictable.
Weiss and Hunter aren't alone among this season's re-emerging veterans; the Stooges, Graham Parker and Dinosaur Jr. have new works that can't shake age clichés. How they face age can make rock's age myths real. Weiss acts like age doesn't matter, while Hunter insists that age matters most. If Hunter can neither be vigorous nor sagelike, at least Weiss is comfortable and guileless enough to still make 'em like she used to.
Send a letter to the editor about this story.