June 14-20, 2006
home | the papers | north bay bohemian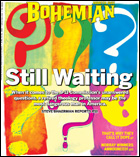 Cover Story: Nonconspiracy theorist David Ray Griffin questions the true events of Sept. 11
How a retired theologian may be the most dangerous man in America.

News: Demystifying methamphetamine
No, it doesn't burn holes in your brain. No, addiction doesn't occur after only one usage. Yes, it remains the most dangerous drug in the North Bay and beyond.
News Briefs: Marin County graduation pranks, plus PG&E closures
One Marin teen shoots his principal while others accidentally sacrifice chickens in end-of-year pranks. Plus, PG&E plans to shutter walk-up offices.

News Column: Peter Byrne. San Francisco author Antonia Juhasz and the Bush agenda
A close analysis of the Iraq reconstruction budget indicates that the U.S. has no intention of pulling out. Ever.
Car Culture: Driving I-5 to the Oregon border
If it's summer it must be time for a road trip. Novella Carpenter on the joys of avocado sandwiches, the Pick 'n' Pull and biodiesel.

DVD review: 'Deadwood'
Season Two disc prepares viewers for HBO smash Western's return to the small screen.
Talking Pix: 'The Omen'
What would an actual demon say about the new 'Omen' remake?

MORE MOVIE REVIEWS

SONOMA COUNTY / NAPA COUNTY / MARIN COUNTY MOVIE TIMES

New Releases: Gnarls Barkley, James Hunter, Boris and others
On the grill: Smokin' new sounds for the backyard barbecue.
New Releases: Eagles of Death Metal, Tool, Wolfmother, Boris and others
Goof factories: Exploring the serious and the not-so-serious in new heavy metal releases.
Music Profile: Ringo Starr
Preparing for his summer tour, Starr still gets by with a little help from his friends.
CD Review: Sonic Youth
On their latest CD, the band turns the noise down and the melodies up.

MORE NIGHTLIFE

NIGHTLIFE LISTINGS

NIGHTLIFE CALENDAR PICKS

Restaurant Review: Hot Tamales in Santa Rosa
Catching Pupusa fever at Hot Tamales.
Winery Profile: Cline Cellars
Parsing original Zins through elaborate simile.
Food Essay: In praise of Spanish paprika
Who knew that one little tin of the red stuff could flavor so many fabulous dishes?

BOOK A RESTAURANT RESERVATION

FIND A RESTAURANT REVIEW

Event Review: Announcing the winners of the 2nd Annual North Bay Music Awards (NORBAYs)
Second that emotion: Standing the grounds at the NORBAYs.