06.15.11
home | north bay bohemian index | sonoma, napa, marin county restaurants | preview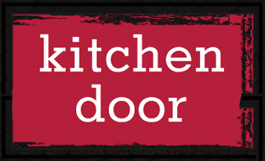 Open Sesame
By Katrina Fried
The Kitchen Door, the new eatery in Napa's Oxbow Market helmed by chef Todd Humphries and restaurateur Richard Miyashiro, is primed, prepped and ready to open on June 14. A friends-and-family preview dinner last week gave a sneak peek at the restaurant's menu and design. Soaring ceilings, an enormous glass skylight and white subway-tiled walls give the sunlit dining room its airy loftlike feel, while shelves filled with general store goods, a low-hanging rack of old copper pots and mismatched rustic wooden chairs and tables bring the room back down to earth.
Diners place their orders at a counter, grab a number and find a seat inside or on the patio while their meal is prepared by Humphries and his team in the open kitchen. The menu of locally driven, multi-ethnic comfort food features a selection of salads, soups, pastas and snacks, including chicharrones from Ryan Farr's 4505 Meats and a Fatted Calf charcuterie plate from literally just around the corner.
The wood-burning oven turns out perfect puffy and crunchy flatbreads and pizzas, and entre highlights include a burger made with Kobe beef from nearby Snake River Farms and grilled king salmon served atop a mound of sweet corn relish—at $18.95, this is the most expensive item on the menu. The Straus Family soft serve ice cream for dessert is a must-try.
The Kitchen Door will be open for lunch and dinner seven days a week starting June 14. For more information, visit www.kitchendoornapa.com.
Send a letter to the editor about this story.