06.16.10
home | north bay bohemian index | sonoma, napa, marin county restaurants | preview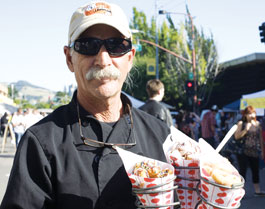 Gabe Meline
ARTERIAL KNOWLEDGE:
Harvey Cohen's mini-doughnuts are served hot and then drizzled with . . . stuff.
Mini-Dough Mania
They're small, they're fried in oil and they're all the rage
By Gabe Meline
Harvey Cohen tells me it's a good thing I showed up when I did to chat about doughnuts. "I gotta tell you something, if you'd have come a little later, I wouldn't have any time to talk to you," he says, motioning to his Harvey's Gourmet Mini Donuts booth. "It's been overwhelming. Last week, there were so many people here, the line was so long. I lost count at 20 people."
Yes, the North Bay is abuzz with miniature doughnuts—smaller, more expensive versions of regular doughnuts—and Cohen is more than happy to oblige the addiction. At Santa Rosa's downtown market last Wednesday, while setting up a booth with his family, he seems genuinely surprised at the popularity of his tiny, sugar-coated, deep-fried rounds of dough.
"I didn't realize that doughnuts are right up there with apple pie and the American flag," he says. "I put them above hot dogs, seriously. That's the status that they hold."
Half the fun at the crowded stand is watching Cohen's 25-year-old doughnut machine, capable of churning out 720 doughnuts every hour. Cohen, a Glen Ellen resident, didn't invent this machine, nor did he pioneer the concept of mini-doughnuts. He first saw mini-doughnuts in Las Vegas 10 years ago, but as far as he knows, he's the only mini-doughnut maker in the North Bay. "I've been told by guys in the food business," he testifies, "that I'm the first guy who figured out what to do with it, and do it right."
What he does with mini-doughnuts is serve them in a signature cone, powder them with sugar and drip glaze and various toppings liberally as a "Donut Sundae," complete with long-handled spoon, whipped cream and a cherry on top. Depending on the event, he occasionally offers a breakfast doughnut of coffee-infused dough, maple glaze and bacon; a Wine Country Line with chocolate Cabernet, Chardonnay and Merlot glazes; and a Savory Line featuring the "Calzonut," the "Meshuggahnut" and the "Ring of Fire," a jalapeņo-and-mango doughnut.
Are they healthy? That's not the point. At least psychologically, a mini-doughnut is smaller and therefore healthier. "I call it a fraction of the guilt," Cohen says, though he admits that most people order a dozen. What he does find interesting are the people who stealthily whisper their order or sneak around the back to get their fix. "It's like they think they're gonna get caught," he laughs. "We've all been brainwashed to think that doughnuts are not good for us."
Cohen says 99 percent of his customers share memories of doughnut shops when they were a kid (his own was Hunt's Donuts, in Daly City), but he savors creating new memories for people. "We were doing this fair," he remembers, "and this 20-year-old guy came to me and said, 'Can I have one doughnut?' We don't usually sell one doughnut, but I gave him one doughnut. He gets down on one knee, he slips the doughnut onto his girlfriend's finger, and he proposes to her right in front of me!"
A dozen of Cohen's mini-doughnuts are $5–$7. The very popular Donut Sundaes, comprising six mini-doughnuts and assorted combinations of glazes and confections, run $7–$9. New prices hint that business has been very good indeed, and sure enough, just as Cohen predicted, when I leave there's a line down the street.
"We've been expecting to be copied," Cohen says knowingly. "We've been told we're the new cupcakes."
Harvey's Gourmet Mini Donuts can be found at the Wednesday Night Market in downtown Santa Rosa, and Saturdays from 9am to 1pm at the Epicurean Connection, 18812 Hwy. 12, Sonoma.
Send a letter to the editor about this story.