06.16.10
home | north bay bohemian index | columns | wine tasting room of the week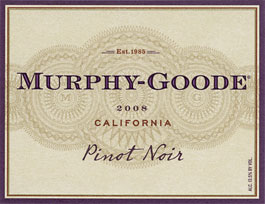 Pinot Not North of $15
By James Knight
Some say that Pinot Noir—notoriously shy-bearing, given to fainting spells and mood swings—can't be done on the cheap. But when the heart says "Pinot tonight" while the wallet counsels, "Sure, within a limited, um, price-to-value window," it's time to check out the local $15-or-less scene. These lovelies were blind-tasted by a party of four and rated on a scale of 1 to 5.
Murphy-Goode 2008 California Pinot Noir ($14) Floral aromas with strawberry, cherry, tamari, vanilla bean. Round, balanced, with stately, plump fruit and slightly astringent finish, it was found to be the prototypically, varietally identifiable, quaffable, everyday Pinot. Rating: 3.6
Cartlidge & Browne 2008 California Pinot Noir ($14.99) "Smart and punchy, drinkable," wrote one taster. Toasted spice, quince paste and fig led to brash fruit that was sometimes termed artificial or nonvarietal-tasting, but the dry, chalky texture won serious regard. Rating: 3.5
Flock 2008 Monterey Pinot Noir ($14.99) A light curl of smoke wafted over subtle berry, crantini and spice. While the palate wallowed a bit in wood, Flock finished pleasantly, with acidic verve and typicity. Rating: 3.4
Castle Rock 2008 Sonoma County Pinot Noir ($13.99) Impressions ranged from floral to resiny and weedy; also redolent of nutmeg, eucalyptus and stewed strawberries. Sweet berry, cherry-chocolate flavors ran rampant and unstructured, making a ripe, racy but inoffensive wine for the here and now. Rating: 3.2
Mark West 2008 California Pinot Noir ($12.99) Not much agreement here, except that it's got classic green aromas of stems and cannabis, with hibiscus, crantini and a balance of sweet and tart. Clean, simple flavors. Rating: 3.2
Castle Rock Carneros Pinot Noir ($13.99) Spicy aromas of sage, vanilla, Mexican chocolate, dried fruits and jam were promising, though blunt cherry-berry flavors weren't varietally recognizable. All agreed it was OK, but not inspiring. Rating: 2.7
(Anonymous) 2008 Sonoma Coast Pinot Noir ($65) Perhaps it's not fair to judge a wild card—from a prized vineyard which scored mid-90s in the Wine Spectator—against these simple rubes. But it's fun to exercise a curious mind. Came on promising with bright berry fruit, but the group knocked it off the top shelf for medicinal, sweet heat on the finish. Rating: 2.7
Blackstone 2007 California Pinot Noir ($11) Earthy and stemmy, cinnamon and potpourri, twiggy, with rhubarb and pepper. Ran into the weeds on flavor and finish. Favorite comment: "Might appeal to European wine drinkers." To their credit, Blackstone is upfront about the 22 percent Syrah in this blend. Rating: 2.5
Smoking Loon 2008 California Pinot Noir ($7.99) Acclaimed for smooth, structured mouthfeel—just a touch of bitterness lingering back-end—this might have been better but for pervasive smokiness. But then again, they said it was smoking. Rating: 2.3
Aquinas Napa Valley Pinot Noir ($14.99) Peat, charcoal, doused campfire, barbecue—and did I mention smoke? Showing some black cherry, charred meat, with medicinal overtones, flavors were largely masked by smoke taint—either from forest fires or some kind of oak sporting new toast-level BTH (burnt to hell). Rating: 2
Send a letter to the editor about this story.