06.17.09
home | north bay bohemian index | music & nightlife | band review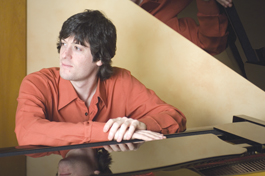 WORK SONG: 'The whole point of being an artist is not to pay the bills,' says pianist Noam Lemish, 'it's to create something beautiful.'
Singin' the Blues?
Sonoma County's jazz scene tries to keep its head above water
By Cassandra Landry
The crowd is decidedly sparse on a Sunday evening in downtown Santa Rosa, where contemporary jazz band Planet B are swinging through their first set. The coffee grinders of A'Roma Roasters hum steadily in the background, and a handful of both young and old sit around the room, cradling cups of tea and coffee, bobbing their heads thoughtfully. A mostly empty tip jar sits next to stacks of CDs in front of the musicians.
This is the meager new face of the jazz scene in Sonoma County.
Planet B bassist Brett Palm takes a moment between sets to chat about the morose state of jazz appreciation in the community. Planet B is a representation of the veteran musicians who have been playing in the county for years, many working day jobs and some still attempting to play full-time. Palm, who owns a carpet-cleaning company by day, admits that those trying to go full-time are "scratchin' out."
"I feel like this is worst jazz scene I've ever lived in," he says, shaking his head. "The Caribbean was great, L.A. had all kinds of clubs going on—you didn't make much money, but at least there were places to play." After a pause, he reconsiders. "There was one place I've lived that was worse. Arcata."
The rise of "cocktail jazz"—tuxedoed quartets playing mood music in the background for winetastings and weddings—is becoming an easy fate for any North Bay musician. Of course, Sonoma County is better off than many places, as 27-year old jazz pianist Noam Lemish points out before taking the stage during the Healdsburg Jazz Festival's Rising Stars concert.
"I definitely lament the situation in the county," he says. "But I think in a way we should be grateful that we do live in wine country and that there are actual venues to play in."
Lemish, after releasing his debut CD Yes, And in October of last year, has no plans of falling into the winery-wedding trap anytime soon, but admits that economic circumstances may require him to.
"If I don't want to be someone or something, I just won't," Lemish says, shrugging his shoulders. "I'll make sure to carve out my life in a way that if I decide that I'm not going to be able to make a living playing music in the way that I want to, I'll find a different way to make a living through music."
After lamenting the loss of diehard jazz club Zebulon's Lounge in Petaluma, Lemish mentions the Healdsburg Hotel, the Lodge in Sonoma and the Palette Art Cafe in Healdsburg as three major venues available for musicians to perform original works.
"A lot of the gigs are wineries or hotels, where you're playing a background kind of role," he adds. "Music is becoming a luxury, really, for a restaurant or a club. They try to use it to bring people in, but it's not a necessary part of their organization."
After moving from Israel in his teens and attending Sonoma State University, Lemish immediately began making appearances all over the North Bay, working with some of the greats, including his teacher at Sonoma State University, the late Mel Graves.
"You know, I sometimes feel like I have to stay so busy just to pay the bills," he admits. "I mean, the whole point of being an artist is not to pay the bills, it's to create something beautiful. Sometimes, it's hard to find the time to do the things that I feel that I need to do, like compose and practice.
"But, I'd also like to go to the beach. Or a movie," he adds. "I love what I do, but the work never stops."
Back at A'Roma Roasters, Palm nods when the conversation circles back to the economy.
"Money's always in the way, there's no way around it," he says, taking a sip of his coffee. "But with the day job, at least that gives me a little leeway to experiment with a few things. But I don't make any money. This band isn't making any money."
When compared to a starving artist, Palm laughs and adds, "I'm probably a little too comfortable. I should probably be living under a bridge or something."
Lemish sees the problem rather as a mixture of economic woes and a change in the community-wide attitude towards the arts.
"The arts, musicians in general, are just not valued by society, and musicians are not getting paid what they deserve or what they need to sustain themselves," he says. "But nurses aren't getting paid, teachers aren't getting paid. But musicians . . . I mean, I would die for a salary like a teacher's."
Lemish, who at one point a few years ago was playing four or five nights a week, says he now only appears eight or 10 times a month—which for many other working musicians is still a lot to hope for.
"I do the gigs and I teach, and I try to get on other projects. I have to do a lot of things I wouldn't normally do," he says. "I'd like to be in a situation where I could support myself and have time to practice and compose. That's what's going to allow me to continue to create new music."
What Lemish describes is, of course, the dream: endless amounts of time with no monetary constraints. For jazz musicians in particular, as Palm mentions, music is more of a personal affair. It's "music for musicians," he says. The goal is to have a conversation, not keep crowds dancing, which can be limiting when trying to find a reasonable gig.
"I wouldn't take [Planet B] and try and do a wedding. It'd be a waste of time," Palm says. "If the bride's going, 'We want to hear "Feelings" . . . I mean, we could go out and do a bunch of standards, if a hotel wanted it, but what we're looking for are places that want original music."
Sonoma Valley Jazz Society president Janice King takes a different approach; she says the society is trying to provide as many outlets as possible, still going strong in it's 20th year. "We're making it happen," King says. "I know it's a decline, but all musicians are complaining. I really think it has to do with arts being the extra."
King seems confident in the survivability of the jazz community, and emphasizes how many supporters there still are. The crowd may have been sparse that Sunday evening at A'Roma Roasters, but faced with the rebirth of a jazz scene in Sonoma County, it's a start.
"If we all pull together, we'll keep it going," assures King. "We do it for the love of jazz." 
Send a letter to the editor about this story.