June 20-26, 2007
home | north bay bohemian index | the arts | stage | essay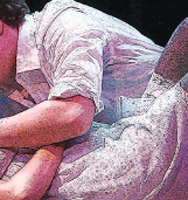 Lust: Broadway becomes relevant to youth again with 'Awakening.'
'Spring' Time
What the Tony Awards indicate about the future of theater
By David Templeton
Every year in early June, the actors, directors, choreographers, lyricists and regular folks who give a damn about what happens on Broadway gather together in New York City to wear tuxedos and make like the Oscars—only with more style, classier production numbers and less viewers watching the show on television. There are those who feel that what happens at the Tonys has little effect on the rest of the world.
They are, of course, entirely wrong.
When the annual Tony Awards were held again on June 9, the world of theater saw the evidence of something very big having taken place, a shift in the world of theater that could possibly be felt for years to come. In terms of the most victorious shows, the obvious winners were Tom Stoppard's Coast of Utopia, which won more awards than any nonmusical play in Tony history, and an obscure musical titled Spring Awakening.
All of this is worth noting for the dual facts that The Coast of Utopia is a nine-hour historical drama about Russian anarchists and revolutionaries broken into three separate plays, and Spring Awakening is a new musical adaptation of German playwright Frank Wedekind's late-19th-century play (first produced in 1906) about cultural alienation, parental abuse, teenage sex, abortion and suicide. It won eight awards, including best musical.
While it may seem reasonable that such weighty works would be so highly honored (award shows often give their tchotchkes to "difficult" material), what is so surprising about Utopia and Awakening is that both of them have been solid financial hits. Success on Broadway means that a show will have life beyond Broadway, as it is given lavish touring productions and then made available for production by any small independent theater company able to pay the royalties.
Spring Awakening, which has seen lines of teenagers wrapping around the block of the Eugene O'Neil Theatre, is already scheduled for an open-ended San Francisco run in 2008. It is a good bet that the Coast of Utopia trilogy will be in the Bay Area by the end of the same year.
But the most profound impact these shows have on the theater world extends far beyond the productions themselves. Suddenly, the people who put up the bucks to get plays and musicals on the stage are realizing that, as in the case of Utopia, people do still have a taste for rich, highly literate new dramas, and, with Spring Awakening, that teenagers actually can be lured into the legitimate theater if the material appeals to them and if the musical score and choreography really rock the house.
Apparently, the Great American Play is not dead after all, and in the near future we will be seeing more shows grappling with intellectual themes and political ideas. And at the same time, with the earthquake shake that is Spring Awakening, we are about to see more shows designed to appeal to the worldviews and aesthetic sensibilities of folks under 30.
In both cases, it's about time.
American theater has long worried about its lack of young audiences (beyond those brought to the theater by their parents to see Beauty and the Beast or The Lion King), and Spring Awakening, astonishingly, has corrected that by doing something impossibly audacious. The producers have retained the original time and setting of the play—which explores sexual mistakes made by young people because of the lack of information allowed them by parents, teachers and clergy—and by reworking the language to reflect the parlance of modern teenagers and adding a rock score and some hip-hop-inspired dancing, they've created a show that speaks to the pain and frustration that many young people feel but rarely see reflected on the stage in a way they would actually want to see.
Truth is, with so much emotion and energy—and with its eye-popping choreography that has the cast pogo-ing across the stage and leaping on and off of classroom chairs and singing tunes like "The Bitch of Living," "My Junk" and "Totally Fucked"—this show is nothing less than electrifying.
And it will change the landscape of American theater. If theater producers are not already looking back at every project they previously declined because it might only appeal to teens and twenty-somethings, they have missed the lesson of Spring Awakening. And while older Tony watchers may have been surprised to see the Best Musical award go to a show featuring German school kids singing about sex and death, love and confusion, the pain of loss and the wary anticipation of the future, the only real surprise is that it took so long for this to happen.
Send a letter to the editor about this story.