June 20-26, 2007
home | north bay bohemian index | movies | current reviews | film review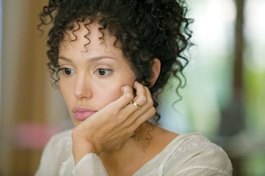 Wait/loss: Angelina Jolie portrays Mariane Pearl, whose husband Daniel was kidnapped and murdered.
Pearl, Interrupted
'A Mighty Heart' has us wait for Jolie's high note
By Richard von Busack
In A Mighty Heart--a 1912 film title if ever there was one--Angelina Jolie plays Mrs. Daniel Pearl, the wife of the martyred former Wall Street Journal reporter. In January 2002, Pearl was investigating the links between Pakistani jihadists and the "shoe bomber" Richard Reid, whose name we all routinely curse when trapped at the security gate at the airport. Kidnapped by the people he had tried to interview, Pearl (Dan Futterman) was kept prisoner and eventually horribly murdered. Meanwhile, Mariane Pearl, five months pregnant, waited for news.
Mariane's real-life memoir is unmuddied by calls for vengeance or by sobbing writing, and director Michael Winterbottom's cryptodocumentary approach tries to preserve something of her nobility. According to his kidnappers, Pearl was murdered as payback for the terrible conditions at the Cuban military base. Freeing the jihad POWs was one of the demands made by the fanatics who filmed Pearl's execution and uploaded it on to the Internet. Winterbottom mentions this demand, while showing the brutal methods the Pakistani police used in tracking down and torturing suspects.
Careful not to take sides, Winterbottom nonetheless portrays the Americans as conspirators and loiterers--and, in the case of embassyman Randall Bennett (Will Patton, the go-to actor for portraying government weasels), possessors of a sadistically vengeful streak.
We never join Daniel Pearl in his ordeal. Would it have been encouraging the enemy to look in upon the kidnapper, Omar Sheikh, another apparently civilized Westerner who made his choice for medievalism? The police investigation is slightly more dramatic than the scenes of Mariane Pearl watching, waiting, holding uncomfortable dinner parties and talking into a cell phone.
If Pearl was apolitical, so must we be, since Winterbottom gives us no way to understand the fanatics. Nor is their any suggestion of what Pearl felt, representing the Wall Street Journal as a balanced reporter. In those days, the WSJ's editorial writers out-hawked the most bloodthirsty D.C. wonks.
But in this tepid and monotonous film, one observes the world-famous diva and waits for the high note. Jolie's big scene comes when Mariane views the VHS tape (we're spared it) of her husband's murder, and wails to the heavens.
Jolie understands that Mariane is the one with the mighty heart, even though Mrs. Pearl was referring to her late husband. What used to make Jolie unique onscreen was her dangerousness. She once had a love affair with edged weapons--is she at her best cast as someone who sits around while someone else gets ready to use a knife?
Here, Jolie tests her new accent--Franco-Cuban--and her new look. She's coated with skin bronzer and drastic curls dangle on her forehead, making her look as weirdly exotic as the ladies in encaustic funerary portraits of ancient Egyptians. Maybe with a nonstar in the role, Winterbottom would have had a better chance of getting the sense of an ordinary person caught in an inconceivable situation.
But who knows who could save A Mighty Heart? Winterbottom is a director whose reach regularly exceeds his grasp. This is the kind of film that gets short-listed as great because it has a great subject. Those who recommend it realize that few will actually steel themselves to go see it, and far fewer will get back to you to tell you how dull it was.

'A Mighty Heart' opens on Friday, June 22, at the Rialto Lakeside Cinemas, 551 Summerfield Road, Santa Rosa. 707.545.2820.
Send a letter to the editor about this story.