June 21-27, 2006
home | the papers | north bay bohemian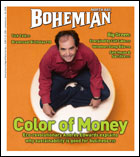 Marin County sustainability expert Andrés Edwards is on an EduTrack
Edwards explains why going green is so very good at growing money and trees.
Environmental Health: San Rafael's Ecology House is perfect for those suffering from MCS
Multiple chemical syndrome sufferers finally have a place to live.
Sustainability Essay: Rescuing bikes from the landfill
Like 'The Velveteen Rabbit,' old bikes can become real.

News Column: Peter Byrne. Feeding the schmooze at River Rock Casino
Peter takes a dry run through the Geyserville casino, making friends with the locals.
News: Lyme disease numbers on the rise in Sonoma, Marin and Napa counties
Whether its due to better reporting or because the tick is gaining in number, Lyme rates rise faster than the government's ability to cope.
News Briefs: Sonoma Grove sale, Bolinas gas slump and Calistoga cell hostage
Rohnert Park's beleagured Sonoma Grove trailer park, sold just last November, is on the sale block again, this time for a whopping $12.375 million. Is gentrification far behind?

Car Culture: Sober but helmetless in Idaho
California may require motorcyclists to wear a helmet but a growing trend requires even more: that riders stay sober.

Movie Preview: San Francisco's 'Serenity' fever!
The June 23 charity screening of 'Serenity' gives a thrill to Browncoats everywhere.

MORE MOVIE REVIEWS

SONOMA COUNTY / NAPA COUNTY / MARIN COUNTY MOVIE TIMES

Music Essay: Music moves you
Sara Bir is faced with storing every scrap of sound for the next two months. Does her music define her personality?
Music Preview: Béla Fleck and the Flecktones
After a year's rest, Fleck and his blue-jazz-grass mavens the Flecktones are in superb form.

MORE NIGHTLIFE

NIGHTLIFE LISTINGS

NIGHTLIFE CALENDAR PICKS

Food Essay: Target store's mass-produced Choxie chocolate prompts a word rebellion
From 'gourmet' canned soups to mass-poroduced 'artisan' truffles, the language of food gradually stales.
Restaurant Review: Simply Delicious in Santa Rosa simply is
Homemade Italian food for eating in or taking out that is all about flavor.
Winery Event: Lavender Fest at Matanzas Creek
The fields are purple, the wines Chardonnay and Merlot, and the feeling is fine at Matanzas Creek.
Winery Profile: Napa's Vineyard 29
For Silicon Valley entrepreneur-turned-winemaker Chuck McInn, cogeneration is the next generation.

BOOK A RESTAURANT RESERVATION

FIND A RESTAURANT REVIEW

Event Preview: Designer Jack Lenor Larsen at the Sonoma Valley Museum of Art
Renowned textile designer and collector showcases his own work in the Sonoma Valley.
Stage Preview: 'Freddy Chicken's Gumbo'
Fred Curchack sings da blues at Petaluma's Cinnabar Theater.

Letters to the Editor: June 21-27, 2006
David Ray Griffin's September 11th theories; politics and charity.