06.22.11
home | north bay bohemian index | the arts | visual arts | review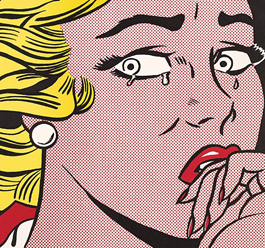 OH BRAD!
Roy Lichtenstein wasn't alone in using comic imagery, evident in a new show at the Schulz Museum.
Comic Central
'Pop'd from the Panel' explores fine art's ongoing appropriation of the funny pages
By Leilani Clark
As a child, a sickly Andy Warhol spent long winters in bed, entertained by the medium of the day—comic books. Years later, when the future "prince of pop art" abandoned commercial illustration, he famously painted a can of Campbell's tomato soup that would forever change the perception of what is considered art. Further appropriating commonplace cultural images, in 1981, Warhol returned to comics for his Myths series, using Mickey Mouse and Superman as subjects of large-scale paintings.
Stories like this inspired Schulz Museum curator Jane O'Cain as she procured art for "Pop'd from the Panel," a group exhibition opening June 25. "Pop'd" explores how comics have influenced artists like Warhol, Wayne Thiebaud, Christo and Jean-Claude, and Roy Lichtenstein, as well as contemporary artists.
"For many of that generation, comics were their entrance into art, and that early influence rose up later in their lives," says O'Cain, as she shares a sneak preview of a Jose Ramon Lerma piece in a bright-lit room off the Schulz museum's main gallery. Titled The Missing Moustache: An Homage to Duchamp, the collage portrays a Mona Lisa playfully entwined with a shadowy Mickey Mouse. The Disney mouse is an image that Lerma returned to in his abstract paintings and collages throughout the years. "Growing up in the Central Valley in the 1930s, comics were one of the first ways that [Lerma] experienced art," says O'Cain.
While researching for the exhibit, O'Cain also came across a Smithsonian Museum interview with Wayne Thibeaud—painter of pasteled cakes, pies, lipsticks and gumball machines—in which he recalled his artistic origin myth.
"He would clip comics out of the paper and he would try to trace and draw them," O'Cain relates. "He started to enter competitions in Life magazine. He would create the cartoon and send it in. He was actually published a couple of times."
O'Cain steps outside to show off Suzanne Morlock's large-scale installation piece Sweater, which looms over the museum courtyard, glittering in the summer sunlight. Morlock used the mylar byproducts from a sequin and spangle factory as material for the nine-foot-tall, 13-foot-wide piece, an ingenious appropriation of Charlie Brown's famous black and yellow zigzag shirt. The Wyoming-based artist utilized six-feet-long PVC pipes as knitting needles to knit the metallic threads into a giant sweater, a public-art commission for Jackson Hole, Wyo.
"She's playing off the 'Charlie Brown as everyman' concept," explains O'Cain. In the midst of recession, Morlock believed the reference to the buffoonish, cute underdog would be inspiring to a community wracked with unemployment and hard times, says O'Cain.
The intersection between fine art and comics began long before the pop art movement brought comic art vernacular to gallery walls, says Michael Schwager, professor of art history at Sonoma State University and co-curator of the exhibit.
"Picasso and Miro were fans of comics—the early ones like Katzenjammer Kids and Krazy Kat—and used some of the line quality and the left-right narrative sequencing of images," says Schwager. "They were avowed fans of popular culture. It went away with abstract art, but then pop art really embraced popular culture."
While Juxtapoz magazine teems with artists using a cartoon-like style, Schwager says he and O'Cain deliberately focused the exhibition on those that employ recognizable cartoon imagery. For this reason, much of the art in the exhibit appropriates or subverts not only Peanuts characters, but iconic imagery from Disney and Marvel as well, regurgitating them in surprising new ways. The survey of works begins in the mid-20th century and spans five decades to include contemporary artists like Enrique Chagoya, Tom Everhart, Sherri Levine, Suzanne Morlock and Ron English.
A progenitor of street art, English is best known for his shiny, bulbous, somewhat perverted paintings of Ronald McDonald. His piece in the Schulz exhibition is tame in comparison, featuring Spiderman pushing his way out of a webbed comic panel, but the artist has made a career of placing comic figures like Mickey Mouse in compromising positions. "When you look at what he has written, comics were a very important early influence," says O'Cain, explaining how English has said that as a child he identified closely with the misfit Charlie Brown.
According to O'Cain, this is only the second exhibit of fine art in the museum's history. The first featured Tom Everhart, the artist who creates abstract versions of Peanuts panels and characters. Everhart is part of "Pop'd from the Panel" and appears June 25 as a guest artist.
Schwager, a longtime comics fan himself, says the two-year process of collecting art for the show acted as a reminder of the pervasive influence of comics on contemporary art.
"I had an inkling," he says, "but this really confirmed how deep and wide it had been over the 20th century, and [how it is] continuing today."
'Pop'd from the Panel' runs June 25-Dec. 11 at the Charles M. Schulz Museum. Opening discussion with Tom Everhart, June 25 at 3pm. 2301 Hardies Lane, Santa Rosa. $5-$10. 707.579.4452.
Send a letter to the editor about this story.