06.22.11
home | north bay bohemian index | movies | current reviews | film review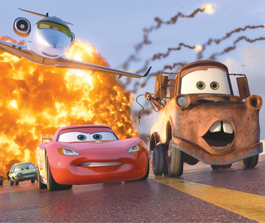 NO OCTANE:
Pixar's token Bond parody is paced for the extremely young.
Another Lap
No checkered flag for low-on-gas 'Cars 2'
By Richard von Busack
Like selling stocks, making films is a division of gambling, and every streak ends at some point. The sad news about Cars 2 is mitigated by the hope that it might just be a temporary slump.
Cars 2 is a Bond parody. And it's the stale kind, with a bumpkin mistaken for a secret agent. Agent Finn McMissile (a sentient Aston Martin voiced by Michael Caine) is on the track of a mysterious monocled Zundapp Janus known as Professor Z. Events lure Lightning McQueen (Owen Wilson) into a race demonstrating alternative fuels in Paris, London and Tokyo; tagging along is his gauche tow-truck buddy from Radiator Springs. Tow Mater attracts the attention of McMissile's assistant Holley Shiftwell (Emily Mortimer), as curvy as a Miata, who remains as subordinate as the 007 girls of three decades ago.
It's not that Pixar's new film is really bad; it's just that it's cute and relentless, and paced to tickle five-year-olds. The comedy, on the other hand, is gear-headed, with the strange gauge of British Standard Whitworth tools being essential to a mystery.
The heart of the matter—the class-crossing friendship between a yokel and a celebrity—is synthetic as possible. The blame has to go to the comedy stylings of Larry the Cable Guy, Tow Mater's voice. Also, there's a new emphasis on bathroom humor. Pixar usually had too much class to go there.
Admittedly, the Ginza scenes are more of an eyeful than the toy-Tokyo Gaspar No built in Enter the Void. Even NASCAR fans might admit there should have been an interior story with some heft here. The debate between regular fuel versus fossil fuels ends with such nervousness that you'd think director John Lasseter was dealing with a controversial matter. There's got to be a way to find the ground between soapboxing and treating a well-accepted idea as viable. That kind of triangulation used to be what made Pixar more than just a sum of its own technology.
'Cars 2' opens in wide release Friday, June 24.
Send a letter to the editor about this story.