June 28-July 4, 2006
home | the papers | north bay bohemian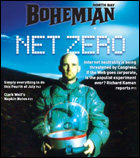 Net Neutrality
Internet neutrality is being threatened by Congress. If the Web goes corporate, is the populist experiment over?

Napa Valley Arts Council in dire straits
Wine Country suffers from a severe ebb of funding for the arts.
Opinion: Santa Rosa baker John Rose
On bread, employment and the American way.
News Briefs: wild animal sightings in Marin and Sonoma counties
Mountain lions in Santa Rosa and coyotes in Mill Valley. Also, Sonoma County's Climate Protection Conference is slated for July 14.

Car Culture: Scooter Mania
Everyone's riding scooters, and not just to save on gas money.

Movie Review: 'Wordplay'
Documentary peeks into the inner world of crossword culture.

MORE MOVIE REVIEWS

SONOMA COUNTY / NAPA COUNTY / MARIN COUNTY MOVIE TIMES

Music Preview: Joan Jett
Jett brings her very own black heart to the Marin County Fair.

MORE NIGHTLIFE

NIGHTLIFE LISTINGS

NIGHTLIFE CALENDAR PICKS

Food Essay: Bird on the grill
How barbecuing a turkey in the middle of summer is one woman's statement of independence.
Restaurant Review: Hatam Persian Grocery and Restaurant in San Rafael
A small trip to Persia, Hatam is a pure neighborhood treat.
Napkin Notes: Clark Wolf on Wine Country general stores
From Jimtown to Sonoma's fig pantry, country stores connect the resident tourist with great food and pleasure.
Winery Profile: Truchard Vineyards in Napa
Out of the way and hard to find, Truchard's Cabernets reward the effort.

BOOK A RESTAURANT RESERVATION

FIND A RESTAURANT REVIEW

Book Review: 'The Thinking Fan's Guide to the World Cup'
The global politics, sociology and dance styles of footie.
Stage Review: 'Seussical' at SRJC's Summer Repertory Theater
SRT pulls 'Seussical' right out of its hat.

Letters to the Editor
June 28-July 4, 2006.