July 4-10, 2007
home | north bay bohemian index | movies | current reviews | film review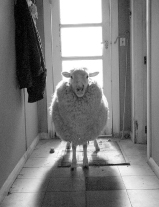 Wooly mammoth: Ovine revenge never seemed so sweet.
Baa to the Bone
In 'Black Sheep,' the world ends not with a bang but with a bleat
By Richard von Busack
We can never get enough cinematic lessons reminding us that there are some doors we must not enter. That Black Sheep, one such lesson, comes from so very far away gives it some special urgency. I accuse the New Zealand government of putting its money into Jonathan King's Black Sheep as a way of luring us punters to vacation there.
Richard Bluck's photography, far better than this kind of movie deserves, is sterling. On the one hand, Black Sheep urges us Kiwi-ward with its seascapes, hills and fine blue skies. On the other hand, it warns us of the all-too-real prospect of having our throats torn out by mutant woolies. That's the perfect vacation--the beauty of nature combined with a hint of peril. Hell, I'll go.
Black Sheep, written and directed by Jonathan King, tells a story as old as Cain and Abel. The gentle young Henry dotes on a pet lamb; his evil older brother, Angus, slaughters it and jumps out of the darkness of the barn dressed in its gory skin. The trauma causes Henry (played as an adult by Nathan Meister) to suffer from "ovinophobia," a mortal terror of sheep.
Fifteen years later, on the urging of his therapist, Henry returns to the family farm. Meister, who has all the requisite soulful-sufferer sheepishness the part requires, sweats bullets as his taxi is surrounded by hundreds of ewes. When he arrives, he discovers that Angus (Peter Feeney) has become a remorseless genetic-engineering rancher, trying to create a breed of supersheep and tossing the genetic throwbacks into a toxic dump.
Hiding in the underbrush lurk a pair of eco-activists. The dim Grant (Oliver Driver) and his female, doctrine-spouting companion, Experience (Danielle Mason), steal a gene-spliced lamb as evidence of the cruel experiments going on. The monster escapes, infecting the flock and making them thirst for blood. Their viral bite turns men into murderous weresheep.
It's surprising how few genuinely million-dollar ideas come along during the course of the movie watcher's life; it would be even more surprising if Black Sheep's original angle on primal terror were a complete success. What does work famously are the shots of sheep looming over the camera, their bald, impassive faces concealing some hidden emotion--fury, maybe, or perhaps they're just wondering where their next mouthful of cud is coming from.
The cast quivers appropriately whenever a sinister "ba-a-a-aaaaaa" rends the darkness. Feeney boasts an antipodean version of Bruce Campbell's muttonhead skull, full jaw, vast forehead and slicked-back, Hitler-colored hair. In short, Campbell couldn't have improved the role. And the scenes of the sheep butting through doors (they're Weta Workshop puppets snarling with homicidal rage) really bring back happy memories of The Killer Shrews.
The problem is, as always, the case of someone making a cult movie without the twitching fanaticism of a serious filmmaker. One natural way to improve Black Sheep would be to promote Tucker, the Maori manager (Tammy Davis), from merry sidekick to hero. After all, George Romero's work in this particular end of cinema has a subtext about prejudice: society's black sheep rising and putting up a hero's stand.
Another possible strategy would have been to take the material at least a little seriously. The eco-terrorists are clowns, although, at times, good ones. When Experience says that she hopes their mission won't be a debacle like their previous action at the salmon farm, Grant replies, "Those fish died in freedom!" He's bleating even before he gets bitten.
But King takes a cozy middle-of-the-road approach to the subject of organic farming and GE. One of his characters mutters good-naturedly about how you can't brew up a cup of tea in New Zealand without do-gooders interfering. If some Kiwis are cranks on the subject, who can blame them? They must know that their islands will be probably the last hold-out for humanity, from whatever Eurasia, Africa and the Americas do to themselves in the coming century.
Now, if they can just ward off those merinos, a superior intelligence watching their green pastures with envious eyes.

'Black Sheep' opens Friday, July 6, at select North Bay theaters.
Send a letter to the editor about this story.