July 4-10, 2007
home | north bay bohemian index | sonoma, napa, marin county restaurants | profile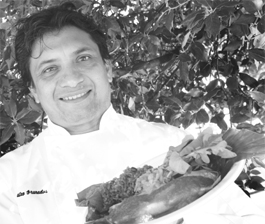 Photograph by Rory McNamara
Manaña: Chef Mateo Granados sees a new flavor palette for the future.
Yucatán Dreams
Chef Mateo Granados and the push for a new California cuisine
By Carey Sweet
The first time I see Mateo Granados, it's at the Santa Rosa farmers market early on an Wednesday evening. He's tucked away in a booth along the strip, cranking out tamales.
He immediately catches my eye. While the other vendors at the event are dressed in rumpled jeans and T-shirts, Granados is dolled up in pristine chef's whites.
I've strolled past the typical food concessions--the enormous turkey legs, sausage sandwiches and fresh-baked pastries. Yet Granados' menu board is provocative for parking-lot cuisine, tempting with Yucatán tamales stuffed with slow-roasted suckling pig, Rosie organic chicken, CK Lamb, roasted local vegetables and Bodega Bay goat cheese.
I'm not even that hungry, but I can't resist. I pay my $5 for a tamale, grab my paper plate and retreat to a secluded stretch of sidewalk. I take my first bite and wow! The fillings are intensely seasoned and the silky masa torpedo is capped with spicy pickled onions and roasted tomato-habañero sauce for a distinctively non-Sonoran experience. This isn't ordinary street food--this is art.
I cozy up back to the booth and try to get the chef's attention. As busy as Granados is with his banana-leaf-steamed tamales, he chats with me about his inspiration. The banana leaves are better than cornhusks for dense, moist masa, he explains, and he chops the meat instead of shredding it for better texture and flavor. There's no lard; he uses olive oil instead.
The recipe is his grandmother's. Born to a ranching and farming family in Oxkutcab (a village known as "the orchard" of the Yucatán), elaborate meals were an ordinary part of Granados' everyday life growing up. He loves making tamales, he says, and is proud that he almost always sells out at events like this. Yet he's a little bored today. His idea of cooking is so much bigger than savory stuffed masa bundles. Rather, he's focused on what he believes should be the next major culinary statement for northern California: modern Yucatán cuisine.
Intrigued, I ask for some of his time later, when he's better able to talk, and he cheerfully agrees.
Back home at my computer, I do a quick Google. A Food & Wine article pops up, all about a Sonoma group called the Moonlighter's Society. That's where "wine scientists" gather after hours at different vineyards to experiment with their unique visions. Last year, the magazine profiled Granados as one of the would-be vintners, detailing how, as he monkeyed with a garage-brand Syrah, he fed his cohorts succulent braised lamb prepared out of a tiny 1930s Airstream trailer parked amid the grapes.
Granados teaches cooking classes at Relish Culinary School in Healdsburg, and his name often pops up as the official caterer for high-end Sonoma events and private parties.
A little more digging finds a background at some of the Bay Area's best restaurants. His résumé includes stints chefing at Charlie Palmer's Dry Creek Kitchen in Healdsburg, as well as at Manka's Inverness Lodge and San Francisco restaurants Masas, 42 Degrees, Alain Rondelli and Rubicon.
So why is Granados now pushing tamales at festivals and farm markets, preaching the word of modern Yucatán cuisine to passersby on the street?
Comida Natural
The state of Yucatán is located on the Gulf of Mexico, west of Cancun and north of Belize. Before the arrival of the Spanish, the Yucatán was home to the Mayan civilization. Due to its isolated location, much of its culinary influence came from visiting Europeans, Cubans and Caribbeans.
Therefore, authentic Yucatán cooking is a tumble of Mayan corn, chocolate, honey, venison, wild turkey, squash, cucumbers, chiles and tomatoes alongside Spanish spices, pork and Seville oranges next to Dutch cheeses--all served atop Mexican tortillas. The results are such traditional foods as frijol con puerco (chunks of pork with black beans, rice, radish, cilantro and onion) and papadzules (chopped hard-boiled egg rolled in a tortilla with pumpkin-seed sauce).
It's a rich, creative cuisine, Granados tells me when we meet for coffee at the Cafe Newsstand in Healdsburg a week after our farmers market introduction. But, he adds, it's also a cuisine so steeped in tradition that very little has changed over the centuries. As his great grandmother made chicharrones (essentially, pork rinds) in a large kettle in her backyard, so does his mother today. And as his great grandfather prepared his cochinita pibil (pig marinated in bitter orange, flavored with annatto seed and cooked in a banana leaf), so does his father still. (When he suggested his father try a different cochinita recipe, utilizing a pig's succulent cheek, tongue, ear and brain, the idea was shot down.) There's also lots of lard, frying oil and grease.
Granados' restless curiosity soon led him from Oxkutcab to San Francisco, where, in 1989, the young chef quickly found a foothold, training under such great chefs as Julian Serrano of Masa's and Alain Rondelli. He learned quickly, made good money and important contacts. He says it was a thrilling "rock and roll lifestyle." Yet he found himself reflecting on his Mayan roots, and wondering: Why did it feel like something was missing?
He set out to define his own culinary style, borrowing his employers' kitchens after hours to experiment. He began synthesizing classic cooking with Latin American flavors and local ingredients. He liked big flavors, dramatic spicing, wine-electric pairings and a healthy emphasis. He called it "comida natural," and played with substituting olive oil for the lard in his tamales. He utilized every part of a rabbit for other dishes, cooking it for eight hours and making gravy from its bones, because bones are the terroir of an animal, he says.
He took traditional foods like empanadas and gave them a contemporary, California twist by stuffing the little turnovers with salted cod, draping them in poblano cream sauce and decorating them with jicama citrus salad. For the Mexican mainstay of suckling pig, he used premium organic pork from Black Sheep Farm in Occidental, pairing it with handmade longanisa sausage ravioli, lettuce from Sonoma's La Bonne Terre and cinnamon-cured red onions.
The ensuing after-hours "family meals" he served to the restaurant staff were outrageously popular, Granados laughs, but never appeared on any menus.
Finally, at the end of 2004, he abandoned a well-paying, high-profile position as executive chef at Dry Creek Kitchen to take a chance on his own. He set up his tamale stand, established Mateo Granados Catering and started planning a restaurant.
As we talk, Granados jots notes on a pad of paper. He's been planning a catering menu for the past week, he explains, and as we chatted, some ideas suddenly popped. Almost frantically, he starts rhapsodizing about what he might prepare. Dried-shark empanada. A liquid tamale, cooked like a crème brûlée. Pumpkin seed crackers. Spinach doused in cold water, then dropped into hot oil so it explodes and pushes the grease out, all with a big Syrah or Zinfandel to kick up the spice. He's so excited now he's almost biting his hand.
Between the chef's thick accent, his mile-a-minute cadence and speedy skipping from topic to topic, I can't keep up. To truly understand, I've got to see him in action.
Missing Link Madness
A month later, I'm standing in the dining room of the small clubhouse at Healdsburg's Tayman Park golf course. It's 5pm, the start of a Missing Link dinner, a monthly, invitation-only event that Granados has hosted over this past year. Limited to 60 "insiders" per dinner, each multicourse feast showcases this chef's northern Mexican cuisine, fine wines from Sonoma and cooking exhibitions.
Granados is whirling about the tiny kitchen, elbow to elbow with four associates in a frenetic ballet of cooking. His assistants, room manager and servers for the evening are volunteers who have worked with him in his other ventures. They've come in after toiling long days in San Francisco, and certainly will be first in line for jobs when he opens his new restaurant.
Guests are crowding into the cottage-style lodge room, nibbling on cheesy rabbit croquettes, extraordinarily tart chili-cinnamon baby carrots and fresh-popped popcorn drizzled in olive oil. As Granados checks on the splayed carcasses of pheasant being stuffed with homemade longanisa (sausage) that will be our entrée, a server trots up to the pass-through and calls for more lemons. It seems the chef's dangerously sharp and delicious Meyer martini with pomelo rosa pulp is a huge hit.
Granados, who started working on this party at noon, is rumpled in a long-sleeved white shirt and ragged black jeans. Because the kitchen is so small, a prep area has been set up in a tent outside; the door between kitchen and tent is held open by a cleverly tied apron.
Everything, from the White Crane Springs Ranch cream of spinach and fried quail-egg appetizer, to the dessert of baked yucca-root dumpling in citrus marmalade, is being crafted from scratch. The kitchen refrigerator is too small (and too full of beer) to have anything prepared beforehand. And besides, fresh is the Yucatán way, Granados says, cracking what seems like hundreds of eggs into an enormous metal bowl.
An assistant is in the tent, pressing masa in a tortilladora, then placing the little rounds on a long table lined with plastic bags. They're about ready to be stuffed with salt cod and grilled on the comal (a cast-iron cooking plate ordinarily used to cook tortillas), but the sun is setting and no one has thought to light the tent. Another assistant scurries out with a miniature kerosene lantern and she works in the glow of a virtual flashlight.
Inside, the crowd is growing a little restless. It's almost 7pm, and despite the live music playing by the fireplace and the seductive powers of Granados' hot margaritas muddled with jalapeño, habañero and cilantro, these guests are ready to get this dinner going.
Yet Granados is still working on the puffed Spanish rice that accompanies the pheasant, too often distracted by guests coming up to the pass-through and asking him to explain every step of his labors. He does so happily, carefully folding whipped egg white into the giant kernel paella rice so that the casserole will aerate and fluff in its ramekins. Several female guests push themselves over the pass-through to kiss his cheek; he accommodates while keeping an eye on the crispy bird coming out of the oven behind him, juicing more lemons, blending crema and lime for the empanada sauce, and explaining to a guest sticking his finger in the rice bowl that the rice is properly "bubbled" when it springs back as it's poked.
A tray of wine glasses falls in the corner, someone has forgotten to turn on the range fan and the room smells of poultry smoke, and I speak to one beaming guest after another who gushes that this is the best dinner party they've ever been to.
Half an hour later, we're sitting at our tables, sipping lovely Pinot Blanc and Grenache provided by Mendocino winemaker Robert Perkins and his Skylark Wine Company. We're digging into our exquisite spinach and quail egg starter, and I peek at Granados, still whirling like a dervish in the kitchen. He looks intense, tired and very, very happy.
Not Lazy in Your Mouth
Several weeks later, I run into Granados at the Santa Rosa Original Farmers Market on Maple Street. He is no longer doing the Fourth Street fair. He is not doing tamales, either, as a prior vendor already had that dish in his contract. Instead, he arrives early each Saturday morning and visits neighboring market booths. Whatever is freshest and most interesting goes into his menu.
Today, he is crafting a Spanish tortilla of Full Circle Bread, crumbed queso fresco and tomato habañero sauce. Plus, he's got Yucatán-style huevos rancheros with thick tostada chips instead of tortillas, creamy black bean purée and salsa. A tortilla is too soft, the chef explains. Food needs textures. You don't want it to be lazy in your mouth.
Working with only a portable camp range, he's also prepared salted cod hash with a fried Triple T duck egg, Two Rock Valley cheese, capers, habañero tomato salsa and a salad of frisée, lamb's ear, pickled onion and radish. The dish is exquisitely salty, sour, crispy and soft, and even more mind-blowing since I'm eating it off a disposable plate in the middle of a parking lot.
I sip an agua fresca that blends Love Farm's strawberries and Dragonfly Floral's rose petals; on other days it might be a drink of Gayle Sullivan's Dry Creek peaches with Armenian cucumber, or Tierra Vegetables' watermelon with fresh mint and lime from White Crane Springs Ranch.
This is crazy, I say. When will his restaurant open so we all can eat like this every day?
The problem with passion is that banks don't take it as collateral. In September of 2005, it was reported that Granados had just signed a lease for his new restaurant. It was tentatively called Cafe de la Cocino, and was scheduled to open last spring in Healdsburg.
But starting a business is expensive, from the $4,000 charged to credit cards to get his farmers market booths and permits, to the $8,000 for a website and marketing materials for his catering company, to the cost of the catering truck and its $1,200 signage--hit by a graffiti tagger the same night it was painted. He needs a proper Wolf range to serve the farmers markets, and the Missing Link dinners, while very successful, don't make enough money (he puts too much into the meals, he admits, because he doesn't know how else to do a party).
In fact, the Missing Link dinners have gone on hiatus while Granados concentrates on catering and putting a little money in the bank.
People look at his résumé and connections, he says, and figure he's a celebrity chef, so everything should be easy. But he's the first to admit he doesn't take well to being told what to do (by bosses or controlling investors).
So his cafe is on hold, and meanwhile, so is our opportunity to eat such innovative dishes as a Liberty duck tamale with spicy chocolate mole sauce and deep chocolate goat milk ice cream.
At 42, Granados is working very patiently toward what he believes should be the next major culinary statement for northern California: modern Yucatán cuisine. He's got the recipes, the talent and the willpower. He's got the customers, lining up for his food at the Healdsburg and Sebastopol farmers markets.
The only thing missing is his restaurant.
Mateo Granados Catering. 707.433.2338. www.mateogranados.com.
Send a letter to the editor about this story.