July 4-10, 2007
home | north bay bohemian index | the arts | books | profile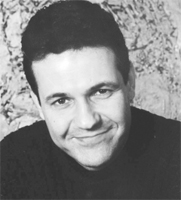 Chronicler: Khaled Hosseini illuminates a woman's lot in present-day Afghanistan.
Hidden in Plain Sight
'Thousand Splendid Suns' examines the woman's lot in modern-day Afghanistan
By John Freeman
Four years ago, just a few months before his smash bestseller, The Kite Runner, was published, Khaled Hosseini went home to Afghanistan. It was his first visit back in nearly 20 years, and nothing looked the same. Two decades of war had ravaged his country. Every road, every piece of infrastructure was in decay. And then he noticed the women.
"It was like they had been made two-dimensional," says Hosseini, 42, of the women he saw walking about in burkas and chadors, "as if there was nothing underneath it."
Sitting at a corner table on the 35th-floor restaurant of the Mandarin Oriental Hotel in Manhattan, dressed in a dark pin-striped suit and white shirt, Hosseini scans the view out across Central Park, as if retrieving his thoughts from far away. He appears on July 6 at the Sonoma Country Day School.
"That's part of the reason I wanted to write this book," he continues, referring to his newest novel, A Thousand Splendid Suns (Riverhead; $25.95). "You look at a woman walking down the street, and there's a history beneath that burka. There's heartache and hope and there's joy and there's happiness and there's silliness and love and bitterness, love, envy. All these human things are there under that garment."
In A Thousand Splendid Suns, Hosseini writes his way into this enclosed space, bringing to life two Afghanistan women from very different walks of life.
Mariam is the product of a wealthy businessman's sexual dalliance who grows up enthralled with the idea of the father she doesn't know. When her mother commits suicide, she is married off at age 15 to a 40-year-old shoe merchant named Rasheed.
Given the circumstances, their marriage starts off well, but it quickly goes downhill as Mariam fails to conceive a child and the political situation around them worsens with an anti-Soviet jihad, civil war and the rise of the Taliban. Somehow, 18 years pass.
Enter the 14-year-old Laila. Orphaned in the post-Soviet clashes between moderates and Islamic fundamentalists, her only options are to become prostitution or submit to an arranged marriage. She, too, winds up betrothed to Rasheed, who over the years has become angrier, more violent and more soured by what's happened to his country. Slowly, the two women ally themselves against Rasheed's brutal domestic reign.
The Kite Runner sold more than 8 million copies around the world and will debut as a feature film this fall. Expectations for Hosseini's follow-up are high, but so far it seems to have passed the test. Reviewing Suns in the Washington Post, critic Jonathan Yardley wrote "just in case you're curious, just in case you're wondering whether . . . it's as good as The Kite Runner, here's the answer: No.
"It's better."
On the morning we talk, such reviews have just begun to break and Hosseini has a look of relief, but the effort of finishing the book still hangs about him. After just one day of promotion, his eyes are tired and squinting.
This time around, he says, "It was a lot harder. There were some days there when I thought I had bitten off more than I could chew. And yet you want to prove to yourself you didn't pour out of you everything that you had to say in that first book."
Hosseini wrote The Kite Runner in a one-year burst between 5am and 8am, before he went to work as a physician. He went on a permanent sabbatical from his practice two years ago to write, which means he had more time to refine his prose, his storytelling, to get this book right, he says. He also had help.
When he was in Kabul, Hosseini talked to some of the women there to get a stronger sense of their lives. "But with some it was not easy," he laments. There is a large immigrant community of Afghanis in the Bay Area, where he lives, who also helped Hosseini re-create the world of Herat, the town where his mother and father grew up.
Writing his way back into time, he found it hard to avoid one line of thinking. "I kept appreciating, if it weren't for some hand of fate, this could have been my mother," he says referring to the fact that his family left the country in 1976, when his father was relocated to the Afghan ministry in Paris.
By the time they were ready to return, the communist revolution had begun. His mother, a teacher of the Farsi language and of history, never had to live through the control and privations of modern-day Afghanistan. The family emigrated to the United States in 1980 and lived for a time off welfare.
The other woman in Hosseini's life is his wife, Roya, a lawyer with Intel, whom he describes as his first and toughest reader. "My wife is honest to a T," he says with a big smile. "If something is not working, she'll let me know right away. Sometimes she can even get angry. 'What are you doing here? What is this?'"
At ages 4 and 6, Hosseini's two children are just beginning to be old enough to realize their father is a big deal. They are also beginning to pull away from him. "They are aware of where their parents are from," Hosseini says with a small wince. "They both speak Farsi, understand Farsi, although in the last year or two as they've been going to school, they have become increasingly reluctant to reply in Farsi, to put it politely."
It is clear this friction, so typical of second-generation immigrants, is troublesome to Hosseini. But it is even more clear from A Thousand Splendid Suns that he appreciates their lives could have been lived under the shadow of far graver concerns.
Khaled Hosseini appears in conversation with Sonoma County Day School headmaster Philip Nix on Friday, July 6, as a benefit for the Trust in Education nonprofit. Co-sponsored by Copperfield's Books. SCDS, 4400 Day School Place, Santa Rosa. 7pm. $22. 707.578.8938.
Send a letter to the editor about this story.