July 4-10, 2007
home | north bay bohemian index | music & nightlife | essay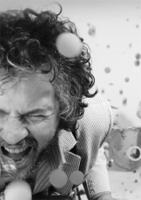 Fearless freak: Wayne Coyne of Flaming Lips of Flaming Lips often hooks a camera to the microphone in performance.
Show Me the Music
Live performance and the problem of projectors
By Sara Bir
Live music is appealing because it is live. Recorded and preprogrammed music infiltrates many segments of our everyday lives, from shopping at the grocery store to watching commercials on television to hearing a cell phone ring. Most of the music we listen to for pleasure is recorded, which has its own advantages: you can revisit it the way a child obsessively re-reads a favorite picture book, and every time, the song can be counted on to open up a little world but hopefully surrender new details as well.
But live music is ephemeral, infused with a dangerous energy. Even for the most polished musicians, there are a number of elements that can't be completely controlled when performing live, and the tension of that balancing act--poise and confidence in the face of the unknown--is what makes a good show magical.
That's why it's disconcerting to me that, of the last five times I've seen bands play live, three of them performed under a veil of images projected onstage. While movie or slide projectors can do the honors, the convenience and versatility of an Apple laptop computer is de rigueur.
This may be more of an indication of the sort of shows I frequent (smaller bands playing largely instrumental music in small venues) than a nationwide trend, but it's gotten to the point where the sight of a large white screen hanging at the rear of a stage serves as a tip-off to grab a chair and get comfortable. Sometimes the visuals are abstract blobs of color and squiggly lines intersecting; sometimes they're snippets of oddball found footage cleverly edited together. Once, a band projected images of themselves frolicking outdoors à la A Hard Day's Night, which, if you're not the Beatles or Madonna, is pretty lame.
But almost always, the visuals serve to siphon, rather than saturate, the intensity of the band's performance. Though musicians may incorporate light shows out of artsy, multimedia aspirations, which can pay off, the gesture runs the risk of coming across as the performers shrugging their shoulders or reaching for a crutch. "Sorry we're so boring. We brought something interesting for you to look at instead."
Perhaps I am an unqualified judge. While I claim to despise television, if I'm at a bar with a TV up on a shelf above the Long Island iced tea glasses, I will ignore my companions and stare, glassy-eyed, at the close-captioned antics of Chevy Chase in Fletch Lives flickering on the screen. People of my generation are conditioned to obey media--a childhood invested with thousands of hours of watching cartoons and M*A*S*H reruns can't easily be unlearned. But I don't go to bars to watch TV, and I don't stand around way past my bedtime to see a band lurking shyly behind a chopped-up silent movie.
But concerts come in all sizes and dynamics, and it's possible that fans in the $90 nosebleed seats checking out Justin Timberlake's FutureSex/LoveShow tour appreciate the giant projections of a gospel choir framing the tiny fedora-wearing dot dancing onstage acres away.
But in smaller venues, the intimacy is what matters. Part of the joy of a live show is watching musicians pluck, strike, kick, slam, coo, writhe, scowl, frown, smile, hammer and do whatever it takes to make music happen. Eyes aimed at fancypants visuals miss these nuances, and perhaps their ears miss out as well.
Mr. Bir Toujour's old band the Rum Diary deeply associated themselves with their visuals--they even had a projectionist as a band member for a while. And they projected good footage, too: lost family vacation reels from the 1960s; science education films; Godfrey Reggio's epic Koyaanisqatsi. The footage complemented the cinematic scope of their music, but it got to the point where, when the projector malfunctioned, the band didn't perform as well. In fact, their most dynamic shows were the ones where they skipped the projector altogether.
When touring in support of their album 2002 Murray Street, Sonic Youth, who often incorporate projections into their concert setup, tied a cheap digital camera to a mic stand and pointed it toward the audience. Hence, we were treated to real-time projections of ourselves superimposed on a flesh-and-blood Sonic Youth. Whether this was employed to make a point or simply because it was easy for the band to set up was never established, but the mirror image of the crowd didn't upstage the band. It was a great show.
Send a letter to the editor about this story.