July 4-10, 2007
home | north bay bohemian index | the arts | stage | review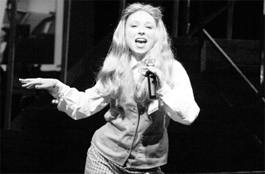 Photograph by Jeff Thomas
It's a living: SRT's prestigious summer program turns out stars every season, including the tireless actors in 'Working.'
Summer Repertory Theater's 'Working' and 'The Talented Mr. Ripley'
Voices and vices abound at these excellent productions
By David Templeton
'Work is an essential part of being alive."
So states one of the 16 eloquent, funny, loquacious, reserved, conflicted, happy, miserable and/or completely satisfied characters in Studs Terkel's Working. This rarely produced 1978 musical by Broadway mastermind Stephen Schwartz (Godspell, Wicked) is a glorious, unexpectedly powerful celebration of the American working stiff, based on Terkel's award-winning oral history of the men and women who serve our tables, deliver our packages, protect our streets, build our houses, bake our bread, park our cars, fight our fires, clean our offices, pick our vegetables and teach our children.
Along with Phyllis Nagy's adaptation of The Talented Mr. Ripley, the show opened last week, kicking off a five-week run as part of Santa Rosa Junior College's annual Summer Repertory Theatre season, a renowned training program for theater students from around the country. Having already opened the Victorian musical-melodrama The Mystery of Edwin Drood, SRT will have a total of six plays running in repertory by the end of the summer. (Moliere's Learned Ladies, Jonathan Larson's Tick, Tick . . . Boom! and Disney's 'Aladdin Jr.' are still to come.)
If the rest are half as good as Working and Ripley, this looks to be the best SRT season in recent memory. New artistic director James Newman has shaken things up, eschewing the usual blockbuster musicals and classic comedies that sell tickets, instead packing the season with lesser-known shows, some of them decidedly odd and offbeat.
The main question is whether these shows will draw an audience. Based on the opening-week performances of Working and Ripley, I can only say that if theatrical work this good doesn't end up playing to packed houses by the end of the summer, something is wrong with North Bay theatergoers. To put it more succinctly: I recommend that you not miss either of these shows, especially Working.
Directed by Mollie Boice, Working is essentially plotless, since it is taken from a series of interviews Terkel conducted with various workers across the country, but the show still carries a compounding arc of momentum and emotional power that most thrillers would envy. On Peter Crompton's magnificent set--a colorful collage of restaurant marquees, truck-stop signs and various brick and steel structures--a cast of 10 take turns playing an array of American workers, speaking and singing their hearts out about the jobs they do, why they do them, the reason they love or hate them and whatever it is they'd rather be doing.
Some of the insights are amusing ("You can always tell an iron worker because they have no hair on the inside of their legs," reveals Eric Firdman as an intellectual construction worker); some are eye-opening (a corporate CEO justifies paying his employees poorly by saying, "Unless you have losers, you can't have winners"); and some are heartbreaking (actress Julie Marie Lewis brings down the house with the pained and powerful song "Just a Housewife").
If all of this doesn't sound like much of a show, I'm describing it poorly. Working rocks! Literally. The cast is backed up with an onstage band lead by musical director Mark Nichols. From the opening multivoice anthem "All the Livelong Day" to the emotional show-closing number "Something to Point To," the sensational cast are in fine voice and magnificently nail the conflicting, manic-depressive nuances of being a working person in modern-day America.
Also excellent, though structurally knotty and intellectually challenging, is The Talented Mr. Ripley, based on Patricia Highsmith's novel about a sociopath attempting to insert himself into a life that is not his. Think of it as The Importance of Being Ripley, a wicked variation on those classic British comedies in which someone is mistaken for someone else and plays along to hilarious if unbelievable effect.
In this case, Tom Ripley, a charming, chameleon-like psychotic, nicely played by an outstanding Scott Raker, is utterly convincing as the imposter, but unlike the more innocent comedies on which it is based, this drama takes the improbable set up and takes it not to hilarity and playful absurdism, but to deception, treachery and murder.
"If I wasn't meant to overcome every obstacle in my path, why is it all so easy?" Ripley asks. It's a good question.
After being mistaken for an old school chum of rich, young Dickie Greenleaf (Tyler Seiple), Tom is sent to Europe by Dickie's worried parents, who charge Tom with convincing their son to come home to America. Once he's made the connection, convincing Dickie that he's an old friend, Tom sets his sights on another goal: becoming Dickie Greenleaf. The play, which is told in dreamy nonlinear fashion--partly inside the twisted brain of Tom Ripley and partly outside--is well-directed by Joseph DeLorenzo, and is aided by a flexible cast who play all of the other characters.
Especially fine is Kate Thomsen as Marge, Dickie's assertive girlfriend, whom Ripley immediately sees as one of those aforementioned "obstacles." She is alternately frightened and suspicious of Ripley, and assertive and strong as she tries to build a life with Dickie, even as he falls under Ripley's spell. Michael Propster also shines as one of Dickie's real school chums, instantly suspicious of Ripley. Propster imbues his performance with palpable danger, cramming deep threat into the oft-repeated line, "Tom, I don't remember you at all."
Because of the play's dreamlike structure, blending Tom's imaginative version of reality with actual events, skipping back and forth in time, The Talented Mr. Ripley is not an easy play to watch. You have to keep your wits about you, because like the entertainingly evil Tom Ripley, keeping your wits about you pays off enormously in the end.
All SRT performances take place on the SRJC campus, 1501 Mendocino Ave., Santa Rosa. 'Working' runs through Aug. 10 at Newman Auditorium. July 8 and 15 at 7:30pm; also July 15 and Aug. 8 at 2pm; July 24-25, Aug. 2-3 and 8 at 8pm. $8-$15. 'The Talented Mr. Ripley' runs through Aug. 8 at the Burbank Auditorium. July 14, 24-25 and Aug. 2-3 and 8 at 8pm; July 15 at 7:30pm; also July 15, 25 and Aug. 8 at 2pm. $8-$20. 707.527.4343. www.summerrep.com.
Send a letter to the editor about this story.