July 5-11, 2006
home | the papers | north bay bohemian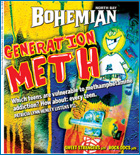 Methamphetamine and teens in Sonoma, Marin and Napa counties
While national meth use is on the decrease, numbers continue to climb for teen addicts in the North Bay.

Dan Gillmor on the future of citizen journalism
Tech columnist and blog innovator discusses newsroom changes of today.
News Column: Peter Byrne. Last train to Oregon
On why traveling to Oregon makes one glad to be a Californian.
News Briefs: Community access cable in the North Bay threatened
Community Media Center of Santa Rosa worries that new state bill will cut funding. Also, Santa Rosa discusses livability issues July 12.

Car Culture: 'Buy Local' means . . . what?
It takes a trip to a red state to make Novella wonder about the global politics of the car.

Movie Review: 'Strangers with Candy'
Amy Sedaris draws a Blank with her new satire.
DVD Reviews: 'New York Doll,' 'We Jam Econo' and 'Off the Carts: The Song-Poem Story'
Rock docs to brighten up hot summer nights.

MORE MOVIE REVIEWS

SONOMA COUNTY / NAPA COUNTY / MARIN COUNTY MOVIE TIMES

Music Preview: Festival del Sole in Napa
A fine music event featuring Renée Fleming and a stellar list of others takes over Napa this month.
Music Preview: Linda Ronstadt in Santa Rosa
Ronstadt features her wide repertoire and versatile voice in July 10 concert at the Wells Fargo Center.

MORE NIGHTLIFE

NIGHTLIFE LISTINGS

NIGHTLIFE CALENDAR PICKS

Winery Profile: Ceja Vineyards
The American dream comes true for the Ceja family as they look to their next destination.
Restaurant Review: Boca in Novato
'Boca' means 'steak' in Marin County.
Winery Profile: Charles Creek Vineyards in Sonoma
Midwestern values and great tastes inform these wines.

BOOK A RESTAURANT RESERVATION

FIND A RESTAURANT REVIEW

Stage Review: 'The Complete History of America (abridged)'
What happens when directors alter a living playwright's script?

Letters to the Editor
July 5-11, 2006.