07.06.11
home | north bay bohemian index | the arts | visual arts | review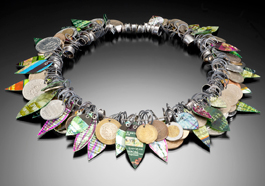 'MORE MONEY THAN TIME':
Ellen Kaplan Cheek's credit-card-and-coin necklace is among the small works in Forestville.
Little Boxes
Large-scale Quicksilver show thinks small, small, small
By Suzanne Daly
Khysie Horn's interest in small things goes back to her childhood. At age five, she and her parents boarded a 41-foot wooden ketch and sailed from Connecticut to the South Pacific, through the Bahamas, the Caribbean and the Panama Canal. "Everything I had was small, because it had to fit in a very tight space on the boat," Horn says. "Myself, I have always liked small."
This month, Horn, owner of the Quicksilver Mine Co., requires 56 artists to think—and create—inside the box for the upcoming exhibit "Boxed In: A Small Works Show." All the pieces must fit into a 12-cubic-inch box, a restriction that might prove difficult for some artists but one that has always piqued Horn's interest. "There's an intrigue for me with things done in miniature," says Horn. "There's not too much mystery in big pieces."
Horn cites both cultural and economic factors in her decision to do a large show of small pieces. She had always enjoyed an annual exhibition of small works hosted by the California Museum of Art in Santa Rosa. "It came to me that it would be something fun to do," she says. "It's nice to stir the pot."
Despite the amount of work involved in curating a multi-artist show, Horn realized that with the slow economy, more foot traffic into the gallery would translate into more exposure for participants. The result is a mix of established and new artists who employ a vast range of media, unified only by the constraint of the box.
"Boxed In" features paintings, pastels, ceramics, jewelry, sculpture, drawings, assemblage, etchings, prints, encaustic wax painting, gourds, reclaimed or recycled materials, collage, photography, mixed media, woodwork, tile work and even a small video sculpture which plays on a seven-inch screen. Artists include Todd Barricklow, Ken Berman, Tramaine de Senna, Holly Downing, Tony Spiers, Kathleen Youngquist and 50 others.
Horn accepts that not all artists are comfortable working small, but relishes extending the challenge. "One of the reasons I call this show 'Boxed In' is that I like the 12-by-12 format; you're kind of boxing people in. You're not letting them do what they do naturally to create a piece of artwork. They have to fit certain criteria." Horn notes that many large-scale pieces start out as small studies, using sketches or photographs as models before expanding into a full-sized work.
Still other artists embrace the challenge of working in a confined space. Rhonda Trevethick, an assemblage artist participating in the show, enjoys the box's confinement, noting that many pieces of art are never quite finished due to the freedom to continually change elements. "A box is my best canvas," says Trevethick. "It defines boundaries for the infinite creative possibilities."
'Boxed In' runs July 9-Aug. 14, with an opening reception on Saturday, July 9, from 4pm to 6pm, at Quicksilver Mine Co. 6671 Front St., Forestville. 11am-6pm, Thursday-Monday. 707.887.0799.
Send a letter to the editor about this story.