July 12-18, 2006
home | north bay bohemian index | music & nightlife | band review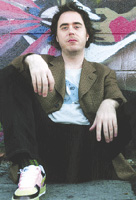 Sir Mix-a-Lot: Cut Chemist's genius lies in his meldings.
Turntable King
Cut Chemist's mad scientist debut
By Gabe Meline
In the overpopulated world of the DJ, there's always been a keen separation between entertainment and artistry. A DJ is either a crowd pleaser, with rehearsed choreography and classic-rock mash-ups, or a serious practitioner, focused on technique, precision and taste.
Cut Chemist, whose long-awaited official debut album The Audience's Listening is released this week, has single-handedly walked, blurred and destroyed that line. By blending jaw-dropping technical routines with interactive vaudeville show theatrics, the Los Angeles DJ, born Lucas MacFadden, practices his art with refreshing uniqueness; he rumbles the walls with sharp, heavy mixes, but also keeps in mind the people watching his every move. Both serious beatheads and casual clubgoers never forget his sets.
While a founding member of both Ozomatli and Jurassic 5, Cut Chemist eagerly explored beyond the confines of scratch-obsessed late-'90s turntablism. At club dates with Z-Trip and DJ Shadow, he carried record crates full of nursery rhymes and instructional songs, and dropped them in the mix as if they'd always meant to be there. At a San Francisco club in 1999, I asked Cut Chemist about putting out a solo album. "It depends," he said, "on if I ever get tired of playing live."
That solo album has arrived, but during a set at The Independent in San Francisco last summer, Cut Chemist made it clear that rocking a club is still his forte. Setting the tone for the night, he began by following the voices from a lead-off record and removing an extra four layers of clothes that he'd worn onstage. With a contagious grin, he danced to, sang along with and acted out his flawless routines drawn from rare mix tapes and obscure 12-inch singles.
Many arcane original samples were blended into and out of his own production numbers, whether as Cut Chemist ("The Re-Return of the Original Art Form," "Bunky's Pick") or with Jurassic 5. J5's numbers got a severe workout, with "Thin Line" flipped and restyled as a sultry love jam, and an a cappella version of "Quality Control" blended over the Jon Spencer Blues Explosion's fuzzy, murky "Calvin." His new Brazilian-flavored single "The Garden" got the crowd dancing, and dizzying live remixes of Edan's "MCs Smoke Crack" and Lyrics Born's "Do That There" added pizzazz and variety.
Even in his deftest displays of turntable wizardry, such as a syncopated instrumental of Blackalicious' "Chemical Calisthenics," Cut Chemist's talent superseded chest-thumping showiness. A spoken-word segment called "It Started in Africa," for example, cleverly presented lightning-speed abilities on the 1200s in tandem with a history lesson on rhythm. But Cut Chemist made clear in his encore that being one of the world's most creative DJs isn't enough--he's out to win you over.
After shouting "What's up, San Francisco!" he asked for some volunteers, and conducted a quick Q&A with three willing participants in the front row, asking their names, where they're from, things like that. Cue record: Cut's "2.5 Minute Workout" of Blackalicious' "Alphabet Aerobics."
The perpetually tempo-increasing track may be best-known as the finale to the acclaimed film Scratch, but on this night it was a showcase for brilliance. Over the speakers came "What's up, San Francisco!" followed by a just-recorded replaying of the audience members' interviews from seconds before, cut up and scratched on a CD-J into the song's hyperaccelerated twists and turns. It was mind-blowing, but also entertaining as hell, and this is precisely why Cut Chemist will last when other DJs fade.
How does this all translate in the context of a solo album? Quite well, in fact. The Audience's Listening begins and ends with Cut Chemist's classic cleverness based on spoken-word samples, while the core of the album is made up of heady new productions reflecting years of crate-digging around the world. "Metrorail Thru Space" is an update on 1980s German electronica, while "The Garden" features a breathy Astrud Gilberto. Though guest MCs Hymnal and Edan supply vocals for "What's the Altitude" and "Storm," most of the album can't exactly be defined as pure hip-hop.
But that's what Cut Chemist is known for--blurring lines, pushing definitions and in doing so, forming the shape of things to come.
Send a letter to the editor about this story.