July 12-18, 2006
home | north bay bohemian index | sonoma, napa, marin county restaurants | review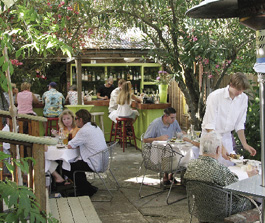 Photograph by Jason Baldwin
Cabana Vibe: The backyard at Ravenous is chill, with an undercurrent of wild.
Great Outdoors
Some of our favorite places to grab a bite in the full stirring air
By Lise Shelton
After months of being waterlogged, we are now in the glorious throes of summer. The grills are out, frosty beverages are in hand and everyone's mood seems vastly improved. It's not just that the stone fruit has begun to appear or that we are excitedly anticipating the taste of that first heirloom tomato. No. It's that we can eat outside again.
I believe that there are universal food laws, one of which is that eating al fresco always improves the food. (There are other mandates, in case you're interested, such as "All food is but vehicle for butter or mayonnaise.") Lest the food deities smite me for failing to adhere to the UFLs, I eat outside whenever I can. I do have a caveat, however. While I believe that dining out of doors makes food taste better, I want to start with some decent food. I mean, it can't be all about the view, right? Here are a couple of standbys when it comes to the right balance of patio to palate.
Ravenous Lounge & Restaurant
While the restaurant itself is quite cozy, engendering quiet conversation, the outdoor space is more like a comfortable backyard that says, "Relax. Hang out with us." There are a few tables on the raised wooden deck but the rest are set in a meandering sort of way beneath the trees and wisteria.
While it's a great setting for lunch, the Ravenous backyard really makes me happy in the early evening. A light breeze rustles through the trees, a string of party lights goes on and the backyard bar hums with conversation and the sound of ice shaken, not stirred. I always feel a little like I'm at a 1950s neighborhood pool party; it's all chill with a little undercurrent of wild.
The food at Ravenous matches its relaxed outside vibe perfectly, offering an eclectic yet simple menu. Sitting in that backyard, an applewood smoked bacon BLT on a chewy Downtown Bakery focaccia roll in front of me, I can just feel all the day's tension go pffft. (They really should consider adding a pool.)
Ravenous, 420 Center St., Healdsburg. Open for lunch and dinner, Wednesday-Sunday. 707.431.1302.
The Cantinetta at Tra Vigne
Talk about a great patio. I went there the other day for lunch. It was over 100 degrees outside, yet when I walked into the patio from the parking lot, I found myself in a place of cool and calm. I could neither see nor hear the vehicular morass known as Highway 29. The L-shaped patio is a leafy, shaded refuge. The sun darts occasionally through the trees like a flitting bird, alighting on hydrangeas and roses, and creating quick color bursts of cotton-candy pink and crimson.
The main restaurant was quite busy, though few chose to sit outside (fools!), so I opted for the lunch at the Cantinetta, the restaurant's wine bar situated in the courtyard. The menu is limited to antipasti, salad of the day, panino of the day and a few hot items, all around $10. As much as I wanted the salumi platter and a glass of rosé, I had to go back to work, so I ordered a Limonata and the panzanella.
Sitting outside and sipping my drink, the patio practically my own, I felt like I was on vacation in France or Italy. The iron-slat chairs, though intimidating in look, were surprisingly comfortable; I could have stayed there for hours. When my panzanella arrived, I was a bit taken aback. I had confirmed with the server that panzanella was bread salad. What I got was a good portion of oven-roasted sliced sausage, onions, red peppers and cubes of country bread, all held together in a light tomato sauce with basil and parmesan. Not the cool salad I was expecting. I briefly considered sending it back and changing my order, but such actions seemed completely incongruous with my serene surroundings.
I popped one of the bread cubes together with a piece of sausage into my mouth. The bread had sopped up the sauce, which had the lovely acidity of fresh tomatoes, and developed an almost creamy texture rather than becoming mush. The sweet onions and pepper were gracious counterpoints to the spicy fennel sausage. Tasty indeed, but this was a great example of a good dish made immensely more pleasurable by the beautiful outdoor setting.
The Cantinetta at Tra Vigne, 1050 Charter Oak Ave., St. Helena. Open for light fare and wine, daily, 11:30am to 5:30pm. 707.963.4444.
Other Options
Take Me to the River Eat some classy but unpretentious French fare prepared by a Tripp Mauldin, a man with serious chef cred, while overlooking the Napa River at Angèle Restaurant and Bar. 540 Main St., Napa. Open for lunch and dinner daily. 707.252.8115.
The Ooh-La-La Sometimes a girl needs to move beyond her well-loved California wines to the Rhone alone and soak up a little Gallic flavor. Interesting wines, great country French food and a lovely patio--all without the smell of Gauloises--are found outdoors at the Girl and the Fig. 110 W. Spain St., Sonoma. Lunch and dinner served daily; late-night menu Friday-Saturday; brunch on Sunday mornings. 707.938.3634.
It's OK to Be a Tourist All those summer visitors can be a godsend as they help us rediscover gems. Have a great summer sandwich or simple flat bread and salad at the Mountain Home Inn atop Mt. Tamalpais. Indeed, almost any small kitchen transgression can be forgiven with these vistas. 810 Panoramic Drive, Mill Valley. Breakfast for Inn guests only. Open Wednesday-Sunday for lunch; American cheese tastings from 3pm to 8pm; after-hiking plates Saturday-Sunday only from 3pm to 8pm; prix fixe dinners are $38. 415.381.9000.
Nighttime Glamour Sip a great Pinot or a snazzy cocktail while enjoying a balmy, languorous summer evening at Barndiva in Healdsburg. The tables--some small, some large--are spaced far apart, and the strings of lights hung from the mature trees offer a subtle, warm glow. All this seems to invite tête-à-têtes and the feeling that Audrey Hepburn might stroll in at any moment, fresh from her Roman holiday. Best of all: Barndiva is open until midnight on weekends. 231 Center St., Healdsburg. Open for lunch and dinner, Wednesday-Sunday; brunch begins at 11am on Sunday morning. 707.431.0100.
Send a letter to the editor about this story.