July 12-18, 2006
home | north bay bohemian index | the arts | books | review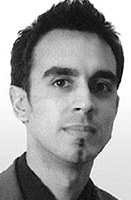 Tribe of bruvvers: Guatam Malkani's characters rage to be heard over all the noise of a heedless 21st century.
Rude Boys
'Londonstani' flies low over the Hounslow
By John Freeman
Every time when it's important to use this gob a mine I hear my voice," says Jas, the teenage narrator of Gautam Malkani's debut novel, Londonstani (Penguin; $24.95). "It's as if there's some other voice a mine givin it, Don't say that, it'll make you look like a gimp."
So Jas cannot say a simple hello to his desi boys, as descendants of the Indian diaspora refer to themselves. It has to be Big Up, bruv. He can forget about all those books he used to read in school. And especially about throwing chirps at a Muslim girl. Not unless he wants to be ridiculed as a batty coconut.
Welcome to Londonstani, the inner ring of Heathrow's flight plan, where brown-skinned Somalis, Chinese, Indians, Pakistanis, Bengalis and a bevy of other immigrant populations come together in nothing resembling a melting pot, but rather a boiling cauldron of tribes. The author, GautamMalkani, appears at Book Passage on July 16.
Jas' stomping ground is "the London Borough a Hounslow, car park capital a the world." He and his three best friends, Hindu nationalist Amit, Sikh street thug Hardjit and lothario Ravi, cruise the streets in a modified BMW M3, calling out to girls, picking fights based on perceived insults.
"It ain't necessary for you to 2 b a Pakistani to call a Pakistani a Paki," Hardjit explains to a white guy, or gora, they beat up at the beginning of the book. "U gots 2 b, like, an honorary Paki. . . . An dat's da rule. Can't be callin someone a Paki less u also call'd a Paki, init."
Readers who have seen Sasha Baron-Cohen's satirical Ali G show on cable will have a leg up here, for Londonstani throws readers in at the deep end, with dialogue that looks and sounds more like a gangsta rapper's text message than actual speech.
Quicker than one would imagine, however, treading water seems easy, and then actually enjoyable. Although reviews from England made inevitable comparisons to Monica Ali's Brick Lane, this book is actually closer kin to The Sopranos.
Like the mobsters at the heart of the hit HBO series, Jas and his crew are not exactly above the table. Their main stream of income comes from reprogramming stolen mobile phones--small-time stuff, but in this age of terrorist bombings, it's something the government keeps a close eye on.
And yet, for all their petty criminal bona fides, the characters of Londonstani are basically mama's boys. On the way to a rumble, Amit has to stop and buy laxatives and feminine products for his mother, as does his opponent. In another hilarious scene, they sweep a cache of stolen "fones" off the bed so their auntie can lay down afternoon snacks: a "silver tray full a samosas, pakoras, glasses a Coke an cups a chai."
For every moment that Londonstani transports you right into the upstairs room of a Hounslow semi-detached, though, there are several where Malkani, 29, who is an editor at the Financial Times, tells too much. This novel could have been much shorter had Malkani traded some of Jas' anthropological asides for swifter plot development. This finally arrives when Jas begins courting a Muslim girl on the sly, and the crew gets hooked up with a legitimate criminal. Suddenly, Londonstani becomes a ripped-from-the-headlines tale of middle-class youth who choose a life of crime over school.
Jas' crew thought they were merely having kicks and were just trying to get some respect from a world that had shoved them flush up against the runways of the loudest, most toxic airport in the hemisphere. It's understandable why they would want to be heard over all that noise.
Londonstani makes that happen--and listen, bruv, digressions aside, it's for real, init.
Gautam Malkani reads from and discusses 'Londonstani' on Sunday, July 16, at Book Passage. 51 Tamal Vista Blvd., Corte Madera. 7pm. Free. 415.927.0960.
Send a letter to the editor about this story.