July 12-18, 2006
home | north bay bohemian index | music & nightlife | essay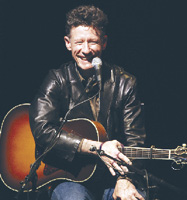 Photograph by Steve Jennings
Travelin' Man: Lyle Lovett sings and plays for you. He, um, runs off with me.
Man of My Dreams
My imaginary love affair with Lyle Lovett
By Gretchen Giles
Lyle Lovett is late. He was supposed to call 15 minutes ago, but the phone remains stubbornly mute. And rather than further working to craft questions so clever that he'll never in a million Texas miles forget me, I am in a rare lucid sweat. There is something that I want to tell Lyle Lovett, something both embarrassing and horribly tempting. Something that's as terribly attractive to touch as a sore tooth. But I won't. I will not tell him about the dream. I will not.
I was eight huge months pregnant, beyond anything as merely big as a house. My beloved firstborn son was just two. I made the mistake of going to sleep one night.
The singer-songwriter famous for his crossover cred, his Large Band, his brief marriage to She Who Will Not Be Named, his gorgeously cranky hair, his sly wit, his bad brush with a bull, his long-winded musical request to make his a cheeseburger and his recurring role in the Robert Altman oeuvre will certainly call soon.
He'll expect that we'll discuss the tour that brings him to the Wells Fargo Center July 17-18. He'll be ready to talk about the new album he's preparing to record this fall. He'll patiently count, if asked, how many members it takes to make a band Large, perhaps noting that it mostly takes a horn section.
It's possible that he could confess a liking for the music of the Billie Holiday-scented singer Madeleine Peyroux and an admiration for the tone of trumpeter Chris Botti, with whom he just recorded a track for an upcoming film soundtrack. He might reveal that his summer reading list is heavy on the work of Texas author John Graves, a writer that Lyle recently honored in a gala with actor Tommy Lee Jones and playwright Sam Shepard at Texas State University.
But there is no way that the man should be asked to comment on a Freudian-frosted cupcake of a dream I conjured some 16 years ago.
Even in the dream, I am eight huge months pregnant. I have my beloved towheaded firstborn son with me. We go to my mother's house. Lyle opens the door. Lyle opens the door because Lyle, after all, is my mother's boyfriend.
There are, sadly, other things I will gladly tell Lyle if the phone ever rings. I'd be glad to natter on, for example, about how I was instrumental in his meeting the director Robert Altman. During a 1990 Sunday show outside at the Hollywood Bowl, I could tell him, Altman and I were both in attendance.
While Altman presumably cavorted backstage and ate yummy catered items, I perched on a general admission seat, riveted to the delicate cracking lilt of Lyle's voice. During the love song "Nobody Knows Me," I was moved, quite literally. When he sang the line, "I hate to be alone on Sundays," I stood unexpectedly up to shout this Shakespearean wisdom: "You're not! And I love you!"
It was a Sunday, after all.
My friends snickered, their heads down. Not only had I embarrassed myself in front of Lyle and thousands of fans, I'd also embarrassed myself in front of Robert Altman. Yet within a week, Altman had called Lyle at home to offer him a job in the film Short Cuts. Anyone can see my role in this.
Journalists aren't supposed to be fans. Journalists aren't supposed to be nervous. Journalists aren't supposed to claim their rightful stake in prompting small movie stardom. And journalists are particularly not supposed to talk about their dreams. Lyle knows this. He studied journalism at Texas A&M University. I sweat and wait for the phone to ring.
Which, of course, it finally does. The man is nothing if not well-mannered.
Lyle gazed lovingly into the water-retaining face dimly containing the limpid pools of my eyes. He took my hand. He turned to my mother. He told my mother he was leaving. He told my mother he was leaving her for me.
Lyle apologizes. Another journalist--a selfish, unfeeling one who couldn't possibly love him as much as I do--has kept him overtime. Ordinarily possessed of the flattest West Coast tone in the state, I suddenly go to sugar. "Why Lyle," I coo like Scarlett O'Hara, "there's nothing more I'd rather do than wait for a call from you." This is, of course, the stone truth.
Lyle graciously chuckles once and waits. Journalists are supposed to ask questions.
When Lyle tours with the Large Band as he does most every summer--he explains, his voice close and courtly in my ear--they need to work six nights a week to make their living. The first five nights pay for the cost of the tour; that last night pays for the steak. Not much of a vacation, I mutter, thinking that I'd take Lyle fishing and motorcycle riding and out on horseback--all of his favorite outdoor pastimes--if I were planning his summer.
"It's clearly not a vacation," he says, "but it is kind of fun, and you get to see people and places you only get to see once or twice a year. It's more like an extended field trip."
Without acrimony, Lyle and I bid farewell to my mother. We bend tenderly together over the head of my two-year-old son. We will now live only in their memories, because Lyle and I are leaving. Lyle and I are leaving my son and we're certainly leaving my mother.
Lyle has a new album in the works, due to record this autumn. It's the first disc of original songs he's released since 2003's My Baby Don't Tolerate. He won't say much about it other than, "I write about small things; I don't write about big things."
Not drawn to the computer's lures, Lyle is a self-described "fix-it guy" who lives in his grandparent's former home, built in Klein, Texas, in 1911. I tell him about his unofficial website and the listserv of folks looking to trade bootlegs of his live performances. He is tickled that they even care. "I think that it's really cool that people are interested enough to want bootlegs," he says with a laugh. "I have enough trouble selling my real records."
Lyle produces a Cadillac convertible. The top is down. We get into the car. The sun actually sinks over the horizon. I glance back once and wave gaily at my son. Then I settle in next to Lyle, and he accelerates us into our new life.
There is something that I do have to tell Lyle. That same towheaded boy turned three and Halloween came. While other children trick-or-treated as ghosts or bunnies or Teenage Mutant Ninja Turtles, my son went garbed as Lyle Lovett--challenging hair and all.
"I hope," Lyle says, sounding stern. "That you've apologized to that child."
Every time, I assure him, that we look in the photo album.
Lyle Lovett brings his Large Band to the Wells Fargo Center Monday-Tuesday, July 17-18, at 8pm. 50 Mark West Springs Road, Santa Rosa. $45-$85. 707.546.3600.
Send a letter to the editor about this story.