July 18-24, 2007
home | north bay bohemian index | the arts | books | profile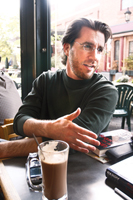 Photograph by Felipe Buitrago
Company man: Former CIA agent Barry Eisler writes what he knows.
Spy Game
With 'Assassin,' Barry Eisler brings his cloak-and-dagger intrigue home to California
By Gary Singh
Author Barry Eisler's Requiem for an Assassin (G.P. Putnam; $24.95) is his sixth consecutive book in a now world-renowned series about John Rain, a Japanese-American freelance killer who slithers through exotic locales and murders people while making it look like the person died of natural causes.
Eisler himself comes from a background that completely, overwhelmingly drives the books. For example, as a member of the CIA's Directorate of Operations, he studied everything you would expect someone to have studied in that branch of the CIA, and it all shows up in the novels: surveillance, countersurveillance, betrayal, interrogation, improvised weaponry and clandestine operations. He only recently changed his status and revealed to the public that he worked for the agency.
Yours truly recently hooked up with Eisler, primarily because if there's going to be a book featuring a scene where a half-Eastern-half-Western assassin rampages through California, ridicules the yuppies and brutally bumps off a corporate CEO in the dark, I just had to go yak with the author. He appears July 31 at Copperfield's Books in Santa Rosa.
Bohemian: In these books, you've got two things that just automatically intrigue the general public: exotic locales and spooks. Where did the impetus for the series come from?
Barry Eisler: I was living in Tokyo, and an image came to me of two men following another man down the street. And I started thinking about it, and I said, "Who are these guys? Why are they following that other guy?" And I thought, "They're assassins. They're going to kill him." And I thought, "Who are they, why are they going to kill him, who hired them, where did they come from?" And it started to feel like a story, and I've always liked to write, so I started writing it to see what happened. That's how the book got started. As far as spies and the exotic locale stuff--and having spent three years in the CIA, you're naturally thinking about spy stuff--and living in Tokyo, the exotic locale presented itself.
When the series first emerged, you were somewhat evasive about what you actually did for the United States government. What did it take to change your status and come aboveground?
I called a friend of mine who was in my class as a trainee, who had left the agency relatively recently, and I asked him, "What do I do?" He just said, "Send them a letter, tell them who you are, what you did and what you want, and ask to change your status from covert to overt." Surprisingly, it didn't take very long. It used to be--like the DMV, for example--you'd think that the government moves very slowly. Usually it does, but in this case, it didn't take very long.
Was the change of status from covert to overt part of the marketing scheme?
When Putnam asked me if I could in fact discuss where I worked and what I did, there was definitely an eye towards marketing. The idea is, honestly, I write about spy stuff, tactics, the mind-set, surveillance, countersurveillance, things like that. So it gives me some credibility in terms of brand. I really know this stuff, I really was trained, I did it. So that's what Putnam had in mind.
In creative-writing circles everywhere, they tell you to write only the book you can write. Is that what you did?
If I hadn't been born, these books would never have been written. And that's a great feeling.
Barry Eisler reads from and discusses 'Requiem for an Assassin' on Tuesday, July 31, at Copperfield's Books, 2316 Montgomery Drive, Santa Rosa. 7pm. Free. 707.578.8938.
Send a letter to the editor about this story.