July 19-25, 2006
home | north bay bohemian index | sonoma, napa, marin county restaurants | review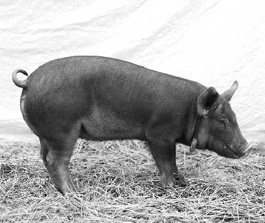 Courtesy Heritage Foods
Head to snout: Heritage red wattle pigs should be enjoyed whole hog.
Boar Meets Gilt
These little pigs came from Kansas. The curious journey of the red wattle
By Carey Sweet
The two little pigs took tentative steps out of the extra-large dog crate that had been their home for the last several weeks. They snuffled the loamy soil at their feet. They looked curiously at the cozy, shaving-filled bunk to their left and at the grassy pasture that crawled up the gentle slope before them.
Then suddenly, in a mighty tandem leap, they careened across the pen, exploding like crazy coiled springs and squealing what could best be interpreted as "This is a bit of piggy all-right."
Patrick Martins, porcine chaperone and founder of Slow Food USA, watched his too-cute charges and smiled. "It took them a long time to get here, and 10 seconds to realize they're home."
Then he turned to the animals' new landlord, Laddie Hall, owner of the 750-acre Long Meadow Ranch in St. Helena. He peered over his sunglasses and asked pointedly, "Are there any predators here? I've heard there are coyotes. I don't want these pigs to get eaten."
Hall shrugged. "It's always been safe," she said, nodding to the half-dozen ranch associates who quietly looked on. "I just hope you weren't expecting a marching band or something fancy for their arrival."
It was an exciting moment for the two very special eight-week-old piglets, and a note in history for Napa Valley farmers. These animals are red wattles, a severely endangered heritage breed, and they were brought to California this month to start the first-ever satellite passel west of Texas. According to Martins, only about 300 of the amber-colored animals exist today; the breed was actually thought to be extinct until a wild herd resurfaced in the forests of Texas in the mid-19th century.
Dubbed Adam and Eve, the boar (male) and gilt (female) were born in Kansas, where a group of farmers has banded together in a breeding plan to save wattle genetics. These two animals are to be the cornerstone of a new, sustainable herd under Slow Food's mission to preserve America's small, artisan farms.
It was also a rather low-key ending, considering the promotional extravaganza that brought the pigs to their new home. Because instead of just trucking the critters the 1,700 or so miles from their Midwest birthplace to this sprawling paradise high atop the Mayacamas Mountains, Martins and a team from Heritage Foods USA had put together a cross-country tour spanning 40 days and 40 nights (biblical reference strongly intended). Stops along the way involved putting the pigs on display with dozens of celebrities, staging high-dollar parties drawing hundreds of guests and hiring a team of documentary filmmakers to capture it all.
The end also smacked of irony. Because even if Martins wanted to ensure that Adam and Eve didn't get eaten at Long Meadow, that's exactly what the future piglets are for: not protected species, but new designer meat for upscale diners bored with the mass-produced "other white meat."
Martins is also co-founder of Heritage Foods USA, the sales and marketing arm of Slow Food, and the company that provides small-batch products like heritage turkeys and, yes, wattle pigs to the nation's leading chefs. And as beloved as these two little pigs might be right now, Martins envisions a future where their lean, extra flavorful dark meat joins the ranks of the now ubiquitous gourmet Kurobuta pork.
Business is business after all, and the reality is that most epicures would rather eat than admire such critters. Those celebrities posing with the porkers were food professionals. To get the word out, and also raise money to finance the pigs' care, Martins arranged a string of high-end culinary events featuring lots of red wattle dishes on the menu. How much of the rare animal was sacrificed for the publicity tour? Heritage spokespeople would not say.
At the group's June 30 "welcome to Napa Valley" event, however, eight chefs served 13 different tastes of pig, with one chef acknowledging that his order for the evening included five whole heads and an unknown number of tails. More than a hundred well-dressed guests wandered from chef station to chef station at the Silverado Resort, sampling fancy porky tidbits and pretty much ignoring the frolicking Adam and Eve in their crate next to the podium. (One guest was overheard saying, "Wattle, whatever. Just wrap pork in bacon and I'm happy.")
The wattle adventure began June 1, when Martins and associate Sarah O'Braitis departed Heritage Foods USA's headquarters in New York, driving in a small van towing a camping trailer. For the next three weeks, they stopped at farms, restaurants and other food-related enterprises, and made appearances on television and radio food programs, building hype about their new product. Accompanied by their documentarians, the team interviewed people intrinsic to America's food history, including farmers, butchers, sausage makers, truckers, pit-stop waitresses, cookbook authors and the generally unusual personalities that make up the Slow and Heritage Foods worlds (no word yet on when or where the film will air).
On June 22, they arrived at Lazy S Farms in Kansas, the leader of the only red wattle network in the United States. The pigs were packed and everything was a go, until a Lazy S ranch hand bid Martins "Enjoy the gilt and barrow." Small point: a barrow is indeed a male, but one that's been castrated. The trip was delayed a day as the trailer was backed up and the barrow exchanged for a boar.
After staging ritzy dinner parties in Scottsdale, San Diego and Los Angeles, the heartland-boutique culinary parade hit the North Bay on June 29, with a procession to heritage-supporting restaurants in the San Francisco area. There, the pampered pigs cozied up with some of the nation's most elite Slow Food stars, including Alice Waters of Chez Panisse, and the chefs of Acme Chophouse, Boulevard Restaurant, Quince, 1550 Hyde, Rose's Cafe, Mustards, Cindy's Backstreet Kitchen, Oliveto, Eccolo, Prather Ranch, Fatted Calf, Hotel Vitale, A16 and others.
The next day, after an interview on the James Beard-award winning radio show A Matter of Taste, the animals were presented at the luxe "Go West Young Wattle" reception at the Silverado. While Adam and Eve fought over a green apple in their crate nearby, each chef worked with a different piggy body part, tail to snout.
If the reaction of these kitchen masters was any gauge, Martins can expect Heritage's phone to ring off the hook for future orders. From chef Nate Keller of Cafe 150 (presenting braised pork heart with ume on a tempura shiso leaf) to chef Victor Scargle of Julia's Kitchen at COPIA (offering lemongrass cured pork belly with puy lentils, kale and grilled plums), local professional cooks seem thrilled to have a new product with which to play.
"Here's a pig that has some flavor and is really versatile," said chef Ryan Jackson of Brix, presenting pork tongue with fresh fava beans, oven dried tomato and lemon preserve alongside Calvado braised cheek on garlic crouton. "It's actually like red meat. The chefs are all behind [the meat] and the sustainable farming."
Showing that every bit of the wattle is useful, chef Peter Pahk of Silverado prepared pigs feet in honor of each tootsie: hot, sweet and sour; as estouffade; in consommé with wonton; and pickled. Chef Peter Halikas of NV restaurant, meanwhile, couldn't resist an obvious joke. "I was going to bring this over and introduce it [to the piglets] as their mother," he said, lifting the skull displayed next to his plates of pig's head brawn atop crispy pig's tail and mustard greens.
Other tastings included curry-crusted loin of pork alongside a warm salad of slow-smoked pork belly, fresh chickpea and frisée (from chef Vincent Nattress of Meadowood), country-style pork ribs in organic peach barbecue sauce with Rancho Gordo red Appaloosa beans (chef Kimball Jones of the Carneros Inn) and achiote-rubbed pork shoulder, black beans and lime-cured red onions wrapped in banana leaves (chef Greg Cole of Cole's Chop House and Celadon).
Assuming that Adam and Eve make a love connection, it will be at least three years before diners see Napa-produced red wattle on their plates. Until then, care for the piglets falls to a St. Helena high school student, Mollie Salinger, who now will go down in history and earn high school credit from Future Farmers of America as the area's first wattle wrangler. She takes her responsibility seriously. As the porkers pranced in their new pen, she raised her right hand and echoed Martins' oath.
"I do solemnly swear to treat these pigs like humans."
Martins then faced his piglets one last time. "There's something a bit sad," he said, "About finishing a heralded, film-documented, 40-day journey across America's heartland, just to arrive so your children can be eaten."
But Adam and Eve hardly seemed concerned. They'd just discovered a tub of pig chow, and there was no misunderstanding their happy grunts. This was definitely going to be a lot of piggy all-right.
Diners wanting to sample red wattle pig meat can find it at Silverado's Royal Oak restaurant, where chef Pahk currently offers a double cut chop for $28. Silverado Resort, 1600 Atlas Peak Road, Napa. 707.257.0200.
Send a letter to the editor about this story.