07.21.10
home | north bay bohemian index | music & nightlife | band review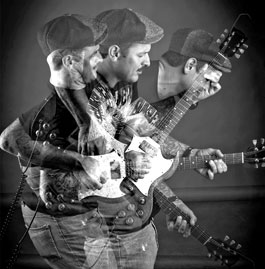 Photograph by Michael Weintrob
OLD SOUL:
Eric Lindell cleaned up, came home and made his best record yet.
At the Crossroads
Is leaving his record label the best decision Eric Lindell's ever made?
By Gabe Meline
I park alongside two Harleys and poke my head in the back door of the Forestville Club. There, between an old decrepit stove that hasn't been used in forever, a desk and piles of empties, sits owner Wayne Speer, holding court with a few regulars. Smoke fills the air. Small talk centers around the changing face of Forestville. Where so-and-so went. People promising to pay their tab on Thursday. That sort of thing.
Then I mention Eric Lindell. Speer leans forward in his chair to pontificate at length. He tells of the first time Lindell played the club, when 600 people showed up and the sheriff shut down the show. He tells of the way Lindell's kept coming back to the dark little roadhouse. Mostly, he talks about Lindell's determination.
"He's fairly talented," Speer surmises. "Well, I shouldn't say 'fairly talented.' He's very talented. But the thing about Eric is, he wakes up every morning and asks himself, 'How can I improve? How can I make myself better and further my career?'"
The part about furthering his career sticks with me, because Lindell, at age 40, has just committed what outsiders might call career suicide. Signed for a successful run to Alligator Records, one of the top blues labels in the world, Lindell last year voluntarily left to put out records on his own fledgling label, Sparco Records.
What's more, Lindell released his record on vinyl, which is a stylish but tough sell. What about his promotional budget to advertise the album, to service it to radio stations, to fund tour support? Think of Alligator Records as the Empire State Building. Then notice that Sparco Records' logo is the Flatiron Building, 100 stories down.
Yet here's what matters: Between Motion and Rest, the album that Speer actually loaned money to Lindell to release, is incredible. It's full of grit and soul, with an honest rawness built on his limited budget as much as his hard-fought freedom. It breathes. I'm not alone in baldly decreeing to him it's the best record he's ever made.
"Thanks a lot, man, several people have said that," says Lindell, on the phone from Chicago. "That's just a great feeling after going out on a limb like this to do what I believe in my heart is the right thing."
Lindell is in the Windy City with his band, his 15-year-old son and some still-friendly ties to his old label executives, whom he's about to meet for lunch. No business is to be discussed—it's purely casual. "We left on good terms," he assures. "I got nothin' but good things to say about them, helpin' me and furtherin' my career."
Not that the Sonoma County–bred musician hadn't been working his ass off already. When Alligator came chomping, Lindell had been in New Orleans for years, playing constantly and releasing EPs independently. They ended up reissuing those EPs as Change in the Weather, which enjoyed extensive play on radio stations and good sales. Lindell, assuming he'd secured the label's trust, was dismayed to find himself soon butting heads with label owner Bruce Iglauer.
"For the second record, he wanted me to make demos, and he was critiquing me," Lindell recalls. "I couldn't believe how hard it was to make that record. I wasn't used to someone looking over my shoulder." Even the album artwork, Lindell says, was "muscled" by the label. For his next Alligator release, Gulf Coast Highway, he handled all the art, but as for the music itself? "It was like pulling teeth," Lindell groans. "It was kind of challenging, to put it politely, makin' records for the guy."
When Lindell finished his newest album, he was honest with Iglauer. "I called him and said, 'Look, you're not gonna like this record, I can tell you right now.'" Iglauer was unfazed; he didn't want Lindell to release another record for another year and a half anyway. Lindell bristled at the time frame.
After Lindell and Iglauer had spent five years and made three successful albums together, the dreaded meeting was called. "He came down to New Orleans and met with me and my lawyer to talk about it," Lindell says, "and basically we were dead in the water, right there."
Lindell's very first band was called Broken Solitude, a tiny bit of trivia he's since forgotten. But jazz phenomenon Adam Theis, who's been in almost two dozen bands with Lindell since 1991, remembers their skate-punk style vividly from the River Theater in Guerneville. "And then the last week of my junior year," Theis remembers, "my sax-player friend Dave Andrews said, 'Eric has a new band. They want us to be their horn section.'"
That band was Grand Junction, a 10-piece juggernaut led by the lanky, 15-year-old Lindell. Listening to the songs today on a MySpace tribute page is like digging up a Rosetta stone with Sly Stone, Stevie Wonder and Boosty Collins as overlapping languages. "Eric always stood out to me as one of those old souls," Theis says. "When I first hung out at his house, he was always playing vinyl from old '70s funk, and it blew my mind, all this stuff he knew about."
After a few years, an incarnation called Eric Lindell and the Reds conquered Sonoma County with club dates and a debut album, Bring It Back, recorded at Petaluma's Grizzly Studios. Lindell packed his bags for New York City, then Louisiana. Hooked on Junior Wells and other old bluesmen, he'd expected to find a bustling roots-music scene in New Orleans but instead found brass bands and funk groups. "I never considered myself a singer-songwriter until Stanton Moore from Galactic called me one!" Lindell laughs. "A singer-songwriter—shit, that sounded like James Taylor to me."
But New Orleans embraced the tattooed Californian, and Lindell was playing constantly around town—so constantly that his years of drinking finally caught up to him. He finally quit "about five or six years ago," he estimates—he doesn't keep track—by coming out to Bodega and drying out.
"That was the best thing I ever did, man," he attests. "I was pretty bad off. I was doing a bunch of coke, and I'd been drinking my whole life. I'd drink beer at lunch and just keep going into the night. You know, in New Orleans, the level of partying, you wouldn't believe what is accepted as normal. People passing around their coke bag, and it never closes, so you can drink 'til the sun comes up. And I just ran it into the ground."
Last year, Lindell drove with keyboardist Ivan Neville to meet a quickly assembled band at Grizzly Studios to record Between Motion and Rest. "I said, 'Look, I ain't been there in about 10 years, I don't know what it's like. Last time I was there, there was busted-up bikes, laundry and shit everywhere. I just wanna prepare you,'" he says. "And we walk in, and sure enough, the same busted-up bike is laying right there!"
Grizzly Studios is that kind of place. There are stains on the carpet, graffiti on the couch, and on that particular day, the studio's computer was on the fritz. No matter. Lindell and a gang of old friends—including Theis, longtime drummer Jake Brown and Thomas Johnson, who's releasing a solo record on Sparco soon—warmed up as engineer Roger Tschann strung up some two-inch analog tape. Soon they were laying down songs: the romantic "Matrimony," which Lindell wrote on the spot, one week before getting married; "Bodega," an ode to his West Coast sanctuary; a couple covers of Curtis Mayfield and Magic Sam.
With so many local friends involved (plus art designed by Josh Staples, who released Lindell's first album in 1996, and silkscreened by longtime pal Jayson Taylor, who handles his merchandising), the record was "a real sentimental thing, man," Lindell says. The songs flow freely, naturally, and it shows in the grooves. It feels like a homecoming record, one tinged with gratitude ("Lucky Lucky") and love ("True Blue Love"). In a way, it couldn't have been released by anyone but Lindell himself, straight from the heart.
Is it working, his great experiment of independence? Encouragingly, Lindell's sold about 3,000 copies of Between Motion and Rest, including 800 copies on vinyl. Without having to pay a label, that translates into some decent money. He's also signed a licensing deal for song publishing, has kept his radio contacts and is in talks for distribution. He's even been able to pay back his old friend Speer from the Forestville Club.
"Obviously," he says, a sense of pride in his rasp, "to walk away from that Alligator deal, there's been times when it was hard to get the money together. Obviously there's been times I've had doubt, like, 'Oh God, what am I getting into?' But creatively, which is somethin' that's important to me, I needed to have free reign to do what the hell I want to do. I don't even have no money to be doin' what I'm doin'. But I just—I don't know why I feel so driven to do it. I just feel like as a musician, it's my duty."
Eric Lindell plays Friday, July 30, at the Last Day Saloon (120 Fifth St., Santa Rosa; 8:30pm; $15; 707.545.2343), and Saturday, July 31, at 4pm at the Sonoma County Blues Festival (Sonoma County Fairgrounds, 1350 Bennett Valley Road, Santa Rosa; fest, 1pm–7pm; $12 plus fair admission; 707.588.0707).
Send a letter to the editor about this story.