07.22.09
home | north bay bohemian index | news | north bay | news article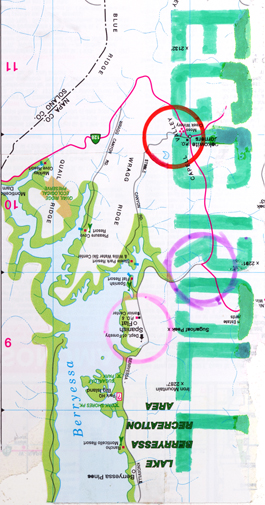 Berryessa Bound
With no vacationers, Lake Berryessa is quiet, still—and perfect
By Gabe Meline
Way up north in Napa County, the Corners is a combination general-store-restaurant-bar at the intersection of highways 121 and 128. There are a few trucks in the parking lot owned by bargoers, but otherwise the place is desolate, including the nearby church. My presence is an anomaly here at the gateway to Lake Berryessa, and when I pull out some money to pay for a soda at the general store, the bleach-blonde behind the counter asks, "You mean you're not going to complain about how expensive it is? Most people do."
Across the street, there's a huge sign protesting the Bureau of Reclamation, which would appear to be responsible for this being the middle of vacation season and there being no vacationers in sight. This is the second summer that most of the seven resorts around Lake Berryessa have been shuttered. Hell, I think, that's great for me. No huge boat trailers inching slowly around the winding narrow roads. No Bermuda-short-wearing yahoos glugging Corona and blabbing about real estate. No big-city families in their SUVs full of inflatable dinosaurs and bottled-up dysfunction.
Yes, there may be no finer time to visit Lake Berryessa than right now, when it's just the locals. And man, are the locals lonely. Up the road, a park ranger pulls up as I'm taking a photo of a decrepit sign at the fenced-in Spanish Flat Resort. I tell him I'm just taking a picture, but he's not stopping to bust me. "Uh, you got any questions, maybe?" he asks, and I realize he's just looking for someone to talk to out here on the desolate road. I ask him about the resort closures, and he says they should all be up and running sometime next year. Making conversation, I remember a tip I'd heard, and ask if he's heard of a bar that sells world-famous egg rolls. "Oh, sure, that's Turtle Rock," he says. "Big blue building, end of this road."
I wonder what's so special about the egg rolls, but the ranger's never tried them. "The bar's not that bad, though," he says. "Lemme put it this way: I've definitely had a few drinks there."
Turtle Rock is indeed bright blue and at the end of the road, with a Port-a-Potty outside and a neon sign in the window, next to the Budweiser and Coors signs, promising the rumored egg rolls. A couple of grizzled guys say "Hi" as I walk through the windowless door and into a goldmine of local Lake Berryessa life. Part grill, part general store but mostly a bar, Turtle Rock is also a meeting place for locals, where everyone who walks up to the bar gets a first-name greeting. A few minutes after I sit down, an old man opens the door to a unison "Heya, Ralph" from the other customers, walks behind the bar, cracks a beer, pours it himself and unnecessarily tells the bartender to put it on one of his two tabs.
The egg rolls arrive without a fork, a knife or even on a plate. The bartender wraps 'em in a napkin and plops 'em on the bar. "You want sauce?" she asks, and proffers two jugs of Sriracha. These are the world-famous egg rolls, and brother, they're delicious.
As I sit and get my fingers greasy, I ask the bartender, why egg rolls? She points to a large portrait behind the bar of Peter Ping Kong Leung, who often made food for his bar's patrons. One day about 20 years ago, he decided to roll some egg rolls at the bar, they were a huge hit, and the rest is history. Lueng died in 2003, but his egg rolls—each just $2.25 and about the size of a small burrito—remain.
Underneath the thousands of dollar bills stapled to the ceiling and walls, bar talk turns to the ongoing subject of the Bureau of Reclamation and how they completely bungled a deal with the Pensus Group in Arizona which allowed the resorts to close. I get an earful of local stories, but the bartender doesn't want her name in the paper. "It's a friggin' mess," she says, while fingering a worm out of a bait container. "Just write, 'It's a friggin' mess, but it's beautiful here, and there are great businesses that need your support.'"
The front page of the local 12-page paper contains the tongue-in-cheek headline "Lake Berryessa Region Declares Independence; Forms Republic of Napalachia," and with all of the resort closures, it might as well do just that. It's like a different country up here already, and certainly far removed from the wine-country-paradise image touted by Napa County tourism officials. Case in point is Spanish Flat Village, north of Turtle Rock on Knoxville Road.
I pull into the vast parking lot, containing roughly a hundred parking spaces. Only two are occupied—one by the owner of the Spanish Flat Country Store, the other by the owner of the nearby Italian restaurant, Cucina Italiana. The rest emit the hot, hazy mirage of abandonment.
At the front counter of the store, a woman bends over a brick of popsicles that have frozen together, chopping away with a butter knife, trying to separate them. Along with the usual general-store items, there's a deli, movie rentals, new and used camping equipment and candy bars kept cool in a small fridge. I grab a Snickers and let the woman, furiously working on the popsicles, know that I'm ready to check out.
She takes my dollar, throws it on top of a pile of money on the countertop, fishes out a nickel and hands it to me—cash register be damned. "What brings you up here?" she asks.
"Oh, I'm just intentionally taking wrong turns, trying to get lost," I say.
"This is a good place to do that," she says, ominously. I feel like I'm in some sort of David Lynch movie. "What happens if I keep driving on this road?" I ask.
"You hit Knoxville."
"What's there? Is it a city?"
"It's nothing. A good place to go and get in trouble. No one around for miles."
Knoxville, she elaborates, is a rural area good for off-roading and hunting on the way to Lake County. Lots of ATVs, motorcycles, beer and guns. There are barely even any campsites there, but that doesn't stop people from disappearing for days. I tell her I'll probably head back the way I came.
She nods and gets back to her popsicles. "That's what I'd do if I were you," she says.
Pulling out of the parking lot, I drive by the old Spanish Flat Inn, now closed. A neon martini light sits atop the front entrance as a memento of booze-fueled nights of camaraderie amid simpler times, and like the rest of Lake Berryessa, it waits for visitors. In the meantime, it stands as a beacon to the diehards, truly traveling to the outer limits.
Spanish Flats, N 38° 32.034´ W 122° 13.683´
Boho Cache Hint: La cerveza mas fina.
Send a letter to the editor about this story.