07.22.09
home | north bay bohemian index | news | north bay | news article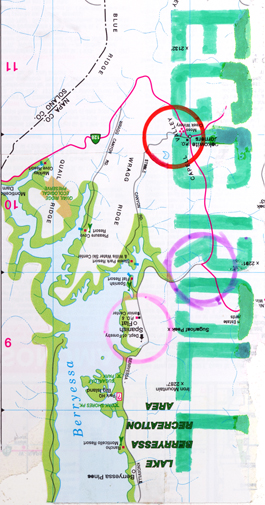 Outer Limits Eating
Some small good things you may not know about
By Suzanne Daly, Gretchen Giles, Jackie Johansen, Cassandra Landry and Gabe Meline
Hamburger Ranch and Pasta Farm
The people at the next table are passing through, on their way down to an ice hockey tournament in Santa Rosa. Another family across the dining room is headed up to Oregon for some whitewater rafting. The walls are covered with postcards from around the world, singing the praises of this hamburger stand, housed as it is in an old Texaco gas station, just north of Cloverdale. Everyone, it seems, stops in at Hamburger Ranch.
Hamburger Ranch is one of those places that's achieved world renown while staying down-home. Among posters for the local Lion's Club poker tournament and old cattle equipment on the wood-paneled walls, a token wine list at each table feels out of place. Here's what you need to know: screwdrivers and bloody marys are $5, and just beneath those, on the menu, lies the holy grail. "One shot: $1.50." It's that kind of place.
For travelers headed to the outer limits of Hopland, Boonville or Point Arena, the roadside stop officially known as Hamburger Ranch and Pasta Farm is an essential gateway visit. But why pasta "farm"?
"Oh, that was the previous owner," sighs Nancy Dennis, who's worked at Hamburger Ranch for 18 years. "I don't know how he came up with that name. I think he was just a cornball with a strange sense of humor."
However it's "farmed," pasta features prominently on the menu, as do plenty of breakfast offerings priced as low as $5.45. The Ranch's slow-cooked, wood-fired barbecue (tri-tip, brisket, chicken, ribs) is to die for—the pulled pork alone is cooked for 19 hours—and, naturally, dozens of specialty burgers abound.
Renovated several years ago, the Ranch replaced its formerly cramped bathrooms, expanded its dining room past the old wooden front porch and added a large covered outdoor patio with a vineyard view. The one thing that hasn't changed, however, is the loyal clientele, who religiously make a pilgrimage for burgers on yearly road-trip vacations. "I had some just this morning!" says Dennis, excitedly. "They were on their way camping, and they said, 'This is our annual stop.'"
An inestimable flood of postcards from visitors echo the sentiment (the most far-flung actually came postmarked from Antarctica), but it's Dennis herself who may be the restaurant's biggest fan. With Cloverdale diners like the Wheel Cafe and the Redwood Smorgette long gone, Hamburger Ranch is a dying breed, and the quick-on-her-feet waitress says she still has fun being part of a local institution. "I came here on vacation in '76," she explains, filling up another basket of fries, "and I'm still on vacation."
Hamburger Ranch, 31195 N. Redwood Hwy., Cloverdale. 707.894.5616.
N 38° 49.066´ W 123° 01.406´
Boho Cache Hint: Under the grid.—G.M.
Chloes French Cafe
Tucked away above the Sutter North Bay Medical Foundation is a Parisian oasis. Upon walking down a drab white hallway, there is a door left wide open. Through this entrance, there are bustling waiters and waitresses, and outside, the trees hang low, French music plays and a couple sits, wine in hand, chewing on a baguette.
Chloe's French Cafe dishes up handmade éclairs, tarts, croissants, sandwiches, salads, ratatouille and much more, all made from heirloom French recipes that have been passed down for centuries.
Chloe's motto is to keep its food "basic and simple, but as French as possible" says chef Renée Pisan. Before coming to Sonoma County, Renée, with her husband, pastry chef Alain Pisan, and his brother, sommelier Marc Pisan, worked at the Pisan family cafe in the South of France. Eventually, they moved because of Marc's interest in the wine country. It doesn't seem far from home. "The weather, everything about this place is like France," Renée says.
The three originally wanted to start a catering business, which is how they ended up in the unique location. "The building was empty and the kitchen was part of a cafeteria," Renée says, "so we took it."
After a year, Sutter asked if they would open up the cafe. Renée describes the cafe as being "casual but French at the same time. Alain makes all the pastries from scratch, and we try to use as much local ingredients as possible."
Adjacent to the cafe is a large atrium-style room where Chloe's holds monthly table d'hôte dinners. "In France," Renée says, "the Pisan family had a pastry shop, and at the end of the week, shop keepers, friends and family would come and eat at long tables." Renée takes the original menus from these dinners and recreates the experience for all to attend.
Walking through the doors of Chloe's French Cafe is like walking through a portal into another world, one rich in tradition, culture—and butter.
Inside the Landmark Executive Center, 3883 Airway Drive, Ste. 145, Santa Rosa. 707.528.3095.
N 38° 28.919´ W 122° 44.340´—J.J.
Drakes Beach Cafe
Sir Francis Drake missed the boat by sailing his legendary Golden Hind into the bay 430 years too early. Had the famed explorer and pirate had the good fortune to arrive in the same waters today, he would have been mighty pleased to find the tiny, welcoming eatery that bears his name. Drakes Beach Cafe nestles on the sands of Point Reyes National Seashore at the westernmost edge of Marin County. A national treasure, the park entices adventurous hikers, birdwatchers and beachgoers to meander for hours on one of many trails. As hunger gathers with the dusk, follow the road toward the fabled lighthouse to the park's only restaurant for a sunset dinner on an isolated beach.
Using the bounty of the county's organic farms, local cheeses, bakeries, fish and meats, chefs and concessionaires, Ben Angulo and his wife, Jane Kennedy, serve a prix fixe four-course dinner that is as fresh as the ocean breeze outside the restaurant door. Two nights a week, 24 happy patrons gather for a pleasurably intimate dining experience, one night accompanied by a pod of dolphins frolicking in the waves breaking just outside the windows.
Olives and artisan bread with DeVero olive oil soon appear on the table, and the wine brought by patrons is poured by the friendly staff (no alcohol is sold onsite). Three small courses both tease and fulfill hungry diners: grilled octopus straddling arugula, orange wedges and chives, little gem lettuces with toasted pecans, Gouda, strawberries and fennel, and a small ramekin of Tuscan rose eggplant Parmesan. Perfectly pan-roasted sturgeon spiced with roasted jalapeños, shiitake mushrooms, fresh corn and fried leeks, or a grilled loin lamb chop escorted by fingerling potatoes, caramelized shallots and a hint of mint pesto beguile as main courses, satisfying the carnivores in the room. Desserts (this night, Straus ice cream with strawberries) are extra, but the $2 splurge is a sweet topping to a sublime evening.
Even if Sir Francis Drake had beached here today rather than 1579, he would have needed a cell phone to call ahead, as reservations are an absolute for the nine tables in the room. Don't miss the boat.
1 Drakes Beach Road, Point Reyes National Seashore. Open for lunch, Friday–Sunday; no reservations needed. Prix fixe dinner Friday–Saturday at 7pm. Reservations required at least one week ahead. BYOW; no corkage fee. 415.669.1297.
N 38° 01.578´ W 122° 57.780´—S.D.
The Russian River
Like most Sonoma County locals, I've racked up plenty of mileage driving to and from Bodega Bay via the scenic Russian River valley, rolling down the car windows and soaking up some sun while driving a bit too fast on the Bohemian Highway. The funny thing is, short of the saltwater taffy shop, I never stop and eat anywhere along the way. So in the spirit of taking the road less taken, I became a quaint tourist myself and set out to find the river's secret culinary spots.
Because it's undeniably true that breakfast is the most important meal of the day—and let's be honest, breakfast is good at any hour—the first stop was comfort-food destination Cafe Les Jumelles (20391 Hwy. 116, Monte Rio. 707.865.9500; N 38° 28.019´; W 123° 0.659´. Boho Cache Hint: Sometimes I feel like I don't have a partner), for Monte Rio's answer to a greasy-spoon diner. Situated at the mouth of 116, across from the Quonset hut movie theater, Les Jumelles is easy to miss while merging, but after passing it a few times we managed to pull into its dusty driveway and squeeze into a gap between two pickup trucks.
The dining room is about as big as a midsized apartment, entirely paneled with shining wood, complete with bar along one wall and patio seating toward the back. After being seated by a friendly waitress, it was soon clear that most of the customers were regulars, all chatting amiably while stirring sugar into their coffee. Monte Rio is a small nook of a town, and so the cafe naturally has a homey, small-town feel to it; the coat hook in the corner is made from old horseshoes, homemade butterfly paintings adorn the walls, and each table has a small plant growing in a coffee cup.
I brought my teenaged sister, the ultimate judge of pancake and French toast excellence, who promptly ordered a short stack of the house pancakes ($4) and deemed them some of the fluffiest she'd ever had. I opted for the breakfast quesadilla ($9.50), a spin on the breakfast burrito, with eggs, cheese and roasted red peppers all grilled up in a spinach tortilla. (Les Jumelles is most popular for its omelettes, which all run about $10.) Throw in two Arnold Palmers—iced tea paired with fresh-squeezed lemonade—and we had found a new favorite spot.
Continuing along 116, and trying to digest breakfast as soon as possible, we came upon everyone's favorite fringe town, Duncans Mills, population 85. Anywhere worth finding food and drinks will be found on Steelhead Boulevard, the main strip in the middle of town, and so it was that we found ourselves parked in front of the electric blue tavern and restaurant the Blue Heron (25300 Steelhead Blvd., Duncans Mills. 707.865.2484. N 38° 27.192´; W 123° 3.120´).
Recently reopened, the Heron seems to have invigorated itself all over again for summer, offering live music five days a week, barbecued oysters on the patio on Sundays and deliciously long tavern hours. We stepped over the friendly—and, at that moment, thoroughly passed out—in-house dog on the way into the cozy dining room, where full windows take up one wall and look out over a small meadow, and were met with an extremely warm staff. (Right away, I noticed the spray of wildflowers on each table, and couldn't help but wonder which server had to wander around in a field somewhere to gather them.)
Serving up a menu of hearty lunch and dinner selections, the Blue Heron specializes in those guilty pleasures that everyone loves: spicy chicken wings, calamari, crab cakes, burgers—the works. Lettuce lovers shouldn't fret, as the salad and pasta menu holds its own. The highest price on the menu stands at $18.95 for a full order of baby back ribs, but everything else falls between $5 and $15.
If the urge to push farther into the wilderness, lose all cell reception and drain that tank of gas won't let up, it doesn't get much more far-flung than Jenner. After 20 minutes of driving along curving roads nestled next to towering cliffs in inevitable coastal fog, losing count of the cows we passed in the long stretches of fields, we arrived at Cafe Aquatica (10439 Hwy. 1, Jenner. 707.865.2251. N 38° 26.940´; W 123° 6.8760´).
Next door to a gift shop with plastic seagulls parked all over the porch, Cafe Aquatica appears to be just another weather-beaten shingled shack on the side of the road. Inside, however, it is a brightly colored and snug coffee, tea and sandwich shop, with a back patio area featuring perhaps one of the best up-close views of the river joining the Pacific in the area. Not only does the charming owner whip all of the whipped cream himself, the sandwiches ($4–$7.50) are deliciously creative and the lattes are crazy Starbucks-will-never-get-this-good smooth. Like many independent operations in the far neck of the woods, Cafe Aquatica is cash only, but houses an ATM machine inside.
Right up the street, River's End Restaurant & Inn (11048 Hwy. 1, Jenner. 707.865.2484. N 38° 27.060´; W 123° 7.500´) takes a more romantic approach to West County dining. But after taking in the sweeping views, it's difficult to avoid getting sort of swoony when considering ordering the Champagne and oysters combo for an appetizer. This gem of a foodie spot is definitely on the high-roller end of the scale, with dinner entrées like North American elk paired with a red wine poached pear ($49)—that's right, elk—and an apple-smoked filet mignon ($36).
Tourist romanticism be damned, River's End is a prime example of culinary elegance and is worth saving up some money in the mattress for. The next time the need for fresh coastal air and a break from the fast lane hits, slow down on the drive out west. As far as food destinations and quirky nightclubs go, the Russian River holds its own.—C.L.
Two Bird Cafe
Set along a side road adjacent to Sir Francis Drake Boulevard between the golf course and the community center, the Two Bird is one of those unexpected pleasures that all are eager to grab as their own. Even though the restaurant has been at the Valley Inn for seeming decades, everyone takes it personally as a unique find. For me, the Two Bird is all about rain and dinner. For most others, the Two Bird is all about brunch and dogs. For me, it's the jazz combo playing on a five-foot-long bar stage on weekend nights. For others, it's lamb chops and eggs. For me, it's the careful jumble of the dining room, like eating at a professor's house. For them, it's the particular crust that the fried potatoes achieve at 11am. For me, it's the easy friendly service. For them, the good laugh that bicyclist's attire provides. For me, the fireplace warming the room. For them, the patio, open to the creek. For me, steaming soup. For them, the bay laurel smell of the air. For me, the wine. For them, the mimosa. For us, for good.
625 San Geronimo Valley Drive,
San Geronimo. 415.488.0105.
N 38° 0.850´ W 122° 40.083´
Boho Cache Hint: Fill 'er up!—G.G.
Humble Pie
"It smells great in here. You said they specialize in pies?"
"They do. Check out the board."
"Blueberry lemon, banana cream with coconut, apple ginger, pumpkin. I want to try them all!"
"We have to get the figs and goat cheese."
"Yes! Hey, you said that they have tater tot pie?"
"Yeah, they had it a bit ago, but they make all their food from ingredients that are in season, and that they get from local farmers, so the menu changes all the time, which is probably why it's not here."
"We'll have to come back. Oh, look! Mushroom Kingdom! I might have to get that.
Shiitake, portabella, garlic, spinach . . ."
"May I take your order?"
"Mushroom Kingdom for me."
"I'll have the chicken Kiev. And we will definitely save room for pie."
"I love this place. I especially love this bouquet of violets and that the plates don't all match."
"I told you. I love it here, too."
"Did you catch a glimpse of the guy who dresses like Edward from Twilight on campus today? His hair seemed extra luxurious this morning."
"So good. We need to figure out a way to take a picture."
"Wahoo—our food!"
"Awesome."
"Mine, too."
"I could eat here every day."
"Pie?"
"Of course. I have to get the pumpkin."
"OK, I'll get the apple ginger."
"This is the best freakin' pie I've ever eaten."
10056 Main St., Penngrove. Open for dinner late (Wednesday–Thursday) and very late (Friday–Saturday); Sunday, brunch. 707.664.8779.
N 38° 17.828´ W 122° 39.985´
Boho Cache Hint: T.R.S.V.O.T.O.O.E. —J.J.
Send a letter to the editor about this story.