07.27.11
home | north bay bohemian index | news | north bay | news article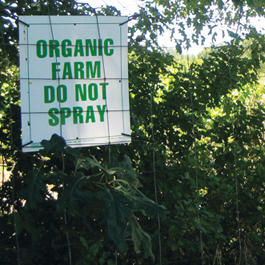 Photograph by Alastair Bland
POSTED:
With no contact from his neighbors, all Will Bucklin can do now is post a sign requesting no more spraying.
Big Sprayback
How the state sprayed herbicide on 130-year-old vines and caused a small farmer to lose organic status—and hasn't so much as apologized
By Alastair Bland
Farmer Will Bucklin does not apply chemicals to his land. The Glen Ellen grape grower has farmed organically for 30 years and, as a farmer inspected every year by California Certified Organic Farmers, he has the papers to prove it.
But in the fall of 2009, someone sprayed a highly potent herbicide on approximately 200 of his grapevines. A handful of those vines are now dead, a dozen or more appear to be dying and at least a hundred damaged plants haven't borne fruit since the incident.
Moreover, Bucklin is no longer an organic farmer. This year, as a result of the spraying, he had to forfeit his organic status.
Just who caused the damage to Bucklin's grapevines seems clear. According to a report filed by an investigator with the Sonoma County Agricultural Commissioner, the spraying was conducted by Bucklin's neighbors at the Sonoma Developmental Center on Arnold Drive, a state-owned hospital for the mentally disabled, during a routine herbicide application of roadside shrubbery in November 2009. Now, 21 months later, after a thorough county investigation finding the state accountable for the damage, the veteran farmer is still waiting for some level of recognition, apology or legal action.
"Ideally, a state official would voluntarily call, come and visit, and talk, rather than put the burden on the farmer to prove something happened," says Bucklin, who was reluctant to contact the press about the alleged poisoning of his property. "I don't want to be the jerk neighbor," he explains, adding that he holds the hospital—founded in 1891 and home now to almost 600 residents—in the highest regard for its community work.
But Bucklin has lost patience, in part because a monetary claim to the state's Victim Compensation and Government Claims Board last October has produced not a dime to date.
The spraying occurred on Nov. 9, 2009, according to the Agricultural Commissioner's report filed by senior agricultural biologist Marilyn Vernon. On that day, the report says, the Sonoma Developmental Center's groundskeeper, Robert Balich, doused the shoulder of John Mesa Drive with a blend of several herbicides, including Roundup Pro and a particularly nasty poison called Milestone VM.
Balich told Vernon that he "kept the nozzle of the application hose directed toward the ground," according to Vernon's report. Yet herbicidal fallout somehow drifted 15 vine rows and 132 feet into Bucklin's property, where a grapevine that Bucklin has flagged with a strip of tape exhibits the stunted, wrinkled, cup-shaped leaves typical of Milestone VM poisoning. Closer to the road, flagged vines are numerous and their symptoms severe. Bucklin has written off several as already dead and others as dying—including, he says, vines 130 years old.
According to Vernon's report, Balich violated several state laws when he sprayed the boundary of Bucklin's land. One law, section 6614 of the California Code of Regulations, says "no pesticide application shall be made or continued when . . . [t]here is reasonable possibility of contamination of nontarget public or private property."
Vernon also noted that the applicator of the herbicide failed to follow advisories printed on containers of Milestone VM, which at the time warned users not to apply the agent "within 50 feet of a border" or "within the root zone of desirable trees."
But a barren, five-foot-wide dead zone abutting Bucklin's fence clearly shows that the herbicide was applied directly on a border and on the exposed tree roots of several oaks and eucalyptus, whose foliage shows symptoms of poisoning. Several old, dead trees on the state's property also appear to have been poisoned.
Officials with the Sonoma Developmental Center, seemingly uninterested in addressing or alleviating tensions with their neighbor, did not return repeated phone calls seeking comment for this article.
Lisa Correia, Sonoma County's chief deputy agricultural commissioner, says state law requires following label warnings printed on containers of registered pesticides, and her department, she says, may proceed with "enforcement action" against the hospital.
The state's compensation board recently sent Bucklin a letter informing him that claims must be filed within six months of incurred damage. Since Bucklin submitted his claim a full year after the damage, he might receive nothing. But he says he's not so worried about his money. He isn't even sure he'll re-register for organic status. What saddens him most, he says, is the loss of the historic trees.
"Losing the vines, well, they're money and it sucks," he says. "But the trees are the worst part. I'm just mad at myself for not saying something to the state 10 years ago—like, 'Stop spraying.'"