07.27.11
home | north bay bohemian index | columns | wine tasting room of the week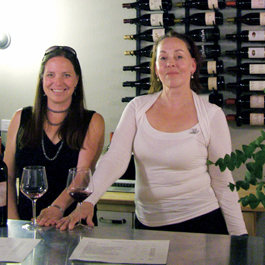 Whitetail Wine Bar
By James Knight
The problem was, the economy of the Russian River area tends to wash out new businesses with a regularity as unforgiving as the roiling river waters that sweep the beach camps of summer out to sea. When Leslie Bahr walked the main street of her new hometown, there was no trace of a "wine lounge" that the Bohemian reviewed only a few years back.
Old haunts remain, but Bahr, a San Francisco interior architect before decamping for the woods of Guerneville in an Airstream trailer, was looking for the kind of place where she'd want to hang out—with fine wines, but a casual vibe. At the pre-opening party, enthusiasm for Bahr's vision was high. "Someone should have done this for years!" one local was overheard to exclaim. "I mean, I'm sorry, but this is wine country! But you go to a bar, and it's, 'We've got red, we've got white.'"
It takes many 12-hour days before even a "rustic minimalist" joint can open its doors, says Bahr, relaxing for a minute on a recent evening. The work has been involved: the ceiling was removed to expose an airy, barnlike space above the zinc bar, custom-designed tables have been topped with cross-sections of a fallen log, and sofas and divans invite lounging.
The wine list is long on local underdogs like Hobo, Sheldon, Wild Hog, Frick, Horse and Plow and others that are, in the main, not turnkey boutiques but small wineries whose owners put their shoulder to the barrel. A Greystack Cellars 2010 Bennett Valley Sauvignon Blanc ($3.50 to taste; $7 glass; $35 bottle) has floral aromas of tall grass gone to seed, with lychee, honeydew melon flavors. It's crisp with subtle richness, like some mousse of sour grass, refreshing and engaging. Paul Mathew Vineyard's 2010 Valdigui (ne Napa Gamay) is an easy-drinking red, with an exotic admixture of incense and maple syrup to this Beaujolais-style quaffer. Microbrews will be on offer soon, along with small bites like cheese plates.
About the name? There's no long, must-hear story, so it may as well be told here. A former city dweller, Bahr is charmed by the white-tailed deer that run through her West County property. The antlers also lend the chic space a bit of requisite rural flavor, but the deer-horn candelabras were fashioned from naturally shed antlers, the sign made by a resin artist. In other words, no Bambis were harmed in the making of this wine bar.
Whitetail Wine Bar, 16230 Main St., Guerneville. Open 3pm to 10pm weekdays, till 11pm, Friday and Saturday, and till 9 on Sunday. Closed Tuesdays. 707.604.7449.
Send a letter to the editor about this story.