08.03.11
home | north bay bohemian index | sonoma, napa, marin county restaurants | preview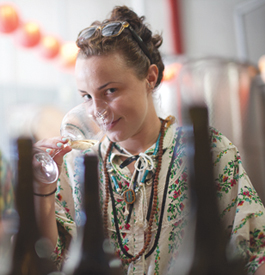 Wine on the Fringe
By James Knight
This weekend, three events vie for the palates of those who dare to veer off the well-traveled highways and make for the ragged edges of wine country—where the vines yield to the sea, and the inner frontier, wherein grapey elixirs are crafted in the unassuming sheds of industry.
South of Sonoma, by the airport, a series of opaque warehouse walls conceal hundreds of barrels of some of the area's finest juice. Enkidu, Anaba, Tin Barn, MacRostie, Three Sticks and others bring their wines, with culinary partners slinging the nosh. It's an Open House on Saturday, Aug. 6, at Eighth Street Wineries. 21481 Eighth St. E., Sonoma. 11am4pm. $30. 707.996.4480.
Meanwhile, down in the industrial guts of the bucolic Napa Valley, Trinitas, Bourassa, Gustavo Thrace and cheeky little brands like Toolbox Wine Company and Punk Dog Wines introduce the First Annual Napa Valley Urban Wine Crawl. Transportation is provided between wineries on SaturdaySunday, Aug. 67, 10am to 4pm. $75. 707.257.6796. [email protected]
Until recently, the fog-bound vintners of the Sonoma Coast braved the elements without an umbrella. The West Sonoma Coast Vintners launches its inaugural festival with seminars, winetasting and a hog roast ($150) at Occidental's Union Hotel. Participants, many not regularly open to the public, open their barrel rooms on Sunday. The West of West Sonoma Coast Wine Festival runs Aug. 57, with a Grand Tasting Saturday, Aug. 6, at the Occidental Center for the Arts. 4008 Bohemian Hwy., Occidental. $125. 707.824.9000.
Send a letter to the editor about this story.