08.11.10
home | north bay bohemian index | music & nightlife | band review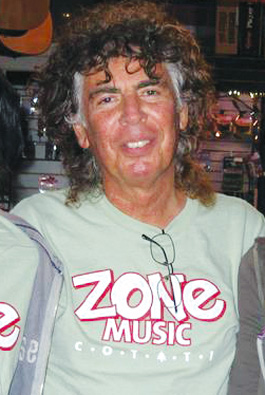 FACING THE MUSIC!
Zone Music's Frank Hayhurst is closing and downscaling his Cotati landmark.
A Hard Rain
The Sonoma County music biz takes a beating
By Gabe Meline
While we've spent the last two years dressing up in 1930s-era garb and singing dustbowl ballads to remind us that, hey, even though the economy's horrible and no one can find a job, times are still, like, not as bad as they were during the Great Depression—well, while we've been doing all that, banjo on our collective knee, the times they've been changin' indeed—namely, plummeting us into the Great Depression, Part II.
Case in point: Zone Music, the place where we bought that banjo, is closing its doors. The venerable Cotati music store that's served local musicians since 1983 is downsizing its floor space to reopen sometime in the future, possibly with a different name but most likely in the same general spot, says owner Frank Hayhurst. "Basically," Hayhurst says, "the old model of a full-line music store doesn't work in this current economy."
Most fingers point to internet sales, and even though Zone offered competitive price-matching with online merchants, as Hayhurst notes, "It's 10 percent more expensive to shop with a local retailer than making the same purchase online." The new store will focus on inventory that still makes money in an online age—guitars, accessories, used gear, consignments—in a remodeled, "much smaller" shop.
Local jazz fans are still reeling at the news that a board of directors has suspended the 2011 event and fired Jessica Felix from the Healdsburg Jazz Festival. Felix founded the festival and has booked it for the last 12 years; she's been a tireless advocate for true jazz in an area known for phony "jazz" festivals and smooth-jazz radio stations. The surprising development was announced in an official press release sent out by the board, mentioning a "revised music festival" in the future due to a "limited audience for pure jazz."
Perhaps this alleged "limited audience" wasn't part of the large crowds who turned out over the past decade for such legends as Joshua Redman, Billy Higgins, Andrew Hill, Charlie Haden, Bobby Hutcherson, Jim Hall, Esperanza Spalding, Dave Holland, Charles Lloyd, Ravi Coltrane, McCoy Tyner, Pharoah Sanders, Jackie McLean, Bill Frisell, Joe Lovano, Kenny Garrett, Frank Morgan and Dave Brubeck—all booked by Felix.
Felix says she was "totally surprised" at the decision, but couldn't comment until she speaks with a lawyer.
Board president Pat Templin calls Felix an "amazing person," but says the festival has been losing money and confirms there are "no plans" to reinstate Felix as artistic director after the festival returns from hiatus. Templin also says "there might be other genres that support the kind of jazz we do," and that they're looking into booking blues acts.
Over 45 comments protesting these decisions piled up on the Healdsburg Jazz Festival site; they came from musicians, fans and sponsors all pledging their suppport for Felix and condemning the "massacre" of the festival. But earlier this week, the board removed those comments. (Haven't they heard of Google cache? They're reposted on my blog here.)
Healdsburg took yet another beating last week when live music was shut down at Ravenous Cafe & Lounge. For the last six years, promoter KC Mosso has booked bands into the small spot just off the plaza with no problems (last month, Ravenous hosted an outdoor benefit for a local woman with cancer and raised $1,500), but a recent anonymous complaint to the city has temporarily put an end to shows.
Mosso, who's lost thousands of dollars bringing bands to Healdsburg over the years, promises to try to work things out, but in a town increasingly known for Michelin-rated restaurants and a quiet atmosphere, it may be an uphill battle. "It's tough, first with this, and then the jazz festival falling apart," Mosso says. "We really don't want Healdsburg to be like Carmel."
Finally, the "queer-friendly, freak-friendly" Black Cat Bar in Penngrove, long a bastion of live music, has been sold to the owners of Cotati's 8-Ball, says owner Robin Pfeffer. The name will change—most likely to Mac's—and Pfeffer will host her open mics elsewhere.
At least with the Black Cat, the economy can't be blamed; Pfeffer says she simply wants to spend more time with her two-year-old son, who's learning how to play the drums. And as for the hundreds of bras stapled to the Black Cat's ceiling? "The new owners have said they don't want the bras," Pfeffer sighs. A final blowout party, with one free bra for each customer, promises to "blow the lid off the joint" on Saturday, Aug. 28, from 4pm to 2am.
Send a letter to the editor about this story.