August 16-22, 2006
home | north bay bohemian index | music & nightlife | essay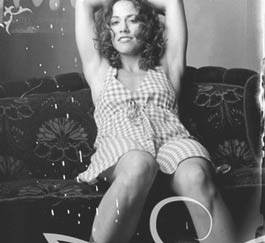 Soporific: Goodness, Sheryl, sit up and close your knees!
Starbuck'd
How America's coffee behemoth neuters great music
By Sara Bir
I go to Starbucks, and I'm not ashamed. I'm not proud of it, either. I know I should take my latte-bound money elsewhere, to some independent neighborhood joint staffed with tattooed and pierced types who play in bands and make art when not engaged in steaming up my soy milk. Usually, such places play inspired musical selections, from obscure '60s soul records to weird European ambient electronica. They serve better cappuccinos, and they have better reading material--old magazines or new issues of the local alt-weekly paper.
Despite this, Starbucks keeps me coming back. It has that certain something that no other coffee shop has: nothing.
Most any one Starbucks in America (and possibly the world, though I've only visited domestic outposts) feels just like any other Starbucks. They share the same vaguely coffee-laced smell, are decorated in the same muted palate of warm oranges and burgundies, hawk the same clunky ceramic mugs for home use and pipe the same music over the same cluster of boxy armchairs and little round tables. It's a vitality-obliterating vacuum that liberates the creative mind the same way airport terminals are perfect for pondering the great mysteries of life--it prods us to fill the void, make it our own. But unlike airports, there's always a Starbucks right around the corner.
The deliberately inoffensive coffee chain has established itself as our national jukebox of Norah Jones, Sheryl Crow and Ray Charles. From the get-go, the company has recognized the importance of background music to the overall Starbucks experience, but the past six years have seen Starbucks grow from a player of music to a purveyor of music. In 1999, it acquired the record label and retailer Hear Music. After a ballyhooed launch last year, Starbucks' "media bar" concept, in which visitors could burn customized mix CDs for a fee, flopped. (And no wonder--why burn a CD at Starbucks when you can do it at home more cheaply?) However, the chain's sales of traditional releases are sailing along. Right next to the register, CD displays tempt caffeine-shaky students, professionals and retirees to drop $16 on a live Carole King disc. Of course, these CDs are full of the same songs you'll hear if you linger at Starbucks after ordering your Frappuccino.
It must work. Starbucks sales can account for up to 30 percent of an album's total sales, particularly for lesser-known artists. What's really amazing is that while big-box retailers like Best Buy strong-arm prices by selling CDs under cost, Starbucks actually bumps up the price a few dollars, and people still buy them.
But I gotta say, even certifiably great songs sound hollow in a Starbucks. Senses Working Overtime, a new wave compilation it's pushing now, is full of my generation's mix-tape classics: the Cure's "All Cats Are Grey," Echo and the Bunnymen's "The Killing Moon." But instead of conjuring up happy memories of long-ago teenage shenanigans, the songs simply evaporate into the Starbucks setting. Its sweet, soporific air is so powerfully mollifying that it could drain the piss from the new Slayer album. Much like the dementors of Harry Potter's world suck the soul out of living things and leave them doomed to eternal emptiness, Starbucks preys on the very meaning and passion of a song, draining away its life force and leaving behind a hollow shell.
It's a chilling prospect. Part of me wants to protect the music I love, but Starbucks has already planted its icy, mocha-tinted kiss on my lips, and it's too late.
Around Cotati these days, "Starbucks" is a charged word. The Cotati City Council recently gave the chain the green-light to open an outlet in a town that already has a great coffee shop: North Light Books and Cafe, which offers real food, live music and an eclectic selection of books. If I lived closer to Cotati, I'd be faced with quite a dilemma--support North Light, or give in to my weakness for the vapidity of Starbucks?
Our world is far too full of stimulation when a bland coffee franchise offers respite and comfort. Starbucks may be my second home office, but in my home, I play the music I want--and, ultimately, I decide what it means.
Send a letter to the editor about this story.