08.17.11
home | north bay bohemian index | sonoma, napa, marin county restaurants | preview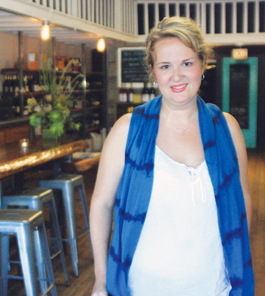 Photograph by Gabe Meline
MARKET VALUE:
Big Bottom Market manager Hollie Schulze is well-known locally from Healdsburg's Ravenous.
Stumptown Rising
The power of three in Guerneville
By Stett Holbrook
Three is a magic number. It's the minimum number of legs on a table. It's the sum of the past, present and future. It's the numerical component of the Holy Trinity. And in the case of Guerneville, it may add up to the tipping point of the city's downtown.
Do the math. First there was Boon Eat + Drink, a hip little restaurant that opened two years ago. Boon celebrates the food and wine native to Sonoma County, something that no other restaurant in Guerneville at the time had capitalized on yet. The restaurant has exceeded all expectation of owner Crista Luedtke, who also owns the modern-cool Boon Hotel nearby.
Next came the opening last month of Big Bottom Market, a few doors down. The rural-chic market and deli is a joint venture between Luedtke and Michael Volpatt. Third, Leslie Bahr opened Whitetail Wine Bar next door to Big Bottom the very next day. Whitetail is a comfortable, stylish wine bar that looks like it was airlifted straight out of San Francisco's Hayes Valley and plopped in the middle of town. Like Boon and Big Bottom, it focuses on small Sonoma County wineries.
One, two, three. Do you see? Something is happening in Guerneville.
"I think what [the opening of these businesses] is saying about the town is everybody is ready for a change," says Valerie Munthe, a 20-year Guerneville resident and co-author of Russian River, a title in Arcadia Publishing's Then & Now series. "The energy is starting to shift."
Guerneville has been many things over the years: summer camp for Pomo Indians, logging camp, vacation retreat for fog-chilled San Franciscans, outlaw biker haven, methamphetamine market and LGBT resort town. Now with Boon, Big Bottom and Whitetail, the town may be poised to become a food and wine destination.
"Just five years ago, downtown Guerneville was like a ghost town, but I knew that was going to change," says Munthe. "It always does."
Luedtke can take credit for sparking some of that change. As the owner of the Boon Hotel, she hated the idea of sending her guests out of town to eat and drink.
"A, I was sending this money out of town, and B, I was missing an opportunity," she said.
So she took a risk and opened Boon, a midpriced restaurant that she thought would appeal to her hotel guests and locals alike. It worked. In high season, the 32-seat restaurant does as many as 130 covers on a busy night. That's flipping a table five times. The place has resonated with locals, too, whom she says make up 30 percent of her business.
But people can only eat at her place so many times, and she saw the need for something else. Enter Michael Volpatt.
Like Luedtke, the PR professional is a relative newcomer to Guerneville who fell in love in the town. He too saw a void that needed filling. So he and Luedtke partnered on Big Bottom Market, a place where you can pick up sandwiches or salads made with premium local ingredients, a fancy soda or bottle of Russian River Brewing Co. beer and head out to the river or ocean. Or dine in and sit at the counter in front of the huge windows looking out onto the street. In addition to salads and sandwiches, great desserts and fantastic biscuits, the market is stocked with an eclectic selection of snacks, sweets, books and housewares.
"If we love it, it's going to be in the market," Volpatt says. "We have to handpick everything in the store."
The selection of Sonoma County wines (and one "exchange student," a rotating international or out-of-county wine) is especially strong, a tiny goldmine of bottles handpicked by the knowledgeable Hollie Schulze, Big Bottom's general manager. (Big Bottom takes its name from an old nickname for Guerneville.) Wines are available by the glass and at standard retail prices, and can be enjoyed to go or on-site.
With the help of building facade grants and support from county officials, Volpatt believes the "Guerneville renaissance" is here. As a member of the Russian River Chamber of Commerce, he's bound to be a little boosterish. But the changes are hard to deny. The once gritty town is cleaning up.
"We wanted to take that blight away downtown," he says. "We knew underneath it was golden."
Given the town's historic rough-around-the-edge, funky persona, it's unlikely (and undesirable, I say) that Guerneville will turn into a posh Healdsburg-on-the-River. But the chance to capitalize on the town's location as a vacation destination smack in the middle of the Russian River winegrowing appellation was an opportunity in the waiting. Luedtke, Volpatt and Bahr have seized the moment.
"Guerneville can become the destination it was meant to be and hasn't been for sometime," says Volpatt. "Opportunity creates opportunity. We're creating opportunity for other people to follow."
Send a letter to the editor about this story.